Innovative music technologies for the 21st-century musician
SFCM's Technology and Applied Composition department offers some of the most state-of-the-art recording equipment to students wishing to refine their skills in areas including music production, recording engineering, sound design, computer programming, and multimedia. TAC studios make legendary as well as emerging music technology available to students who want to get their hands on tools used throughout the music industry and beyond. Highlights include a classic 32-channel Rupert Neve 5088 analog mixing console in Studio A and cutting-edge MIDI controllers like the Ableton Push and Linnstrument in Studio B. Our studios are equipped with the latest and greatest hardware and software available, allowing you to explore virtually any musical idea you can think of.
Studio A
Studio A is a fully equipped, acoustically tempered recording and teaching space, and home to our 32-channel Neve 5088 Mixing Console. This room functions as a 5.1 surround sound recording and mixing studio that may be networked to any of SFCM's performance halls or the TAC Live Room. Studio A is geared toward large-scale and advanced recording projects as well as clinics and master classes with visiting industry faculty.

Equipment available in Studio A currently includes:
Rupert Neve Designs 5088 Mixing Console

32 Channels of Neve 5052 Mic Pre / Inductor EQs
AVID Pro Tools HDX System

Pro Tools HD I/O x 2 (32 channels total)
Meyer Sound 5.1 Surround featuring 5 HD-1 speakers and 1 MM-10 subwoofer Bowers & Wilkins 803 Diamond Series Loudspeakers

Pelonis Model 42 MKII Monitors Grace Design m802
Remote Microphone Preamplifier x 3 (24 channels total)
Rupert Neve Designs Portico II Master Buss x 3 (6 channels total)
Eventide H1000 Ultra Harmonizer
Lexicon MPX-1 Multi Effects Processor
Demeter Tube Mic Preamp
Studio B
Studio B is a fully equipped project and post-production studio featuring 5.1 surround sound playback, multimedia editing capabilities, and a collection of classic electronic instruments. Intended as a room for student projects, SFCM-sponsored professional projects, and technical ear training, Studio B provides the ultimate workspace for producing and mastering sound for film, game audio, and other multimedia.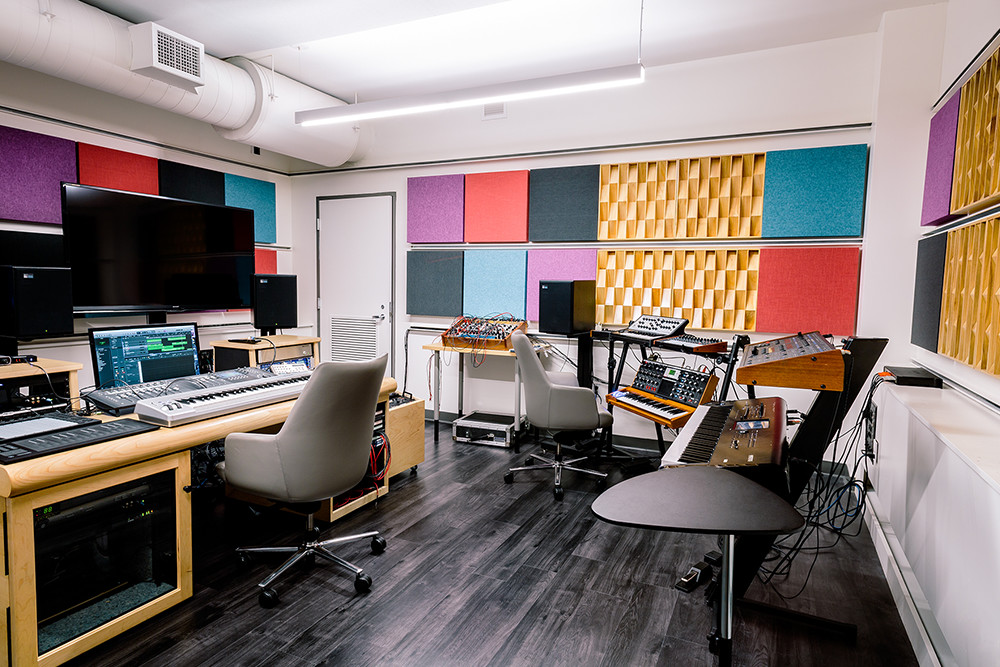 Equipment available in Studio B currently includes:
Pro Tools HD Native System
Meyer Sound 5.1 Surround featuring 5 HD-1 speakers and 1 MM-10 subwoofer
Grace Design m906 High Fidelity Monitor System
Instruments & Controllers:
Ableton Push 2
Arturia Beatstep
AVID Artist Mix & Artist Control
Dave Smith Instruments Tempest Drum Machine
Doepfer A-100 Basic System 2 Modular Synthesizer
Korg Kronos X 88-key Music Workstation
Moog Sub Phatty Synthesizer
Moog Voyager Synthesizer
Roger Linn Design Linnstrument
ROLI Seaboard RISE
Oberheim Xpander Synthesizer
Buchla CBS Modular Synthesizer (1970)
Outboard Gear
Roland SVC-350 Vocoder
Roland VP-70 Voice Processor
DBX-2231 31-Band Equalizer/Limiter
DBX 166XL Compressor/Limiter
Mackie Onyx 800R Analog Mic Preamp
Live Room
The live room is a large, acoustically tempered space used for recording projects, electroacoustic rehearsals, visiting artist clinics, and interdepartmental collaborations. This room is connected directly to Studio A via analog audio and HD video. This room is generally used in tandem with Studio A or Studio B for recording and features a pristine Steinway Model B Grand Piano and Yamaha Upright.

Digital Audio Keyboard Lab
The TAC Lab is a world class digital audio production lab and classroom with 14 workstations, each equipped with a dual display Apple iMacs, Yamaha 88-key weighted action keyboard, AVID Fast Track Duo audio interface, and Arturia BeatStep MIDI controller. The TAC Lab hosts classes taught by industry leaders on music technology, film scoring, game audio, sound design, computer programming, and creative production techniques.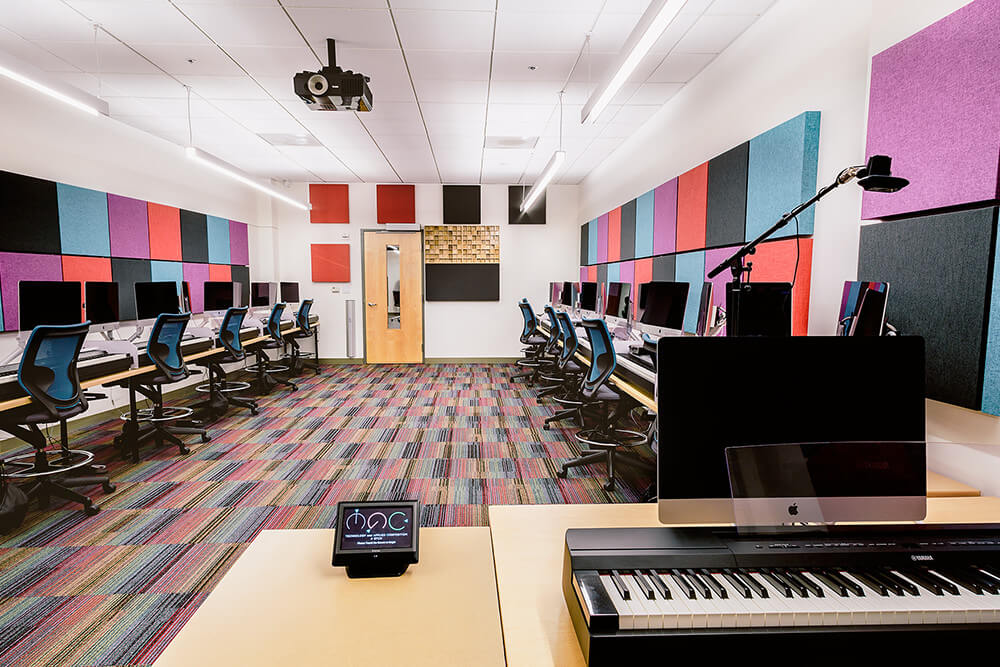 Each workstation in the TAC Lab is equipped with:
Yamaha P255 88-key Weighted Action Digital Piano
Dual-display iMacs
AVID Fast Track Duo Audio Interface
Audio Technica ATH M50 Headphones
Arturia BeatStep MIDI Controller and Step Sequencer
Korg nanoKontrol2 MIDI Controller
Software
Ableton Live Suite
Adobe Photoshop, Illustrator, and Lightroom
Apple Logic Pro X
Avid Pro Tools 12
Final Cut Pro
Finale
FMOD Studio
Max/MSP/Jitter
Native Instruments Komplete
Pure Data
Sibelius
Synthogy Ivory American Concert D
Wwise