5 Fun Facts to Know About the New Bowes Center
A closer look inside SFCM's new 165 thousand square feet building in the heart of San Francisco's art scene.
SFCM's Bowes Center building is up and running! Filled with the hustle and bustle of students, who moved in last month and saw their vertical campus in full glory for the first time. Now that we're all getting acquainted with Bowes in real life, below are some fun facts about this unique building you might not know about, where students can work, live, and play! And stay tuned! While the SFCM community is making itself at home for now, we are soon looking forward to welcoming the general public inside in upcoming months for master classes, events and live performances!
1.) Who is Bill Bowes?
Bill Bowes was a longtime supporter of the SFCM and a dedicated trustee of 22 years. Bowes first made a name for himself as a pioneer in venture capitalism and was a long-time philanthropist to the arts. His inspiring leadership and generous financial contributions to SFCM have helped the school to become a beacon of conservatory education. In his own words he shared this simple fact, "Music makes me happy!" Sadly, he passed away in late 2016.
In 2018, The William K. Bowes, Jr. Foundation donated $46.4 million to the Conservatory to build what is formally known as the Ute and William K. Bowes Jr. Performing Arts Center.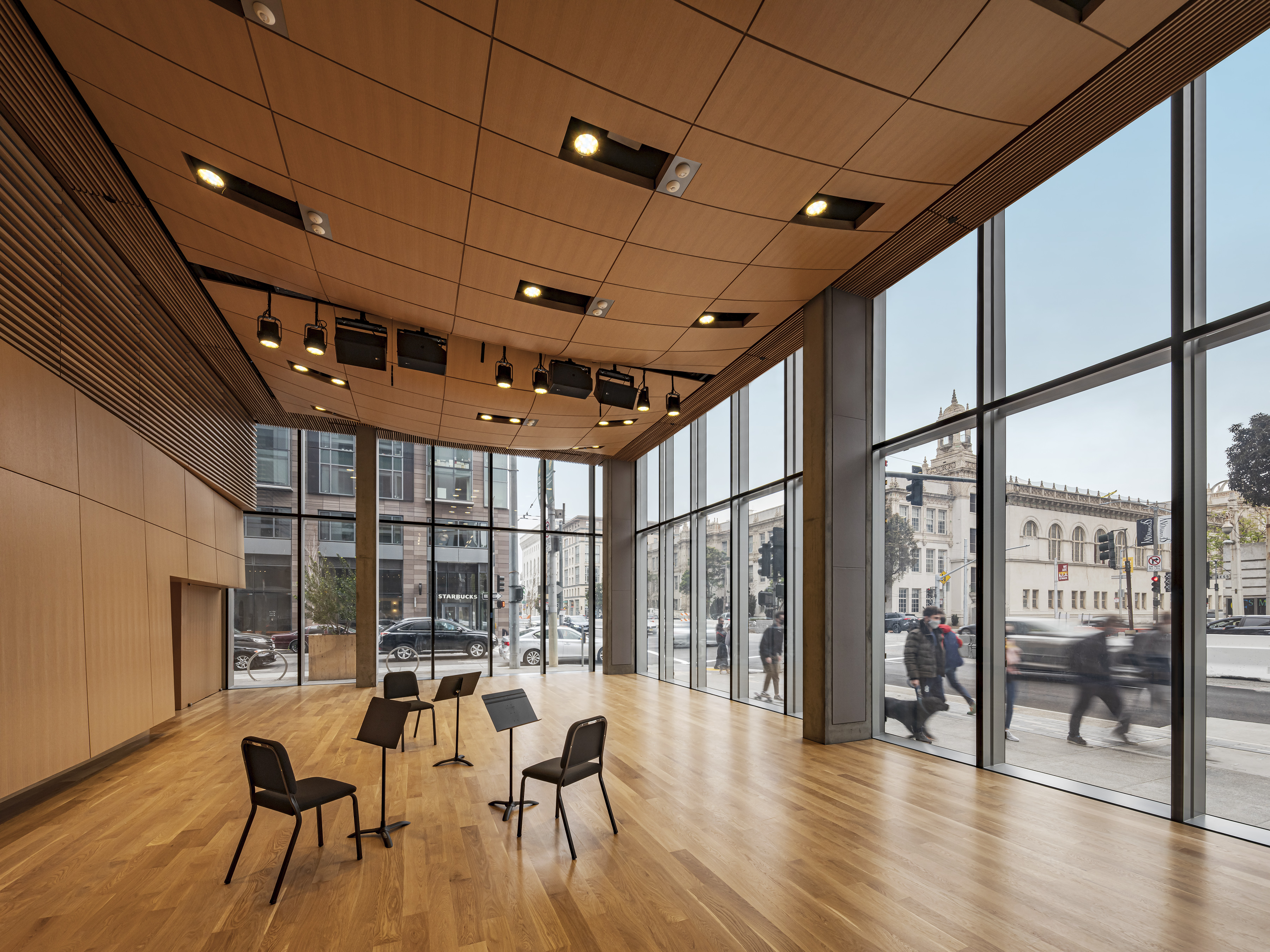 2.) Hear that street noise? Me neither.
Bowes performance venues are built to capture sound and eliminate vibration. On the first floor, there is zero street noise from the always busy Van Ness Avenue, and you will hear no foot traffic. That's because there is a 6-foot trough built below the windows, and a floating floor built to eliminate sound. This attention to detail applies to all multiple performance venues.
3.) Feel safe inside Bowes? You Should.
The Bowes Center was built to withstand a 9.0 magnitude earthquake! California may get an average of 2-3 earthquakes a year that could cause damage (5.5 and higher) but The Bowes Center is more than prepared. There are also 25 thousand gallons of water on site for emergency use, and a generator that can supply power to the building for six full days in the event of an outage!
4.) A Green Place Mint to Be
In addition to being an innovative place to learn, and make music, the Bowes Center aims to be as green as possible. You may notice lights and HVAC systems turn off when a room is empty and back on when someone returns. This is all done to conserve energy. The Bowes Center anticipates reducing annual energy costs by 16.9% from all its combined efforts. Check out our Bowes Center Green initiatives page to learn more.
5.) Some Food for Thought.
Bowes boasts a delicious cafeteria with an array of healthy options for students, faculty, and staff. The meals offered are atypical to those served at an average university. Our food partners are passionate proponents of utilizing high-quality, seasonally appropriate ingredients, and healthy locally sourced meals to the SFCM community.
Check out the Bowes Center on the SFCM website to learn more about the building.