Bowes Center Update | May 2020
Construction continues on SFCM's new building set to open this fall.
The Bowes Center—SFCM's newest addition doubling the Conservatory's physical space in the arts district—remains on schedule to welcome its first student residents this fall.

Construction has been allowed to continue during the shelter-in-place order, because the building addresses the city's housing crisis and is considered an essential service. The Bowes Center provides dorm room housing for 420 students, plus brings state-of-the-art teaching facilities and three new performance halls to San Francisco's Civic Center arts corridor. Additionally, the new building will include 27 rent-stabilized housing units for the residents who previously inhabited apartments at this location.

Below is a roundup of the latest Bowes Center news to keep you updated before the facility opens its doors later this year.
CONSTRUCTION UPDATE
Steady progress has been made in recent months since construction has been allowed to continue. Crews are building out and finishing student housing units floor by floor (view layout information here). Level 6 housing has all doors and hardware installed as well as corridors painted. The level 12 Barbro Osher Recital Hall balcony guardrail, glass and metal panel are complete. Installation continues on the exterior facade, with the glass exterior on level 12 and screens on the terrace level now installed and the entry canopy on the West side of the building recently framed. Metal panels are currently being installed at levels 2 and 12 (balcony and terrace), while soffit panels, fins, and other various façade features will be positioned later this month. The exterior insulation finish system has also begun installation with layers of waterproofing placed first.

Fun facts about the Bowes Center:
The building is incredibly safe. Built to withstand a magnitude 9 earthquake, it contains eight feet of concrete rebar, can hold up to 25K gallons of water, and has a generator that can run up to six days on the roof.
In the Lower Level 2 full-service studio, students have the ability to do everything from capture to release on a recording (even immediately uploading the finished product to their phone or computer).
Brand new pianos will be throughout the building designed for evenings of chamber music, recitals, and lectures.
There are 7 types of windows and 21 different kinds of glass, including bird-deterrent "bird glass" on the terrace.
There are over 400 curtain wall units (i.e. the exterior covering) with the largest just over 33 feet long and weighing over 4,100 lbs.
The custom glass on the penthouse performance hall is over 3 inches thick.

President David Stull recently gave viewers a tour of the building.


LOCATION, LOCATION, LOCATION
The 14-story building is located at 200 Van Ness, which is across the street from Davies Hall (home of San Francisco Symphony), catty-corner to the War Memorial Opera House (home of SF Opera and SF Ballet), and overlooks San Francisco's stunning City Hall to the north and the downtown skyline to the east. Not to mention, the Bowes Center is walkable to nearly a dozen other arts and cultural institutions, such as SF JAZZ, the Asian Art Museum, Orpheum Theatre, and others; plus is situated at the east end of Hayes Valley, literally on the cross-street of Hayes (read: tons of food, coffee shops, and shopping), as well as close to BART and MUNI public transportation lines. Info below on where to learn more and schedule a virtual tour.
FINANCIAL AID AND STUDENT HOUSING
In addition to 99% of students receiving scholarships from the Conservatory, the Bowes Center offers on campus housing to all SFCM students.

Housing applications are being accepted for current and admitted students.The majority of units have two bedrooms, a common area, kitchenette, and bathroom. Shared bedrooms will have two XL twin beds and two dressers. Beds can either be bunked or lofted. Graduate, postgraduate, and returning undergraduate students have the option to rank their preferred room type.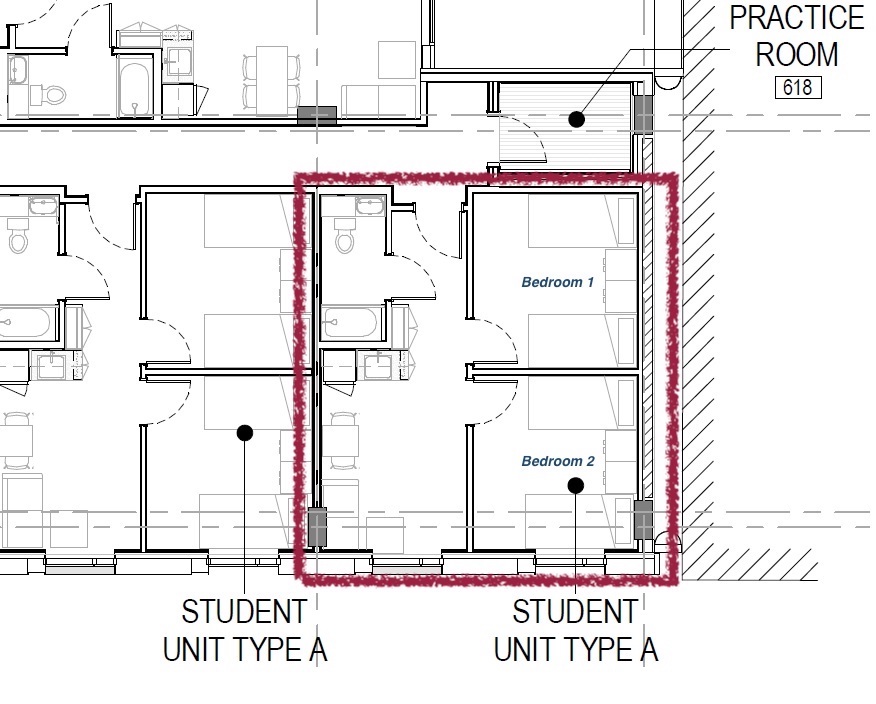 NEW BUILDING, NEW DINING PLAN
SFCM has partnered with Chef Loretta Keller, known for her work at San Francisco's Coco500, a regular on the SF Chronicle Top 100 restaurant list. Keller and Operations Director Clay Reynolds spearheaded the launch of the Exploratorium's Seaglass Restaurant—which feeds hundreds of students and families every day—and have been operating restaurants and food service venues in the city for more than 15 years. Passionate proponents of utilizing high-quality, seasonally appropriate ingredients, they are bringing their experience creating healthy, locally sourced meals to the SFCM community. View sample menu.

Note: in preparing the building to open as the world recovers from COVID-19, meal service has been redesigned in a pre-packaged grab-and-go format to keep food and students free of contamination.
FUNDRAISING UPDATE
The total anticipated cost of the Bowes Center is $193M. In addition to the lead gift of $46.4M from Ute and William K. Bowes, the largest capital gift ever made to a music school, to date we have raised $121.5M for the project towards the $125M goal. Since March 1, $6.5M has been raised, meaning we are now 97% towards the fundraising total.

The second phase of the public capital campaign launched this spring. Anyone who gives $5,000 or more to the project by May 26 will have their name included on a donor wall, prominently located in the Bowes Center lobby.

If you would like to help us reach the fundraising goal or have questions, please contact Katie Nicely, Vice President of Advancement, at knicely@sfcm.edu or 415-503-6303.
VIRTUAL TOURS
Donors, alumni, and neighbors can schedule online tours of the Bowes Center to get a sense of how the new building will transform San Francisco's arts district. The virtual experience includes a presentation of architectural renderings, the history of the project, and details about the building, followed by a Q&A session. Students, prospective students, and their parents interested in learning more about the Bowes Center may email the Office of Admissions at apply@sfcm.edu.
IN CASE YOU MISSED IT
Information and news about The Bowes Center from previous updates is below.

Thank you to everyone who has contributed to the project to date, and we can't wait to open the Bowes Center doors to San Francisco and beyond in only four months. See more information on the Bowes Center campaign and residential life.