Genre Bending Tina Guo Visits SFCM
Musician Tina Guo visited SFCM as an artist-in-residence and held masterclasses with students. Get to know the world-renowned cello player and her advice for young musicians.
By Mark Taylor
She is an internationally acclaimed cellist, electric cellist, erhuist, vocalist, and composer, known for her theatrical performances, range of genres, and improvisatory style in film, television, and video games. This month Tina Guo took her unique skill set to the San Francisco Conservatory of Music as an artist-in-residence and for masterclasses with students in the Technology and Applied Composition (TAC) program.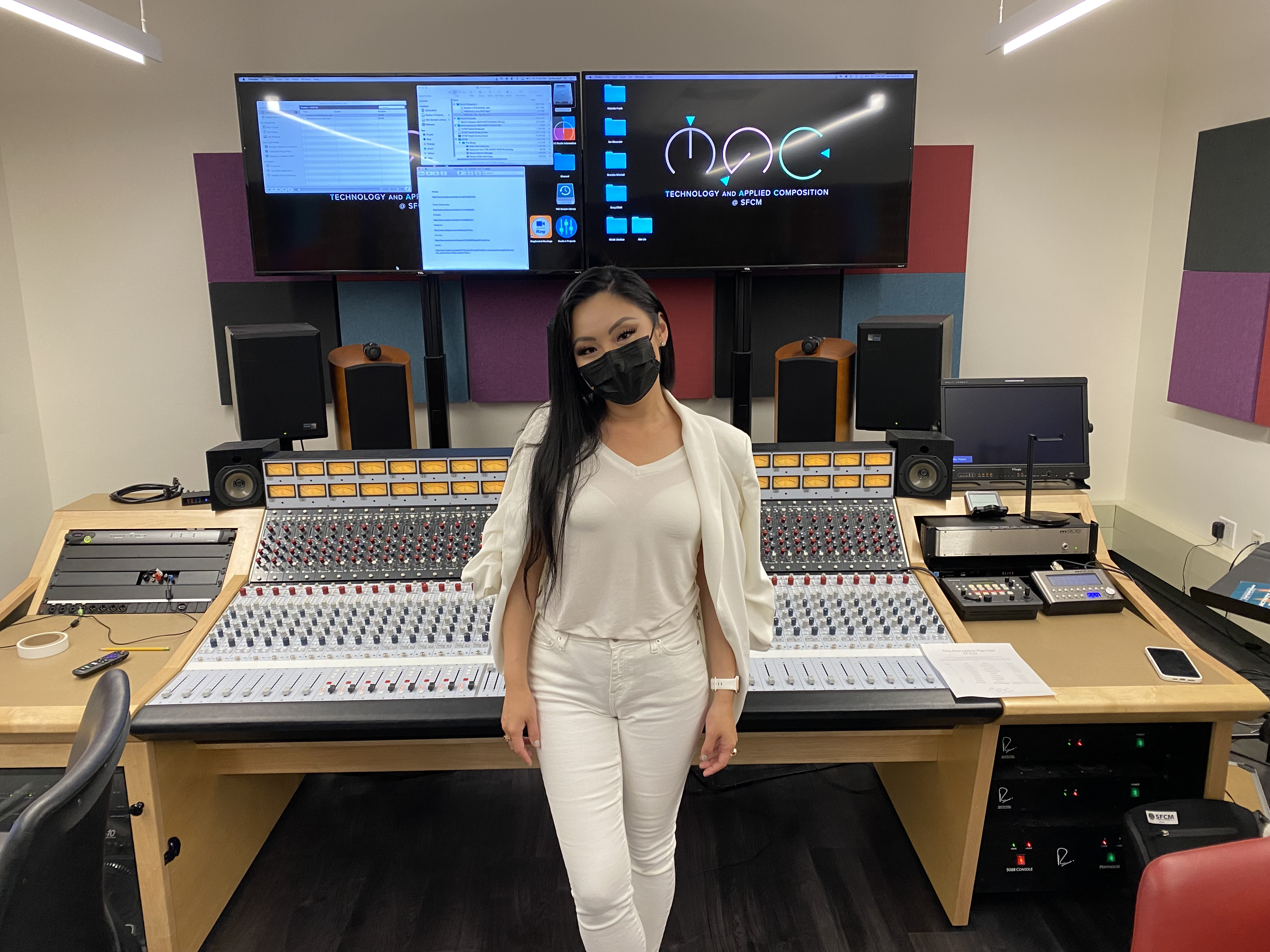 Born in Shanghai, Guo was brought up in a musical family, her mother a violin player, her father the cello. After starting piano at 3, she moved on to the cello at 7, and at 10 joined her first orchestra. In her late teens the cello player began experimenting with other genres of music and found success. Carving out a name for herself in the classical and pop music world, to become the internationally known GRAMMY-nominated artist she is today.
Known for her ferocious playing from classical music to metal, Guo is one of the most recorded solo cellists of all time. Most recently she worked with famed composer Hans Zimmer on creating the soundtrack to the sci-fi thriller, "Dune", which two SFCM TAC professors reviewed last month.
The SFCM Newsroom sits down with the musician and social media maven to find out what it takes to make it in today's world of music.
Tell us about your introduction to music?
I was forced into the family trade, it was not by choice! Both my parents are classical musicians. My dad was my first cello teacher. I started on the piano at age 3, played violin briefly and was terrible, I quit after 6 months, then switched over to the cello. That is the very honest truth!
I did not fall in love with playing until I left home and went to college. I think then I was able to find my own musical voice, and use my instrument as a tool. I realized on a technical level that I was proficient in something, and I could use that as a tool for expression.
What are you currently listening to?
I feel like sometimes I work on so much music that when I am not working I want to take a break. I've been listening to a lot of podcasts lately, usually self-help, relationship related podcasts!
I do like Rammstein, they are an industrial metal band from Germany. I listen to them a lot, especially if I am working out. It gets me aggressive in the gym!
How do you prepare for performances?
It depends on the show, but obviously a lot of practice to make sure you don't arrive unprepared. I do have this energy cycling thing that I do, I will growl like an animal backstage. No matter if it's classical or metal it does not matter. It's not nerves, it is like energetic tension. I do that to cycle that energy through my body so that I can get on stage and release it. I think some people get scared backstage if they don't know my process!
What advice do you have for young musician's today?
Just do it. We are all held back as people by fear, anxiety, and not wanting to be judged, and that is totally natural and never really goes away, but to realize you have to put yourself out there and make it work.
If you want a career as a professional musician and have it be a fiscally viable one, where you are not living in a box, you have to treat it like you are an entrepreneur, and this is a business. Using social media and putting your art out there is a very important part of marketing your product, because if you don't market your product, your product does not exist.
Any funny performance stories you can share?
I was in Cirque du Soleil for two years playing the electric cello, and I play that standing. The show is an arena show, with a main stage and a runway with an escalator leading to a stage in the middle that rises up 30 feet into the air. That is where I made my entrance into the show. To get there you lay on your back like on a skateboard basically and you slide down the middle. Usually I always check to make sure my endpin was tightened, but one time we were just running out of time and the endpin was not checked, or so I found out. While I was playing the endpin started getting lower and lower, and I ended up in this weird, sitting on the floor squatting position in front of like 15 thousand people. It was really embarrassing, but it was okay, I just kept on going!
What would you tell your younger self?
Everything that you're thinking and wanting to do, do it sooner. I don't have any regrets, but for a long time I questioned myself and was filled with doubt. I think that held me back in some sense because I was afraid or worried about the opinions of my colleagues and the people around me because I came from a very traditional upbringing. I sometimes wish I had broken out sooner. I'd tell myself it is going to be okay, it's the right thing to do.