GRAMMY-Winner Ricky Kej Visits SFCM for Lessons and Lecture
Kej, who became the first Indian-American to top the 'Billboard' New Age chart in 2014, worked directly with students in the Technology and Applied Composition program.
By Alex Heigl
Itinerary: SFCM, a win at the GRAMMYs and then onto saving the world.
Composer Ricky Kej spent early February at SFCM ahead of the 65th annual GRAMMY Awards working with students one-on-one and delivering a lecture about his extensive conservation efforts and how musicians can combat climate change with their work. (His collaborative album with former Police drummer Stewart Copeland, Divine Tides, won Best Immersive Audio Album Sunday, awarding Kej his third GRAMMY.)
"I was thrilled to see the high quality of work the students are producing and composing," Kej said. "All the students were skilled, unique, with a very professional approach towards music creation. They were all open to feedback with humility, which is absolutely essential for creators."
He continued, "The facilities were nothing less than spectacular and I wish I had access to such facilities when I was younger. The studio is on par with the best professional studios worldwide and the staff is extremely knowledgeable, friendly, and has a great bond with the students. All in all, SFCM is most definitely a massive force in the global musical landscape."
Kej was born in North Carolina but moved to India when he was 8 years old and currently lives in Bangalore; he spoke about growing up inspired by his father's extensive music collection. Though he decided early on that he wanted to be a musician, Kej ultimately graduated from dentistry school as a "safe option" for his family, and practiced as a dentist while writing commercial jingles. To date, he's released 17 studio albums—most of which directly concern his advocacy for the environment—and received multiple awards from global organizations and publications for his conservation efforts.
Shengyuan Li was one of the students who received one-on-one time with Kej during his visit. "I showed him my rescoring video piece and he shared his advice," Li, who studies with Lennie Moore, said. "In particular, he told me to pay more attention to the balance of the music and sound effects and be more mindful of the relationship between the music and the video. 'Does it fit the picture? Does it tell the story clearly and entirely? Will the music be too prominent and put the audience off?'"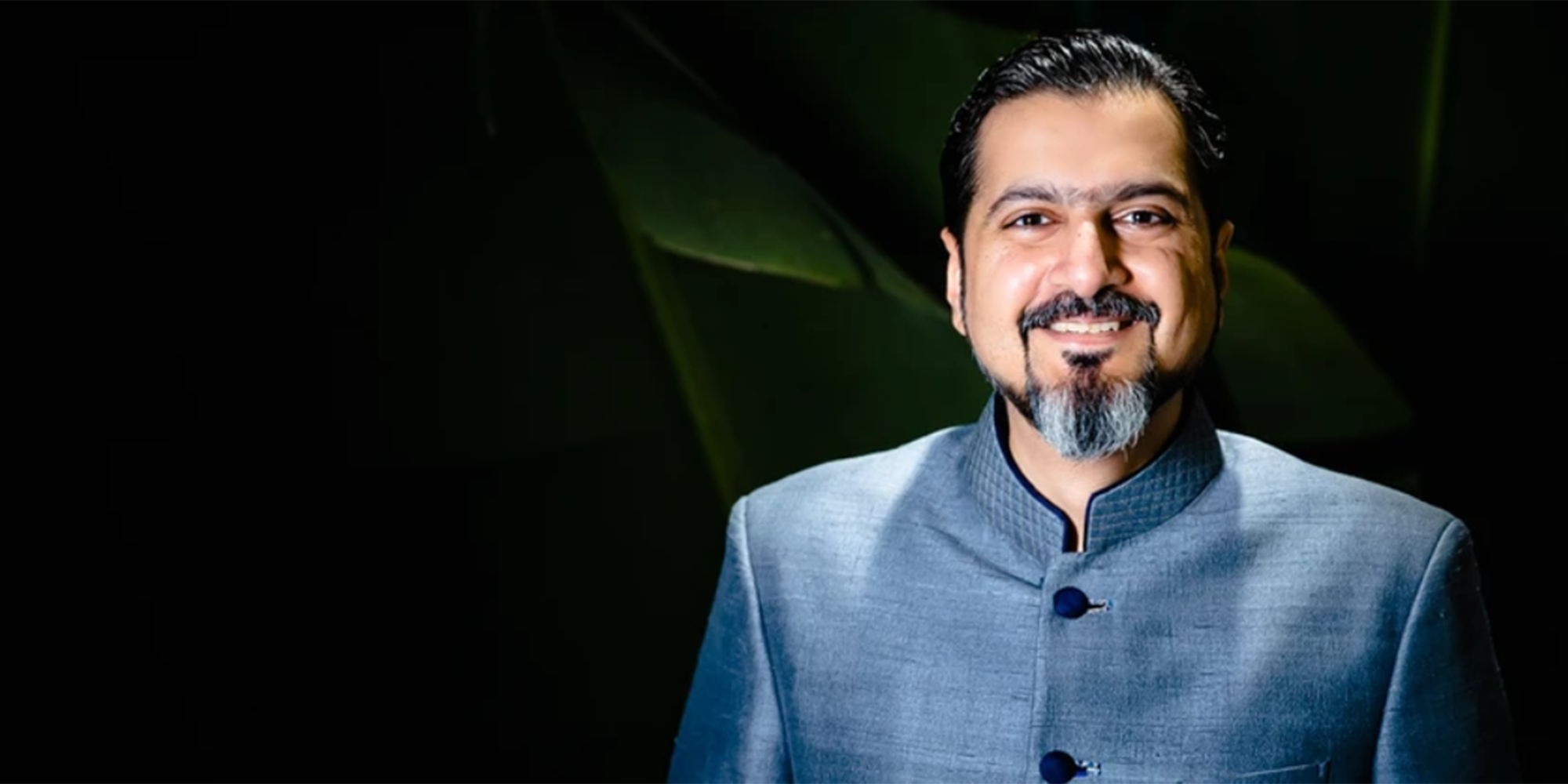 Kej's two-hour lecture was divided between an in-depth explanation of the challenges posed to the world by climate change—and the call to artists to address it—and a general Q&A. He revealed, for example, that years ago he sold his cars and has taken other personal steps to reduce his carbon footprint, like limiting his wardrobe to 11 changes of clothes. (He also explained that gets around eight hours of sleep per day … in two-hour batches, a system he's been adhering to for the last 15 or 16 years.)
"Nature is abundant, nature gives us inspiration, and we create music with that inspiration," Kej said during the Q&A. "We do not understand that whatever pain and suffering we inflict on nature we will eventually be inflicting on ourselves."
He quoted the philosopher Baba Dioum's axiom, "In the end we will conserve only what we love; we will love only what we understand; and we will understand only what we are taught," adding, "so our mission should be to make everyone fall in love with the natural world and hopefully through that love we will find it within ourselves to protect, conserve, and sustain it."
Learn more about studying Technology and Applied Composition at SFCM.