Jazz Bass Icon Rufus Reid: 'You Don't Need But Two Notes'
Reid's late November masterclass touched on the physicality of playing the instrument, how to organize an improvisation, and the merits of a "less is more" approach.
By Alex Heigl
When a jazz bassist with a CV like Rufus Reid talks, you listen. And when he says "You don't need but two notes," it's a good thing to consider.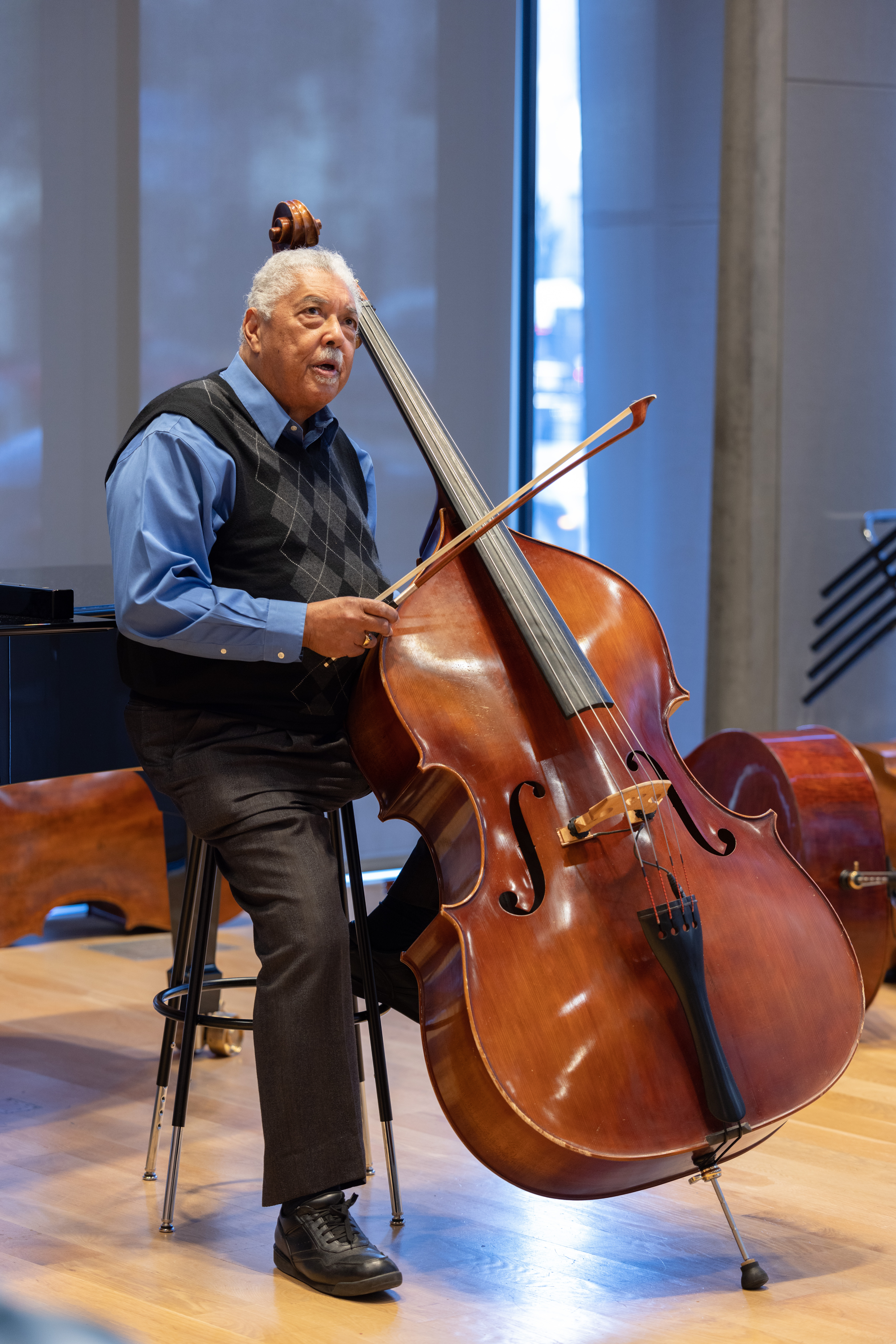 The Grammy-nominated Reid, a Guggenheim fellow, has played with some of the greats of the form, like Kenny Burrell, Donald Byrd, Lee Konitz, and Stan Getz. He was also the bassist chosen by bebop pioneer Dexter Gordon when Gordon ended his long, self-imposed period of living and playing in Europe. Reid's Northern California roots run deep as well: A graduate of Sacramento High School, he played for years in a group he co-led with SFCM jazz drums instructor Akira Tana.
"Rufus is a consummate musician who encompasses every aspect of the instrument he plays and extends his mastery to composition and arranging," Tana said. "A veteran of decades in this music, Rufus and I partnered to form a co-lead group, TanaReid, in the Nineties. We released six recordings and toured extensively. I'm forever grateful to him for creating this association which still remains in our production company, TanaReid Productions, Inc. He set into motion my continuing endeavors in a leadership role."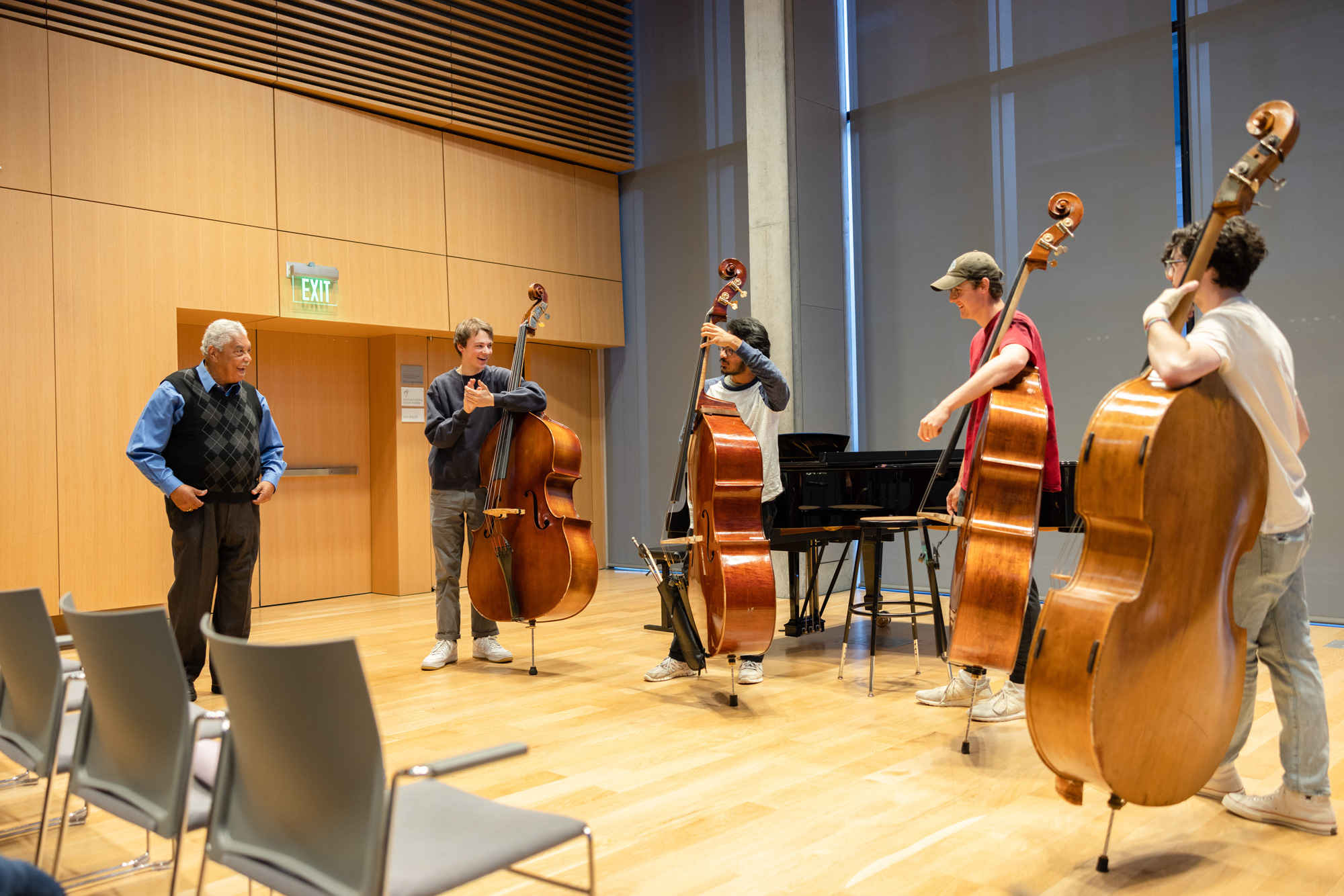 Reid is also known among bassists for his educational book, The Evolving Bassist; and he has been giving masterclasses for at least 50 years by his own estimation. He opened his class at SFCM by asking everyone in the room to sing a note, before improvising over it, concluding, "You don't need but two notes sometimes. We as jazz musicians end up playing a zillion notes without any thought. Less is more."
Reid made the point that jazz bassists listen to their bodies: "We are by ourselves. Whereas in a full orchestra, there could be seven or eight players, in a jazz group, the sound is all ours. So you really have to understand how to get the most out of the instrument without injuring yourself. A lot of bass players have tendonitis in their hands or they develop back problems … There's a lot that goes into it: If you're gripping too tight, or the bass is too big, or your stance isn't right. The body doesn't lie. And a lot of those problems can be addressed by someone who actually plays the bass in a different way, and then you learn to adapt and keep stepping."
Unlearning bad habits, he said, is the most challenging. "To back up and re-address certain things, that can be difficult, ego-wise. If you're a fairly good player but all of the sudden your body says, 'No, this is not working,' you're gonna have to pay attention, because if you continue, you might hurt yourself to the point where you can't play at all."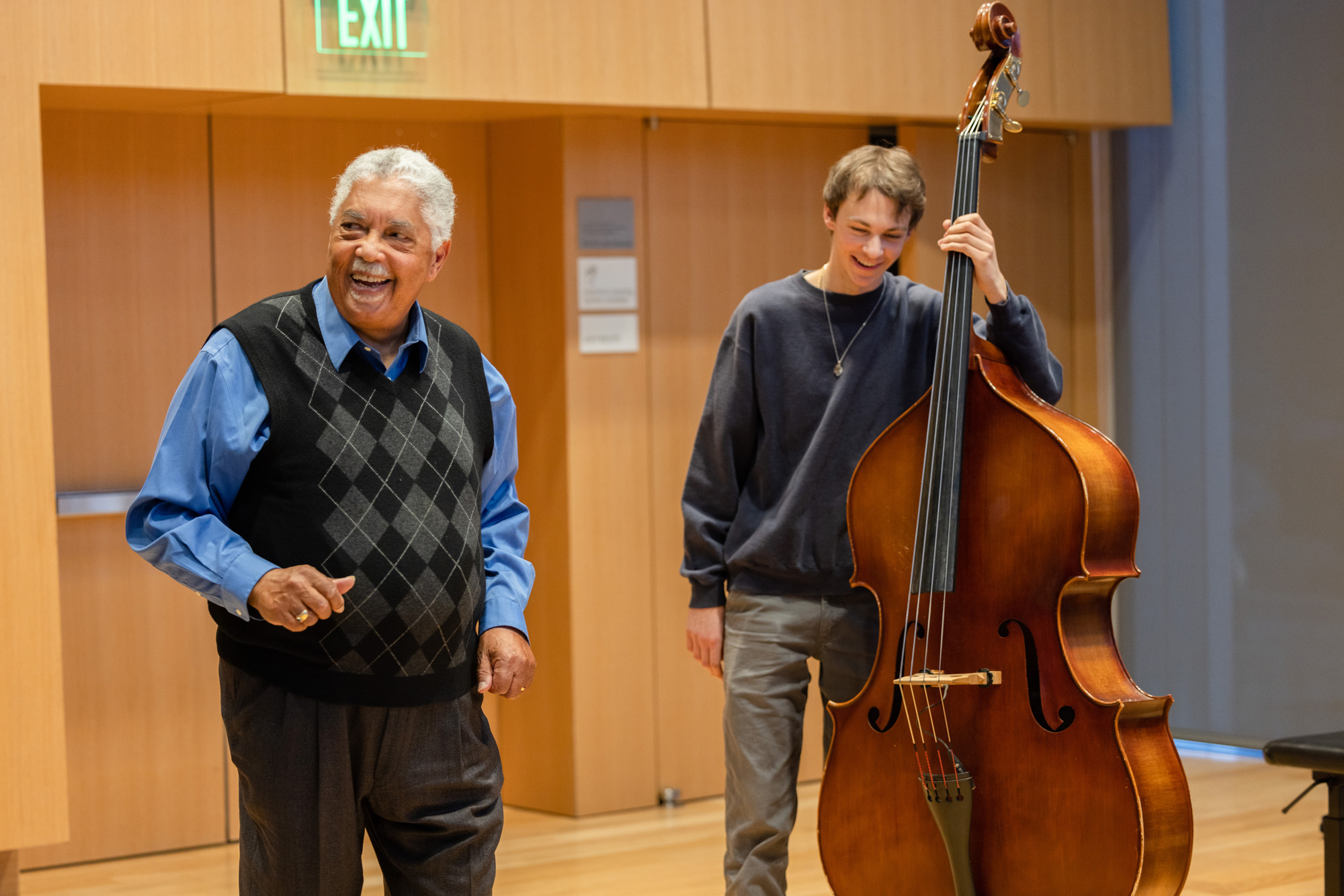 Bassist Julian Esparza was one of the students chosen to play for Reid for the instructional portion of the masterclass. "We played the jazz standard 'Softly As In A Morning Sunrise' for Mr. Reid as a bass quartet with the other Roots, Jazz, and American Music (RJAM) bassists, the first time the bassists got together and played like that," he said.
"Playing in this setting made all of us listen and engage each other—but not in the way jazz bassists traditionally do. It made us be more conscious of what we were playing and how it affected the overall performance. The feedback he gave after the performance felt more like something a philosopher would impart to his students: I remember him telling me after playing, 'Always finish what you start!' Being around a master like Mr. Reid inspired me to think differently about not only being a musician but being a person as well."
Reid closed his own performance with a short but inspiring speech that made it easy to see why Esparza compared him to a philosopher.
"Music's very powerful," Reid said. "If you want it, it's all out there, free of charge. Take it, and work it, and when you leave here, inspire someone else to come in and get it. It's in the air, and once it's out there, it's yours."
"I didn't come here to preach to you," he concluded, "but I am. Because the music's important to me. And me being in this room right now, I'm investing myself in the music and you, so that we keep this music flying high."
Learn more about studying Roots, Jazz, and American Music or the double bass at SFCM.