SFCM Hosts GRAMMY Awards Listening Event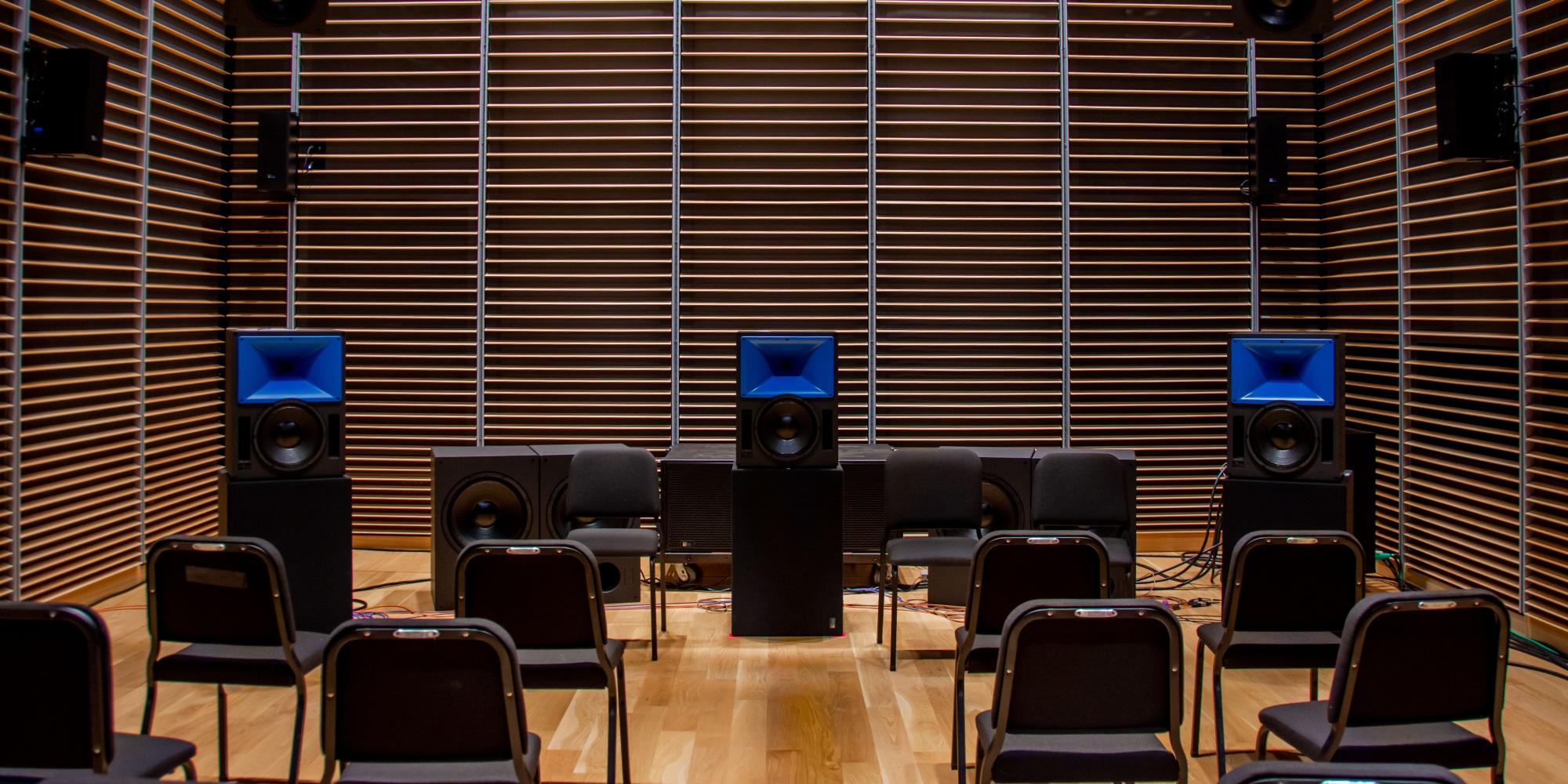 Members of the Recording Academy recently visited SFCM to utilize sound and studio equipment to help judge the 64th annual GRAMMY Awards. Professionals also hosted listening sessions for students.
By Mark Taylor
Next year the GRAMMY Awards will have gotten a little help from the San Francisco Conservatory of Music (SFCM). The Recording Academy -- the learned academy of musicians, producers, recording engineers, and other musical professionals that recognize peers and celebrate artistic excellence through the GRAMMY Awards -- used specialized sound equipment and a studio from the Technology and Applied Composition (TAC) Program to judge a category. To preserve the privacy and integrity of the awards, the category and specific judges must remain anonymous, but most guests were renowned, GRAMMY Award-winning producers and engineers.
Both SFCM and the Recording Academy hope the new partnership and collaboration will be one of many. "When it comes to music and its creators, the Recording Academy and SFCM share the same ideals and standards for excellence. The care put into creating the new facility was exactly what we needed to hear the music as it was intended to be heard, which is essential to the integrity of the process," said Sean Riley, senior director of awards at the Recording Academy.
"It's an enviable place from a technology standpoint," said Leslie Ann Jones, a GRAMMY Award-winner, director of music recording and scoring at Skywalker Sound, and trustee from the San Francisco Chapter of The Recording Academy, speaking about SFCM's recording spaces.
Jones was one of several professionals to give a listening session and masterclass to students to show and explain composition and the concept of immersive audio. "We had multiple speakers set up in Studio G [SFCM's recording studio located in the new Bowes Center] because immersive audio is more than stereo," Jones said. "They have a beautiful recording room, and a control room that has analog and digital and everything is tied together, really the students have the best of both worlds."
Recording Academy Trustee and GRAMMY-nominated mastering engineer Michael Romanowski spoke to students on the effect spatial audio can have on making music, saying, "It is opening up that creative aspect, to be able to experience what I call the active listening of immersive audio. We have an unbelievable sound system setup here, I think this is a fantastic facility and I wish that I was 20 again and I could come back here and do it from a different perspective! There are opportunities here that we did not have growing up."
Taurin Barrera, executive director of the TAC program, helped to organize and oversee the listening session presentations for students. In addition to speaking with producers, composers, and engineers, students were asked to walk through a specific setup of speakers, allowing them to hear and experience spatial and immersive audio.
The experience was especially impactful for TAC student Nicole Yazmin. "It was awe-inspiring to hear from some of my biggest influences talk about how they view spatial audio, mixing, mastering, their biggest challenges," she said. "I am walking away with what feels like a fountain of knowledge – one that is already influencing how I approach music."
Nominations for the 64th GRAMMY Awards will take place on Tuesday, Nov. 23, 2021.
Learn more about studying Technology and Applied Composition at SFCM.