SFCM's Edwin Outwater and Metallica Guitarist Iron Out a Collaboration
SFCM's Music Director Edwin Outwater recently contributed to the first-ever solo release from a member of Metallica: Kirk Hammett's 'Portals.'
By Alex Heigl
SFCM's music director Edwin Outwater is continuing the proud tradition of San Francisco classical figures collaborating with Metallica with his work on Kirk Hammett's new record, Portals—the first-ever solo release from a member of the band.
The heavy metal icons famously teamed up with the San Francisco Symphony under Michael Kamen in 1999 for the cleverly titled S&M, a greatest-hits set of sorts augmented by orchestral sounds and recorded in Berkeley, which by one estimate went on to sell 8 million copies worldwide. (Metallica, incidentally, was formed in Los Angeles but moved to San Francisco at the behest of their second bassist, Cliff Burton, whose fixation on Bach spurred the rest of the band's interest in classical sounds.)
"As a conductor, I would constantly hear about S&M," Outwater said. "For most people, honestly, it was the thing that got them excited about the sound of the symphony orchestra. If I said I was an orchestra conductor, many people I met would say S&M was their favorite orchestral record, not Beethoven's 5th!"
The band shelved the concept after Kamen's death in 2003 but revisited it in 2019 at the Chase Center in San Francisco with Outwater and Michael Tilson Thomas conducting the SFS. On that occasion, Outwater found surprising common ground with Hammett (pictured below) that paved the way for their recent collaboration. (SFCM bassist Scott Pingel was also one of the musicians participating in S&M 2.)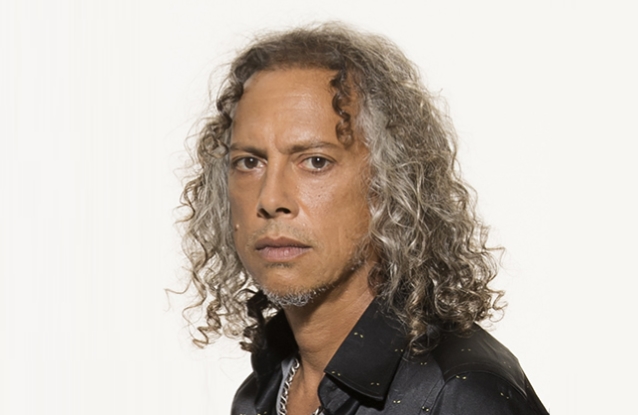 "Kirk is famously a massive horror fan, and so am I—though less famously," Outwater said. "So I let him know that I was super into horror and that led to lots of fun conversations, trust and friendship. I think that common ground was essential to our collaboration. Though we came from two totally different musical backgrounds, we kind of see things the same way. Creativity and obsession are linked, I think and we both have dual obsessions with music and horror."
When it came time to collaborate on Portals, Outwater said Hammett had already completed the first two tracks of the EP, "Maiden and the Monster," and "The Jinn."
"I was excited when he sent me new material—a collection of riffs and ideas that we molded into two songs, going back and forth as things came together," Outwater said of the two tracks he contributed to, "High Plains Drifter" and "The Incantation."
"I found Kirk's ideas really fun to play with," Outwater said of the nuts and bolts of the music. "I wrote countermelodies, moved riffs around the band, and even discovered that the main riff in 'The Incantation' could be combined with the 'Dies irae', a Gregorian chant that classical composers often quote when they want things to get spooky."
For the recording process, Hammett's guitar, bass and drums were rehearsed over a few days in Santa Monica with Outwater playing the orchestral parts on keyboards, before the core "band" headed to Henson Studios in Hollywood to track.
For the orchestral elements, Outwater recalled, "Most of the musicians were titled players from the LA Philharmonic, so you're hearing really beautiful French horn playing by Andrew Bain, and a demented harp solo by Emmanuel Ceysson. Parts of the harp solo were fiendishly difficult because it was originally meant for guitar, but Emmanuel nailed it. At the end of the day, vocalist Eliza Bagg stopped by to lay down some wordless vocals for 'High Plains Drifter,' which brought the song to another level." (Fans of the harp solo can ask Ceysson about it when he joins SFCM faculty later this year.)
"I loved being a part of this project so much," Outwater enthused. "Working with Kirk is a joy. He's an intrepid musical explorer and his unique artistic sensibility gives these songs a special quality. They remind me of a lot of things sonically and visually, and there's a big homage element at work here, but they also sound like nothing else."
Learn more about Hammett's release here and more about studying conducting with Outwater at SFCM here.