Twelve Year Old Pre-College Student Wins Sphinx Competition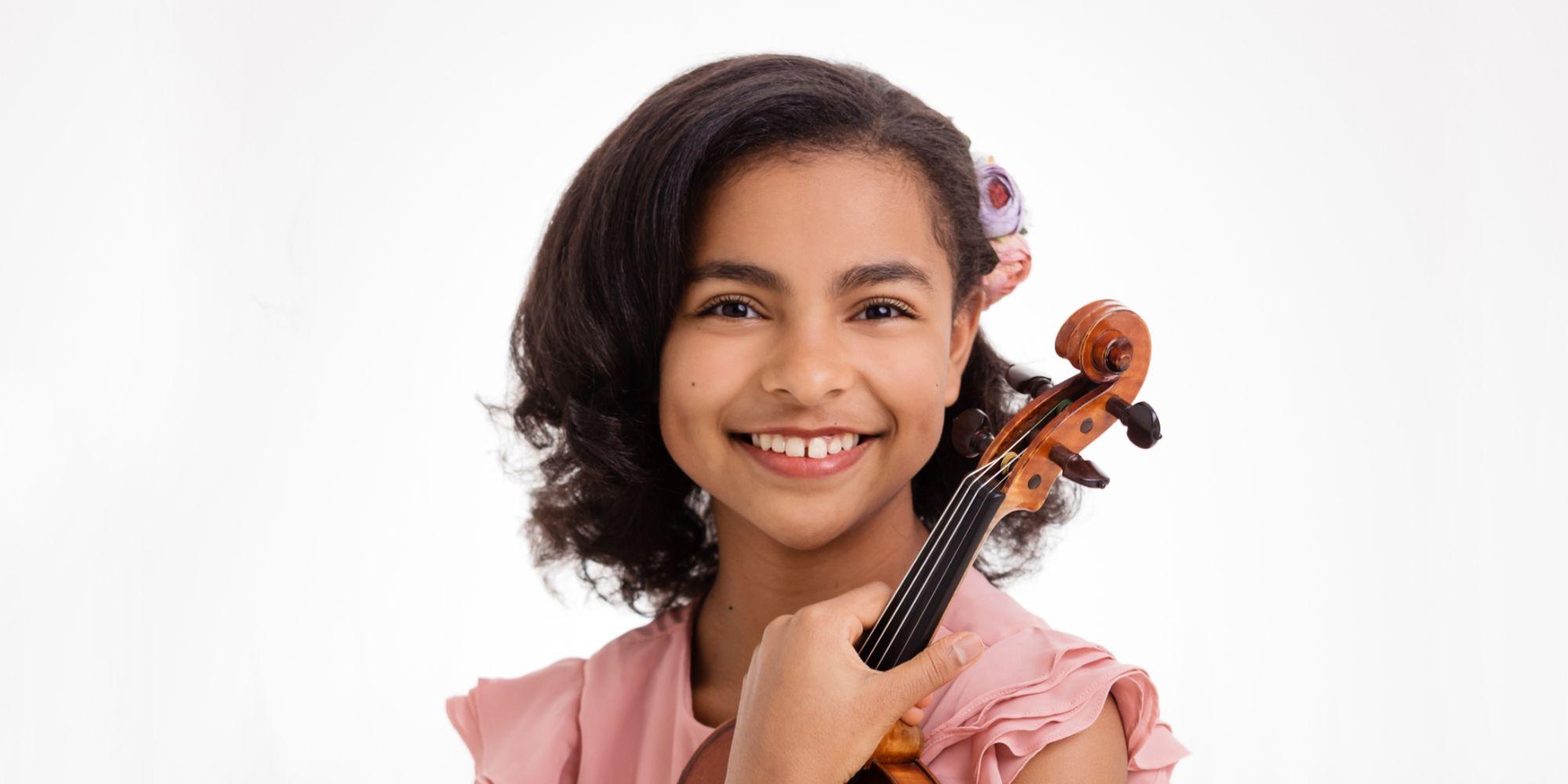 Amaryn Olmeda will have solo appearances with major orchestras as part of her prize
Twelve year-old Amaryn Olmeda is just like any other tween. She takes ballet and art classes. She collects American Girl Dolls. She gardens on her family's hobby farm in Northern California with her parents, three brothers, five goats, 50 chickens, and a funny cat.

She also plays the violin well.

Very well, actually. So well, that she just won the Junior Division of the 24th annual Sphinx Competition, a national competition offering young Black and Latinx classical string players a chance to compete under the guidance of an internationally renowned panel of judges, and to perform with and receive mentorship from established professional musicians.

The honor comes with a $10,000 cash prize, solo appearances with major orchestras, performances with the Sphinx Honors Orchestra at the Honors Concert, and an appearance on the nationally-broadcast radio program, From the Top. She also received the "Audience Choice" award.

Amaryn is a Starling Foundation Scholarship student in the Pre-College division who studies with faculty members Ian Swensen and Simon James. What's her favorite part of Saturdays at SFCM? She said, "I like everything about SFCM Saturdays, I just can't decide what I like most!" Her day includes lessons, chamber music, and classes in music theory and composition, frequently followed by a taco and a dessert on Hayes Street when classes are finished.

Amaryn began her violin studies at age four, when her older brother left the violin in favor of the cello; she picked it up, began Suzuki lessons, and never looked back. The two are now frequent duet partners.

SFCM President David Stull offered the following comments, "We are very proud of Amaryn and congratulate her on her outstanding success at the Sphinx Competition."

"Sphinx has long been the trail-blazer in building excellence, equity and inclusion in classical music, and we are honored to see Amaryn recognized for her extraordinary work and exceptional talent. She has a tremendously bright future and we all look forward to cheering for her continuing success"

Her teachers agree. Ian Swensen said, "Amaryn's natural understanding of music and the power of it is remarkable. She has truly inspired me with her music-making!" Simon James remarked, "Amaryn Olmeda is a force of nature. She is supremely gifted, motivated and confident. She has a clear path to success and is well on the way to a shining career in music. The world is her oyster!"

Amaryn, with poise beyond her mere 12 years, takes her win in stride, remarking, "The Sphinx Organization has already become like an extended family for me. I think it is wonderful that they promote diversity in the arts. I especially look forward to having concerts and performances with the Sphinx Virtuosi, and to participating in school tours. I am honored to be a part of their organization."

No stranger to success, Amaryn has been awarded first prize in the Auburn Symphony Young Artists Competition, Music in the Mountains Young Musicians Competition, Classical Music Masters at the Harris Center for the Performing Arts, Pacific Musical Society Competition in San Francisco, Sacramento Youth Symphony Academic Orchestra Concerto Competition, Merced Symphony Young Artist Competition, the Solano Symphony Young Artist Competition, and the Bach Award at the United States International Music Competition at Stanford University, among many others. She has dazzled audiences with her bold and expressive performances across California and internationally in Hungary, Slovakia, and the Czech Republic.

She can also be heard closer to home, performing in school tours with the Sacramento Youth Symphony, Auburn Symphony, and the Oakland Symphony, at the Davis Community Church Weekly Luncheons for the Homeless, the Children for Children Showcase Concert to benefit Child Advocates of Nevada County, the Keaton Raphael Child Cancer Organization, as a soloist with the Sacramento Chamber Music Workshop nursing home tours, and at the End of Watch Benefit Concert, honoring fallen police officers of Sacramento.

She's surely a rising star and artist to watch.

Learn more about SFCM's Pre-College division.