Imagine!
Six Suite in Six Weeks
Exploring Bach's Masterworks—listening doesn't have to be a spectator sport! Join us for a six-session exploration of Bach's beloved cello suites. Learn how six esteemed artists approach this iconic music in a casual and intimate environment of music and conversation.
DATES, TIMES, AND TOPICS
Tuesday, March 8, 2022 | 5:30 p.m. Pacific
Suite no. 1 – Oliver Herbert
Tuesday, March 15, 2022 | 5:30 p.m. Pacific
Suite no. 5 – Robert Howard
Tuesday, March 22, 2022 | 5:30 p.m. Pacific
Suite no. 2 – Jean-Michel Fontaneau
Tuesday, March 29, 2022 | 5:30 p.m. Pacific
Suite no. 6 – William Skeen
Tuesday, April 5, 2022 | 5:30 p.m. Pacific
Suite no. 4 – Bonnie Hampton
Tuesday, April 12, 2022 | 5:30 p.m. Pacific
Suite no. 3 – Stephen Harrison
---
Who should attend?
Everyone who loves Bach and wants a deeper dive into the six cello suites.
How should I prepare?
There are numerous recordings available if you wish to listen in advance, but you don't need to study up: just come prepared for an hour of musical fun. Scores are provided below for those who wish to follow along.
Is there a cost?
6-week package: $100
Individual session: $20
How do I attend?
You'll attend online via Zoom, and all participants will be part of the conversation, adding questions and comments to this live event.

Register for all tickets at Eventbrite using the registration button. Once registered, you'll receive an email with a link to your personal access page.

A partnership of AMN and San Francisco Conservatory of Music Continuing Education
The Register Now! button will take you to the Eventbrite registration page for this event.

Already registered? Go to your Eventbrite access page. Be sure to log in to Eventbrite with the same account that you used to purchase the ticket.

More questions? Check out the Online Access Help Page.
About the Mentors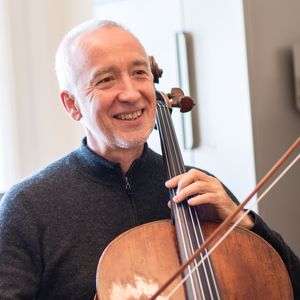 Jean-Michel Fonteneau:
The eminent French cellist Jean-Michel Fonteneau has performed and taught around the world. As a soloist and chamber musician, he has appeared throughout Europe, Asia, Africa, and North and South America. He has served as a professor of cello and chamber music at the San Francisco Conservatory for the past two decades, in addition to performing and teaching annually at Yellow Barn. He is a founding member of the Quatuor Ravel which received top prizes at the Evian International String Quartet Competition in 1989 and won the Victoire de la Musique Classique in 1994. The Quatuor Ravel performed annually at the Concertgebouw in Amsterdam, as well as regularly at the Théâtre des Champs-Élysées, Salles Gaveau, and Suntory Hall. They also toured extensively throughout the United Kingdom, Germany, and North America. Jean-Michel created and led the first ever string quartet residency program in France. Recent collaborations include performances with Leon Fleisher, Peter Frankl, Claude Frank, Nobuko Imai, Gilbert Kalish, Kim Kashkashian, Anthony Marwood, Menahem Pressler, and Mark Steinberg. Jean-Michel has also performed alongside the Amadeus, Escher, Fine Arts, Pro Arte, and Tokyo Quartets. He has recorded extensively for Albany Records, MSR Classics, Centaur Records, and Musidisc-France.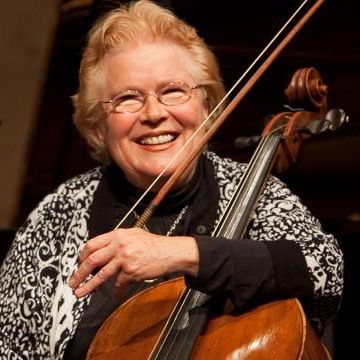 Bonnie Hampton:
Cellist Bonnie Hampton leads an active music life as a chamber musician, soloist, and teacher. A founding member of the Naumburg Award-winning Francesco Trio, she has also performed as the Hampton-Schwartz Duo with her late husband, pianist Nathan Schwartz. Her solo debut with the San Francisco Symphony Orchestra was followed by appearances with orchestras nationally performing the entire standard repertoire and many of the 20th century cello concertos. Ms. Hampton's chamber music guest appearances have included performances with the Juilliard, Guarneri, Cleveland, Mendelssohn, Alexander, Budapest, and Griller String Quartets, and concert tours have taken her to Europe and Asia. She has performed in major concert halls and chamber music venues throughout the world.

A student of Pablo Casals, she participated for many years in the Casals and Marlboro festivals, as well as at Tanglewood, Ravinia, Santa Fe, Kneisel Hall, and Yellow Barn among many others. Her early studies were with Margaret Rowell, the Griller String Quartet, and Zara Nelsova. Her Francesco Trio Residencies have included Stanford University and the San Francisco Conservatory of Music, where she taught for thirty years. Ms. Hampton was awarded an "Excellence in Teaching Award" from SFCM and Indiana University and was a member of the Juilliard School's Cello and Chamber Music faculty from 2003-2012. In 2018, she was awarded an Honorary Doctorate Degree from the San Francisco Conservatory of Music.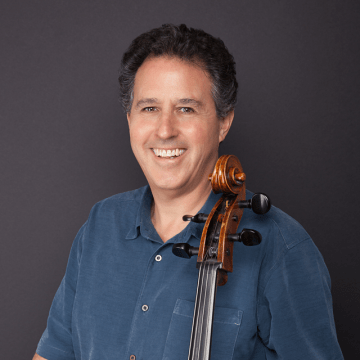 Stephen Harrison:
Cellist Stephen Harrison has been on the Stanford University faculty since 1983. He is a graduate of Oberlin College and Boston University, where he received the Award for Distinction in Graduate Performance. Former principal cellist of the Opera Company of Boston, the New England Chamber Orchestra and the Chamber Symphony of San Francisco, he has performed on National Public Radio, the BBC, and on both German State Radio and the Netherlands State Radio.

As solo cellist of the San Francisco Contemporary Music Players, he has toured internationally and recorded on the Delos, CRI, New Albion and Newport Classics labels. He has also performed on both the "Music of the Sacred and Profane" and New and Unusual Music Series presented by the San Francisco Symphony, and for Chamber Music West. Mr. Harrison has been on the faculty of the Pacific Music Festival and is currently an artist/faculty member of the Rocky Ridge Music Center.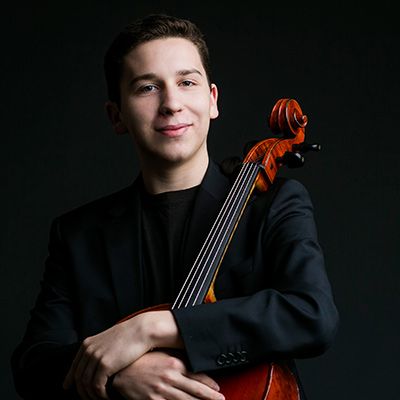 Oliver Herbert:
Cellist Oliver Herbert is quickly building a reputation as an artist with a distinct voice and individual style, admired by audiences for his communicative and connective performances. The recipient of a 2021 Avery Fisher Career Grant, Oliver has been praised by San Francisco Classical Voice for his "expansive tone, virtuosity, and musical instincts." Recent appearances include debuts with world renowned ensembles including the San Francisco Symphony, Chicago Symphony Orchestra, Warsaw Philharmonic, and Edmonton Symphony Orchestra. As a chamber musician, Oliver has participated in leading music festivals including Caramoor, ChamberFest Cleveland, Krzyżowa Music, La Jolla Summerfest, Marlboro Music, Music in the Vineyards, Nevada Chamber Music Festival, Ravinia, and Verbier. In the 2021-22 season, Oliver joins violinist Alexi Kenney and pianist Eric Lu for a program of Haydn, Schumann, and Schubert at the Philadelphia Chamber Music Society.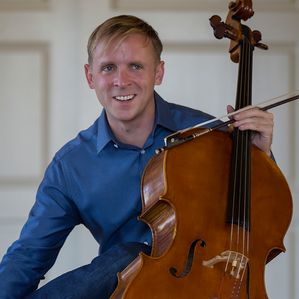 Robert Howard:
A native of Atlanta, GA, Robert began studying cello at age 12. Graduate of Rice University and San Francisco Conservatory of Music. He has studied and performed at festivals such as Tanglewood, Spoleto, Verbier, the Accademia Chigiana, and the Sandor Vegh Academy in Prague. Robert won first prize in the Rome Festival Competition and has received grants from the Maggini and Virtu Foundations. Robert has performed in the Festival Internacional de Musica in Costa Rica, the Festival de Guadarama in Spain, and on the Mostly Mozart series in Lincoln Center. He has performed with American Bach Soloists, New Century Chamber Orchestra, Philharmonia Baroque, and the San Francisco Symphony. A regular guest on many Bay Area chamber music series, Robert has also made concerto appearances with BARS Orchestra and Stanford Symphony. He has worked directly with composers such as Osvaldo Golijov, Gabriela Frank, George Perle, George Benjamin, and Jonathan Berger. Robert runs his own house concert series, concertsbythesquare.org, which combine thematically linked chamber music programs with food and short lecture presentations. A passionate teacher, he has made two trips to Kenya, where he taught and performed. He has coached at San Francisco Conservatory, Stanford University, San Jose State University, San Francisco State University, and the Conservatorio Superior Coruña in Spain.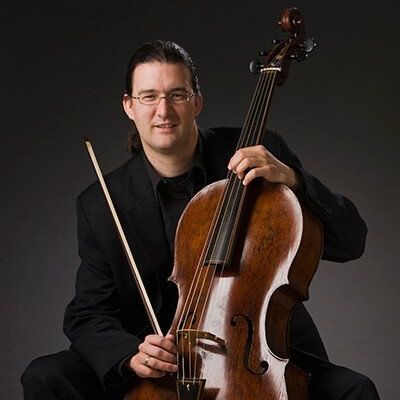 William Skeen:
William Skeen serves as Principal Cellist with Philharmonia Baroque Orchestra, the American Bach Soloists, and Voices of Music. He is a founding member of the New Esterházy Quartet, the Cantata Collective, and La Monica. William taught baroque cello and viola da gamba at the University of Southern California for two decades. He has appeared with the Los Angeles Philharmonic, Los Angeles Master Chorale, San Diego Opera, Dallas Symphony, Los Angeles Master Chorale, Carmel Bach Festival, and Oregon Bach Festival among many other prestigious ensembles. William is currently nominated for a Grammy Award with the Baroque ensemble AGAVE.