Hire SFCM Musicians
Hire great musicians for your next event.
Hire SFCM Musicians
Looking for musicians for a special occasion or event? The Conservatory's Hire SFCM Musicians program provides talented students to play or sing at weddings, parties, and corporate functions at very affordable fees.
For quotes and reservations, click "Get Started" or contact our office at (415) 503-6297.
Who will play at your special event?
Hire SFCM is dedicated to providing the very best musical experience at your next event. Our ensembles and soloists are among the most talented musicians in the country. They have successfully completed a rigorous audition to enter the Conservatory and are auditioned again to work with the Hire SFCM program, so you're assured performances by top-notch musicians at affordable rates.
Pricing
How much will it cost?
Rates depend on the number of performers, length of performance, and geographical location. We'll be happy to discuss your event and make recommendations about appropriate groups. Please be sure to include your phone number with your inquiry.
Performances (includes all weddings and holiday events)
$140 per musician per hour
Background Music
$120 per musician per hour
Fees
$50 booking fee.
Travel fees and a two-hour minimum apply for events outside of San Francisco.
Customer Testimonials
"Thank you to you and your colleagues for the wonderful music at yesterday's wedding at the Fairmont. You all performed brilliantly and it absolutely made the ceremony come together."
—Megan Weisberg, MW Weddings
"I just wanted to thank you for your ensemble's wonderful performance that afternoon of October 9 at the Palace of Fine Arts Rotunda. I apologize that I never got the chance to talk with you in person, but we loved your music. Thank you especially for the lovely renditions of the two custom pieces, Valse d'Amelie and Such Great Heights. They were just perfect. Best wishes for a wonderful musical future to you all."
—Morgan, groom
"I can't thank you enough. Andy was terrific. He was incredibly easy to work with, flexible, and truly set the tone for the evening. I will definitely recommend the Conservatory to other groups. Thanks again."
—Peter, art gallery owner
"I wanted to send a quick thank you to you and your group for working so well together to make Katie & Greg's wedding completely perfect. Even with the GG Bridge celebration, we were able to still run the wedding without missing a beat, and that is all in part to you all being extra attentive about the possible traffic delays, etc. The music was beautiful, and many guests commented to me on this as well. I truly appreciate it, and am looking forward to working with you all again soon!"
—Kathryn Kalabokes, Dream A Little Dream Events
What types of groups are available?
Want to add some spark to your next event? Brass instruments are excellent for larger spaces or outdoor events. Select brilliant fanfares or jazzy tunes to create a festive atmosphere for your special occasion.
Wind instruments are an excellent choice for any space, including outdoor venues. Choose works from the inspiring romantic repertoire as well as lighter music that only jovial woodwinds can produce.
String Duos, Trios, and Quartets
The perfect touch for elegant settings, dinners and weddings. Your guests will enjoy music of master composers like Mozart, Haydn, Bach, and Vivaldi.  Choose between a string duo (violin and cello), string trio (violin, viola, and cello), or string quartet (two violins, viola, cello) for your event!
Add a flute or oboe into a string trio or quartet, and enjoy the beauty of winds and elegance of strings wrapped up in one! Enjoy all the same classic repertory as string trios and quartets.
Guitar with Flute, Violin, or Oboe
For an intimate setting, the soft sounds of beautiful classical guitar with strings or woodwinds is a wonderful choice.
A guitarist is perfect for an intimate gathering, providing non-intrusive background entertainment with both classical and Spanish works.
You provide the piano, we provide the pianist! Let us entertain your guests with classical, Broadway, or pop tunes.
Enjoy some of the world's most beautiful opera arias and art songs, or tap your feet to lively show tunes. Choose a male or female voice.
Hire a soloist or larger combo to entertain your guests with the great jazz standards, Latin tunes and more! Choose from piano, guitar, string bass, drums, trumpet, or saxophone. (May depend on availability.)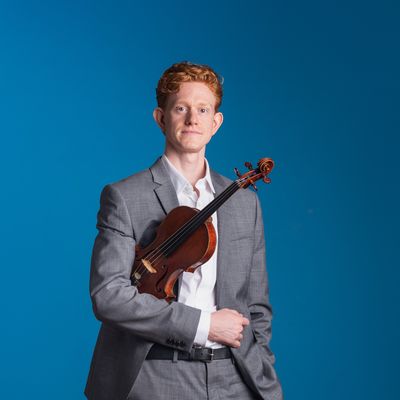 Kevin Rogers
Community Engagement Manager
Library Room 622, Professional Development and Engagement Center
hiresfcmmusicians@sfcm.edu
415-503-6297