Leadership
David H. Stull, President
Music is essential to life, and education is the best promise for tomorrow. These are the values that inspire us to take risks with optimism and conviction."
—SFCM President David H. Stull
David H. Stull was appointed president of the San Francisco Conservatory of Music (SFCM) in 2013.
During his tenure, the Conservatory completed the $200 million+ Ute and William K. Bowes, Jr. Center for Performing Arts while reimagining the model for a modern conservatory and launching a dynamic curriculum that prepares artists to seize opportunities in the new economy while equipping them for lifelong success in any endeavor. In addition to its novel programs in Technology and Applied Composition and Roots, Jazz, and American Music, the school forged educational alliances with the San Francisco Symphony, Opera, and Ballet, the SFJAZZ Center, Skywalker Studios, SONY, and numerous companies in Silicon Valley.

In 2020 and 2022, Stull led SFCM's acquisitions of Opus 3 Artists, Pentatone, and Askonas Holt, establishing the conservatory as the only one paired with two leading artist management companies and a legendary recording label. In the time since, the network of partners created the Artist Apprentice Program, numerous artist-led residencies and campus engagements, and an unprecedented academy for students that culminated in a recording with the National Brass Ensemble.

As an advocate for equality, Stull is partnering to increase representation in the arts, including a collaboration with the San Francisco Symphony for the Emerging Black Composers Project—a ten-year engagement program to spotlight early-career Black American composers and their music—and the Denis de Coteau Fellowship with SF Ballet which provides funding, instruction, and performance opportunities for musicians with diverse backgrounds.

Stull has also worked closely with SFCM supporters to transform the institution's financial aid and programmatic offerings, including adding 120 scholarships in honor of SFCM's female founders and growing the Rubin Institute for Music Criticism.

In recent years, Stull and the Conservatory have been featured in nearly every major news outlet, including on NBC's The Today Show, NPR, and in the New York Times, which announced a single gift of $46.4M to launch construction of the Bowes Center, the largest gift in history to a music school in support of a building project.

Before leading SFCM, Stull served for nine years as dean and professor of brass studies with continuous tenure at the Oberlin Conservatory of Music. There, he spearheaded the construction of the Kohl Building and implemented numerous academic programs and a record label. He also produced orchestral tours to Carnegie Hall, Walt Disney Concert Hall, and the People's Republic of China, as well as a Grammy-nominated album and a concert by Stevie Wonder.

Recognizing the success of Oberlin's contributions to American education, President Barack Obama presented the Oberlin Conservatory of Music with the National Medal of Arts, which Stull accepted on behalf of the institution in February 2010.

Prior, Stull worked for the Aspen Music Festival, held dean and teaching positions at Lawrence University, and served as the associate director of admissions for The Juilliard School.

A professional tubist, he has performed with the Milwaukee Ballet, the Bravo Colorado Music Festival, the Oberlin Brass Quintet, the American Brass Quintet, the Aspen Festival Orchestra, and Live from Lincoln Center. He toured the U.S. and Europe and recorded for commercial radio and television.

His former students have performed with the Houston and Seattle symphonies and hold major teaching positions. Stull often serves as a keynote speaker.

A native of Cincinnati, Stull earned degrees in tuba performance and English literature at Oberlin College. He attended the Aspen Music Festival and pursued further study in the American Brass Quintet Seminar at The Juilliard School before completing a master's in music at the University of Wisconsin at Madison. An instrument-rated pilot, he flies a 1965 Cessna 182 Super Eagle and has flown across the United States, the Bahamian Islands, and the Grand Canyon. He currently resides in Sausalito with his wife, Jessica Downs; they have two daughters, Madeline and Emily.
Contact
Ava Harmon
Director of Operations, Office of the President and Dean
aharmon@sfcm.edu
415-503-6251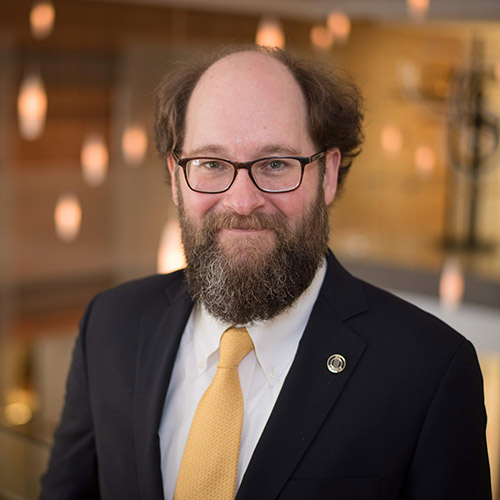 Jonas Wright
Dean and Chief Academic Officer
Jonas Wright, Dean and Chief Academic Officer, is responsible for the academic program at the San Francisco Conservatory of Music. In addition to leadership and cultivation of the faculty, he oversees and implements changes to the curriculum. He is guided by a commitment to the student population, who represent some of the finest musicians in the country, with a focus on academic achievement, student engagement, and efforts to attract new students of the highest caliber to SFCM. By ensuring that the Conservatory continues to meet the standards for accreditation, he is committed to the success of students, faculty, and administrative staff. 
While serving as Registrar, Wright successfully led the initiative to move the Conservatory to online registration and grade reporting, creating a more user-friendly experience. He launched the Student Academic Enrichment Center (SAEC) in the fall of 2014, which centralized all tutoring services into one location, and expanded support services for the Conservatory's diverse student population. He was promoted to Associate Dean of Academic Affairs in 2015.  
Before joining SFCM, Wright served first as Operations Manager, then as Registrar, at the Presidio Graduate School, where he established the school's first Registrar's Office. He's also held positions at the American Film Institute, supporting a student population consisting of the most driven, focused, and talented aspirants to film and television production.
Since September 2016, Wright has served as Board Chair for Little Opera, an after-school arts and music program. Additionally, he's volunteered at College Track, advising, mentoring and inspiring at-risk San Francisco high school seniors as they apply for college.
Originally from Buffalo, New York, Wright received his Bachelor of Arts in film studies from the University of Buffalo and now lives in San Francisco with his amazing wife. When not at 50 Oak, you have an equal chance of finding him at War Memorial Opera House, SFJAZZ, or the Great American Music Hall, inspired by all the great music the city has to offer.
Contact
Ava Harmon
Director of Operations, Office of the President and Dean
aharmon@sfcm.edu
415-503-6251
Administration
Beth Giudicessi, Vice President of Admissions, Marketing and Public Relations
Kathleen Nicely, Vice President of Advancement
Kathryn Wittenmyer, Vice President of Finance
Board of Trustees
Timothy W. Foo, Chair
David H. Stull, President
Deepa Pakianathan, Vice Chair
Camilla Smith, Vice Chair
Karen Kubin, Secretary
Barbara Walkowski, Treasurer
Lock Bingham
Jan Buckley
Carol Casey
Rebecca-Sen Chan
Christiane de Bord
Lisa Delan '89
Carol Pucci Doll
James Freeman
Anisya Fritz
Jeffrey J. Gao
Gary V. Garabedian
Carl Kaufman
David Kremer
Susan Graf Marineau
Payam Mirrashidi
Philip Nicol
Mary Poland
Joshua M. Rafner
Stephen Rubin
Maria Shim
Maureen O'Brien Sullivan
Jane Chang Tom, Ph.D
Maurice Werdegar
Michael R.V. Whitman
Diane Zack
Siwei Zou
Advisory Board
Gordon P. Getty '62
Thomas Hampson
Robert K. McFerrin, Jr.
Robin Sutherland '75 in memoriam
Michael Tilson Thomas
Frederica von Stade
Trustees Emeriti
John M. Anderson
Edward W. Beck
Didi Boring
William K. Bowes, Jr., in memoriam
Ava Jean Brumbaum, in memoriam
Mrs. A. Barlow Ferguson, in memoriam
Mrs. Harold B. Getz, Jr.
Bruce W. Hart
Warren R. Hashagen, Jr., in memoriam
Michael J. Savage
John B. Stuppin, in memoriam