Diversity, Equity, and Inclusion at SFCM
YOUR VOICE MATTERS. SFCM LISTENS.
DEI is not a workshop, or a training, or a once year conversation. It's a practice. In the same way every musician practices scales daily, we must also practice DEI values daily. When we start to do this, we naturally seek to bring in diverse perspectives, which integrate into...that's right, our daily practice."
—Jonas Wright, Dean
SFCM is committed to raising underrepresented voices in everything that we do by bringing human experiences from different genders, sexual orientations, and races into the curriculum and performances, creating a thriving community. We increase representation and belonging by fostering alliances, engaging current and prospective students, supporting job placement, and facilitating faculty and staff learning and recruitment.
On campus SFCM fosters a place for all people, from our Black Student Union, Korean Club, Latinx Club, to our Pride Network, student groups provide safe spaces for musicians of all kinds to gather, share their experiences and make music. In addition, every year SFCM presents "The Future is Female: A Concert of Music by Women" organized by and featuring the women and gender non-conforming people of SFCM.
SFCM's work extends beyond the classroom with our Emerging Black Composers Project, a 10-year commitment that awards commissions for Black artists along with guaranteed premieres at major orchestras and mentorship. In addition, in a partnership with the San Francisco Ballet, the Denis de Coteau Fellowship advances opportunities for musicians whose diverse backgrounds enable them to contribute to campus and the performing arts in unique ways. It provides each fellow with tuition, housing, and a stipend.
Information on our commitments, progress, and President's Advisory Council on Equity and Inclusion is below. Additionally, please share experiences you'd like to discuss in this form and we will use this information to make SFCM a better place.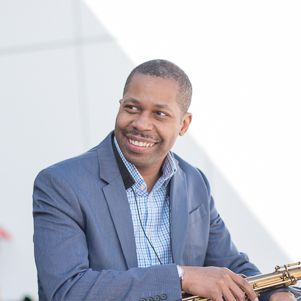 My goal is to make SFCM—the school we love—a place where diverse voices are heard, represented, and embraced."
Jason Hainsworth
Associate Dean of Diversity, Equity, and Inclusion
Emerging Black Composers Project
The Emerging Black Composers Project is a ten-year commitment to spotlight early-career Black American composers and their music. It was launched in 2020 with the first-place commission given in June of 2021 to Trevor Weston.
Winners receive a world premiere of their work at the San Francisco Symphony, workshop and mentorship opportunities at SFCM, and a $15,000 award.
All applications are reviewed through an anonymous process by a committee chaired by Daniel Bartholomew-Poyser, resident conductor of engagement and education at the San Francisco Symphony.
Our Commitments – Beginning in 20/21
Co-commission 10 pieces by Black composers over the next 10 years, in partnership with a major arts organization
Endow 10 full-tuition scholarships for Black students, to be fully funded in five years
Expand mandated diversity, inclusion, and anti-racist training as part of orientation for faculty, staff, and students
Program works by Black composers in all ensemble programs
Host at least one Black artist-in-residence for masterclasses and lessons each year
Create music coursework foregrounding Black contributions to classical music
Develop humanities coursework focused on the Black Experience in America
Increase outreach to area public schools with at least 20% Black enrollment
Expand existing community partnerships with Third Baptist Church, Congregation Emanu-El, and Koret Foundation via Bridge to Arts and Music Program
Recruit more Black faculty, staff, and board members for leadership positions
Fund three RJAM (Roots, Jazz, and American Music) student scholarships for the next four years
Fund 3 full-tuition scholarships for Black industry professionals for each Center for Innovative Leadership program
President's Advisory Council on Equity and Inclusion
Rev. Dr. Amos C. Brown, Sr.
President, San Francisco NAACP
Pastor, Third Baptist Church

Rev. James Parrish Smith, M.Mus.
Director, Bridge to Arts and Music (B.A.M.) San Francisco Conservatory of Music
Secretary, San Francisco NAACP
Minister of Music, Third Baptist Church

Brandon Bell '18
DuMarkus Davis '18
David Dickerson '21
Kristopher Grant '20
Jason Hainsworth, Director of RJAM Program
Jasmine Johnson '17, '19
Michael Mohammed, Director of Musical Theatre Workshop
Marcus Jamal Paige '18
Chasiti Lashay Walker '20
Larry Joe Williams III '21
2021 Convocation Discussion on Diversity
SFCM President David Stull discusses the role of music in inclusion in the community, SFCM also welcomed guest speaker Charles Chip Mc Neal -- a diversity specialist, civic leader and activist who focuses on arts educational equity, social justice, and cultural competency -- to speak at the convocation.