News Story
How Stephen Tramontozzi's Bass Survived Being Bombed in WWII
Tramontozzi's bass was made by British luthier John Frederick Lott and can be heard on four of his solo albums, all recorded at SFCM.
October 2, 2023
by Alex Heigl
SFCM bass faculty Stephen Tramontozzi is the San Francisco Symphony's Assistant Principal Bass, occupying the Richard & Rhoda Goldman Chair. But for the most part, you won't hear the bass he utilizes for his solo performances and recordings at Davies Hall: It's tuned a whole step up from a standard upright bass for Tramontozzi's solo work.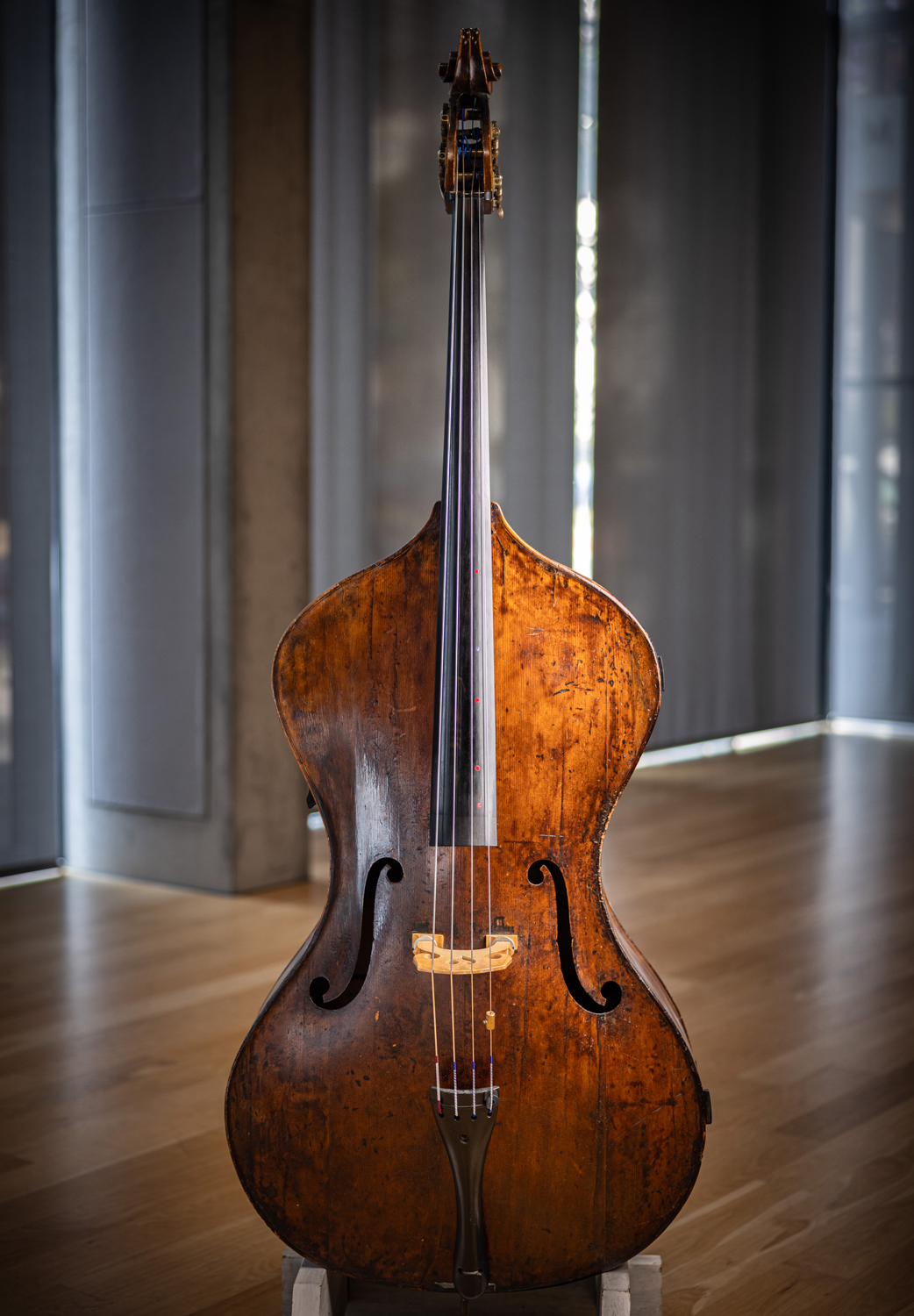 That's hardly the most interesting thing about the bass, though: From World War II to a maybe-Los Angeles crime scene, here's the story of how it came into Tramontozzi's possession, in his own words. 
"Apparently, the bass was played at an afternoon concert by the London Philharmonic Orchestra at Queens Hall in London on May 10, 1941, in a program of music by Elgar, with Malcom Sargent conducting. After the concert, the bass and many other instruments were stored in the band room behind the stage. That night was the worst night of the German Blitzkrieg on London and Queens Hall was hit with an incendiary bomb. The Hall was gutted by the fire and the London Philharmonic lost tens of thousands of pounds of valuable musical instruments that night, it was a miracle that they were able to salvage the bass and restore it in 1959.
I don't know how the bass ended up in the U.S., but I do know that jazz bassist Wilfred Middlebrooks owned it for a time while living in L.A. He played with many jazz artists, like Art Pepper and Dizzy Gillespie, and is especially known for working with Ella Fitzgerald from 1958-1963.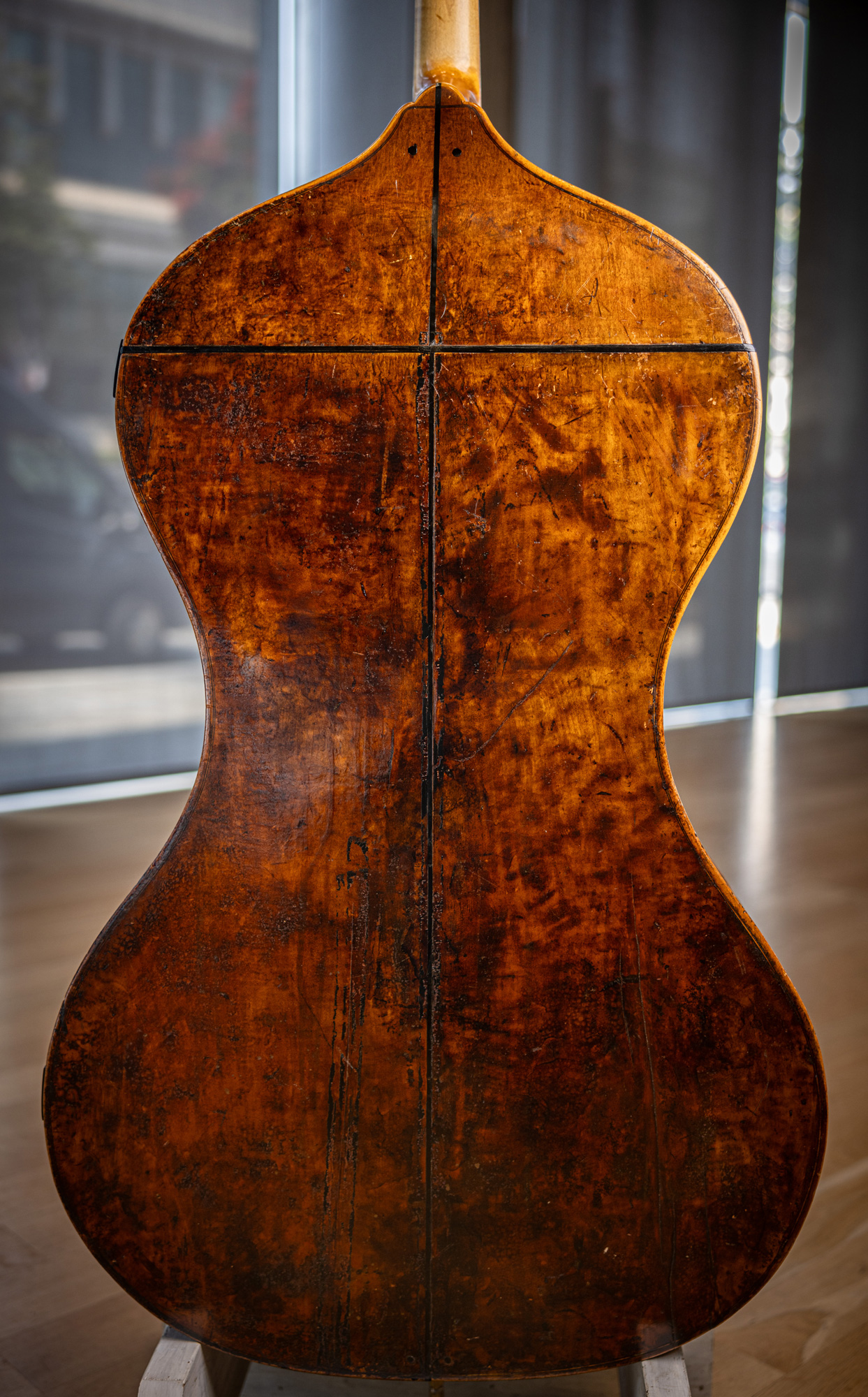 I started full-time in the San Francisco Symphony in September 1980, and about a year or so afterwards, we went on tour, and one of our stops was in Los Angeles. Part of what I wanted to do with my free time was to look at instruments, so I went to this violin shop and I saw two basses in there, and this caught my eye right away because it wasn't made with violin corners, it was actually in a guitar shape. So I played it and I just fell in love with the sound, but I was at the point in my career, you know, I was just getting started, so I hadn't saved a lot of money for a new instrument and I had to let it go. 
Seven or so years later, I decided to attend the International Society of Bassists Convention in Los Angeles in 1988. And I was between events there and I overheard this rather well-known bassist, Buell Neidlinger, talking to someone about this guitar-shaped bass with a John F. Lott label in it and about how it was damaged by a bomb in WWII. So my ears perked up, and I went up and asked him about it, because it was 'the one that got away' for me. And he said, 'Well, it's for sale at this shop called Stein on Vine.' 
I went to this shop in Hollywood, and there was the bass. You could see that at some point the neck had been damaged and repaired but it was the same: I went to play it and, again, it was my sound. So I asked the shopkeeper if I could take it back to the hotel, and he said sure. The next day, I saw Buell again at the convention, and I told him that I picked up the bass and I really liked it and that I was very serious about purchasing it.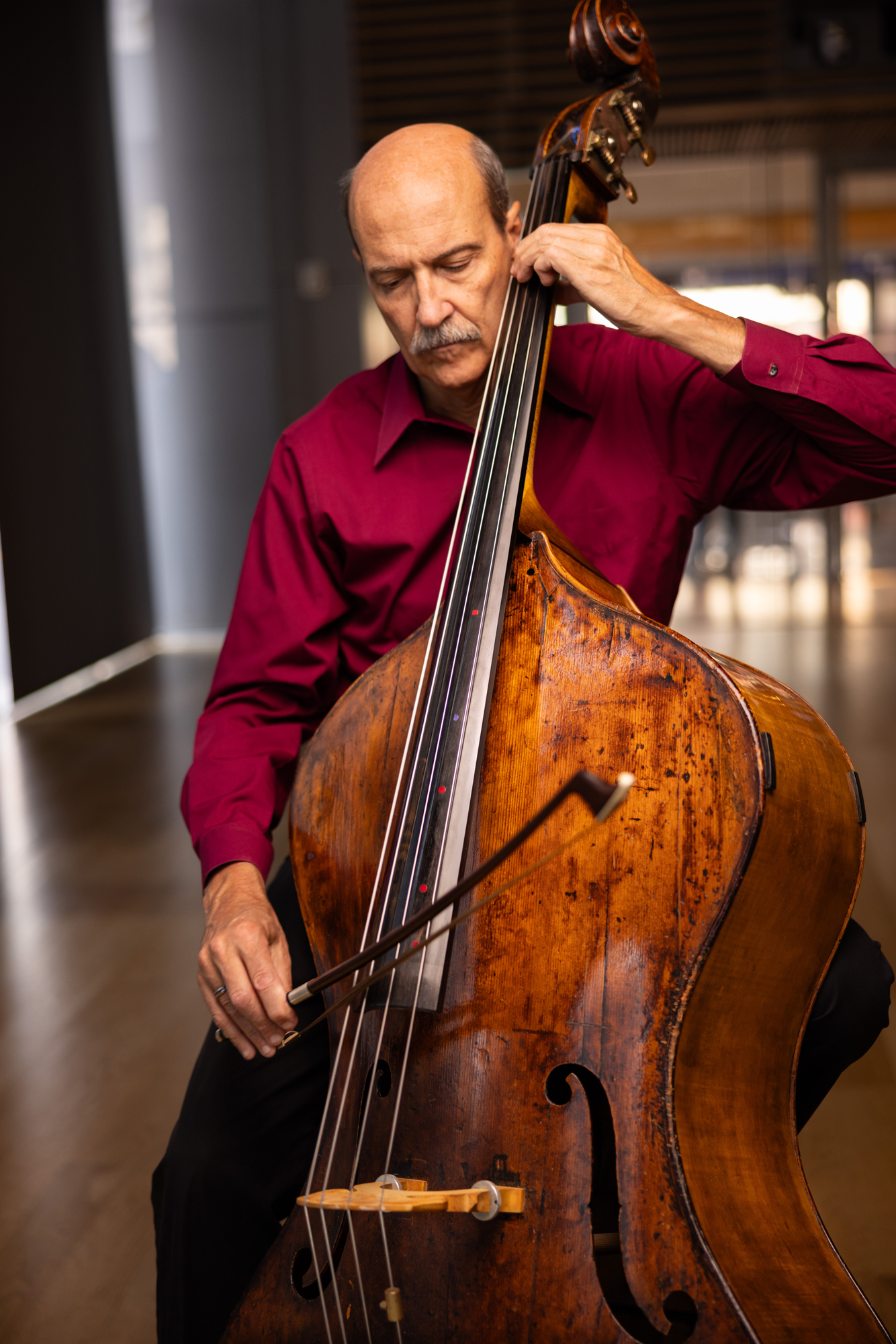 And he said, 'Oh, well, let me tell you the story about that bass. It was actually owned by an alleged drug dealer, and he was a jazz player and his bass was stolen. And then he collected insurance money and he bought this bass, the J.F. Lott bass. But then they recently found his original bass, so has to give the money back to the insurance company. I'll give you his phone number and you can talk to him and he'll help you in the negotiations.'
So I thought about it and said, 'Okay, I gotta call this guy up.' He didn't answer right away, but finally he did pick up and I explained, and he said, 'Well, how much do they want for it?' It was listed for $12,000, and he said, 'Oh man, they don't need to ask for $12,000. They should only ask for $10,000 because they already got their commission when I bought it. Offer them $10,000, take it or leave it.' 
So I went back to the shopkeeper and I said, 'I'm interested in buying this and I'll do $10,000, take it or leave it.' And the shopkeeper says, 'Well, I don't know. I'm gonna have to call up the owner.' Obviously, I purchased it, and I was able to get the neck fixed and everything, and I've had it since 1988. I haven't had to do a thing to it."
Learn more about studying strings or double bass at SFCM.