Celebrating a Century of Achievement
Announcement
Auditioning at SFCM?
Hear the latest coming out of SFCM.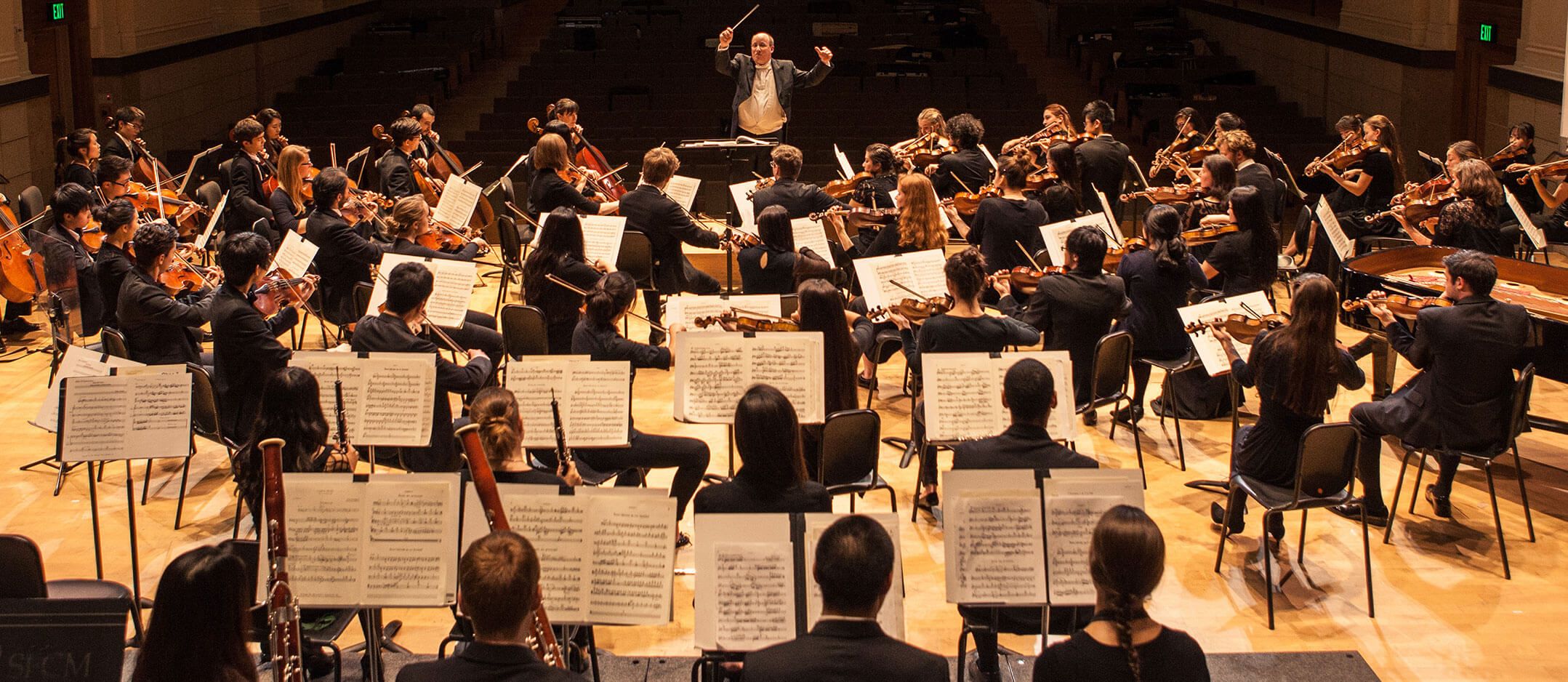 Why SFCM?
An education at SFCM will transform you as
an artist, intellectual, professional, and individual.
To become an inspiring artist you must first seek inspiration. An extraordinary faculty is the foundation for a transformative education. Immersing yourself in a culture of exploration where you hear and perform with legendary musicians is the path to success.

Already on the path to a promising career, Evan Kahn is ready for any musical opportunity that comes his way.

You will expand your curiosity and understanding of the world through a dynamic curriculum integrated with your focus on music. Critical thinking is the path to knowledge, self-awareness, perspective, and achievement. You will develop the skills of inquiry, analysis, and communication necessary to pursue any endeavor.

Chuxuejie Zhang takes in all that theory, repertoire, and history have to offer, boosting her thirst for knowledge.

The ability to transform dreams and aspirations into a life path is predicated on an understanding and application of core business principles and strategies. Our curriculum is designed to equip you for a lifetime of success.

Colin Grant takes initiative at every corner to prepare for a life in the professional music production world.

Part of your journey at SFCM is to discover new ideas and explore them through projects of your own imagination and design. Winter Term provides the ideal laboratory to challenge yourself, to engage your strengths, to know and improve your weaknesses, and to practice the art and science of taking risks. You are unique. The possibilities are limitless.

Kristopher Grant chases down his dreams by embracing new experiences.
Faculty
Inspiring artists. Passionate teachers.
Jose Maria Condemi, Opera and Musical Theatre Director of Opera and Musical Theatre; Chair
Opera Director Receives Raves
Jose Maria Condemi, Director of Opera and Musical Theatre, directed productions of Carmen and Frida at Central City Opera and Cincinnati Opera, respectively, earlier this year to rave reviews.
A New Program launches
Roots, Jazz, and American Music
The 2017-18 academic year sees the launch of SFCM's brand new Roots, Jazz, and American Music program in partnership with the SFJAZZ Center. Pursue an innovative bachelor's degree track and study with the SFJAZZ Collective in this first-of-its-kind program.

Discover who you really are.