Event Ended
Voice Studio Recital
Catherine Cook Voice Studio Recital - Make Our Garden Grow
Venue
Barbro Osher Recital Hall
200 Van Ness Ave, San Francisco, CA 94102
View Map
Viewing Information
Masks Required in the Concert Venue.
Collaborator
Kevin Korth, piano
Program
Gaetano Donizetti: La conocchia
Junzhe Zhang, baritone
Giacomo Puccini: "Quando m'en vo"
from La bohème
Jasmine Sahd, soprano
Jacques Offenbach: "Les oiseaux dans la charmille"
from Les contes d'Hoffmann
Sarah Harris, soprano
Jules Massenet: "Ah! Douce enfant"
from Cendrillon
La Fée: Stacee Firestone, soprano
Massenet: "Vous êtes mon Prince Charmant"
from Cendrillon
Cendrillon: Leah Finn, mezzo-soprano
Prince: Ashley Troester, mezzo-soprano
Wolfgang Amadeus Mozart: "Dove sono"
from Le nozze di Figaro
Countess: Sydnee Turrentine-Johnson, soprano
Mozart: "Sull'aria"
from Le nozze di Figaro
Countess: Nadjalie Santos, soprano
Susanna: Emilia Perotta, soprano
Richard Strauss: Presentation of the Rose
from Der Rosenkavalier
Sophie: Catherine Durcan, soprano
Octavian: Cambria Metzinger, mezzo-soprano
Charles Gounod: Jewel Song
from Faust
Marguerite: Nadjalie Santos, soprano
Leonard Bernstein: "Glitter and Be Gay"
from Candide
Cunegonde: Natalia Hulse, soprano
Jason Howland: "Some Things are Meant to Be"
from Little Women
Jo: Emilia Perrotta, soprano
Beth: Jasmine Sahd, soprano
L. Bernstein: "Make our Garden Grow"
from Candide
Tutti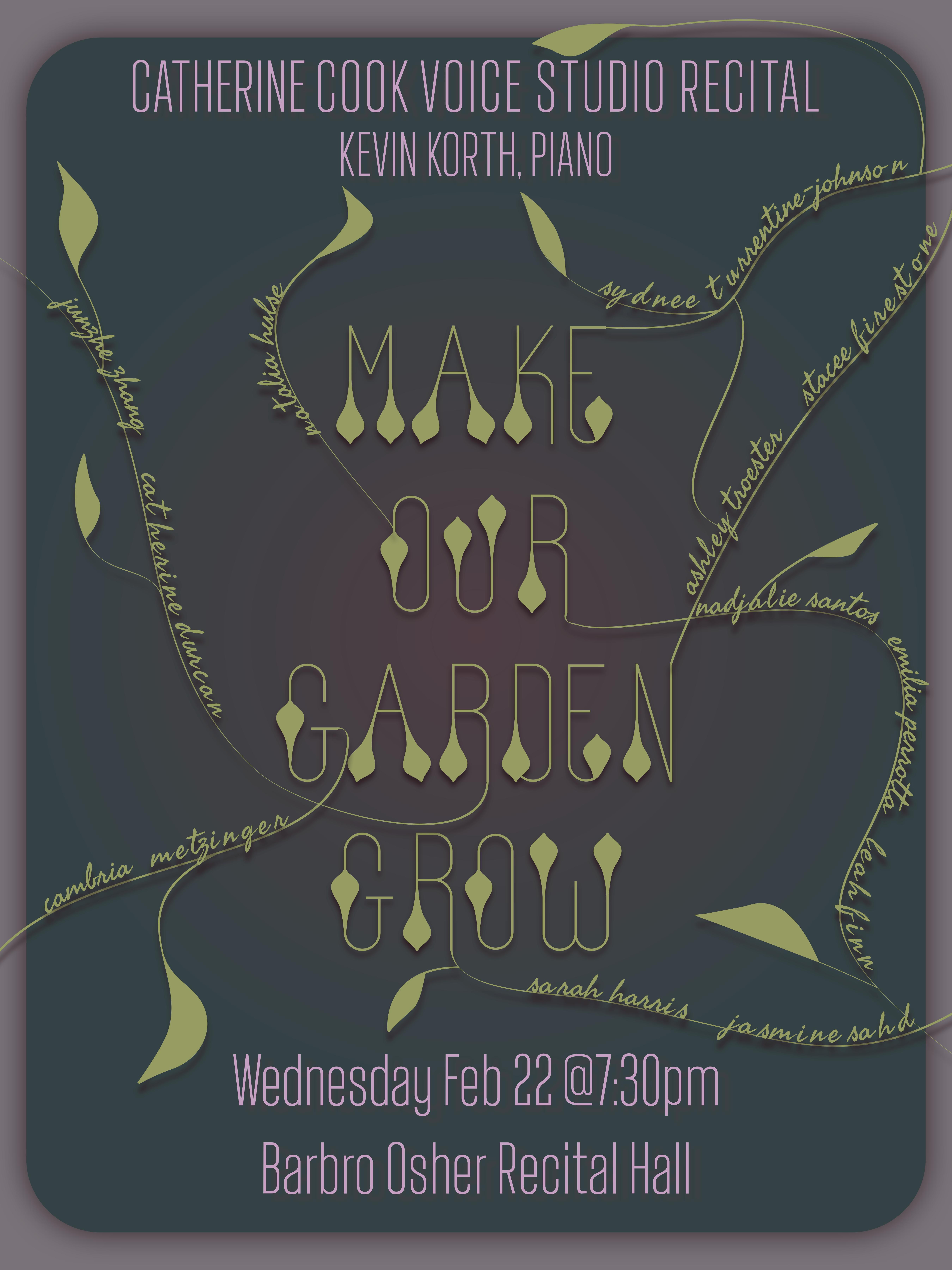 Departments and Faculty Involved with This Event
Voice / Opera Studies
About SFCM's Voice Department
Find your voice—and your community. A tight-knit group, voice students work closely with all-star faculty who have performed at the Metropolitan Opera, San Francisco Opera, Houston Grand Opera, Paris Opera, Milan's La Scala, and many others. As a student at SFCM, you'll have the opportunity to regularly attend dress rehearsals at the San Francisco Opera and take advantage of performance opportunities around the Bay Area.
VIEW SFCM'S EVENT HEALTH AND SAFETY POLICY
Vaccinations remain not required for visitors and guests to campus buildings and performances. In any instance where an SFCM community member tests positive for Covid-19, they will be mandated to follow local, San Francisco Department of Public Health guidelines for isolation and quarantine. Please visit https://sfcm.edu/about-us/covid-19-information/event-health-safety to read the SFCM's full Event Health & Safety policy.