Masterclass
Chamber Music Masterclass: Esmé Quartet
Thursday, November 30 2023, 04:00 PM
at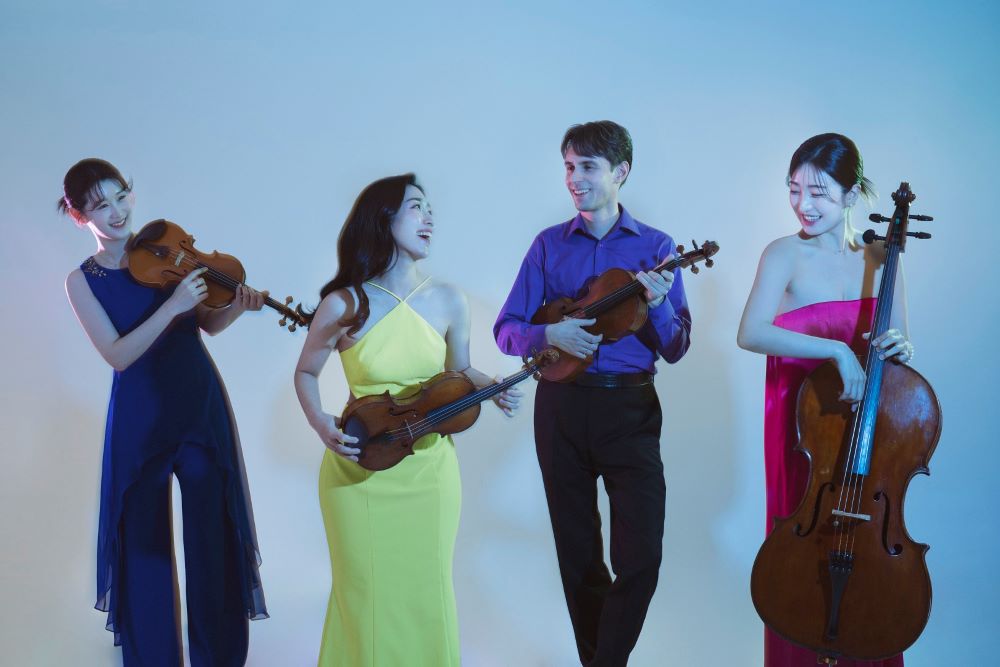 No tickets required for this event.
Program
Guest Artists visit SFCM to share their expertise with student musicians.  
Final program details will be announced upon availability.
Robert Schumann: String Quartet No. 3 in A Minor, Op. 41, No. 3
     III. Adagio molto
Shintaro Taneda Mathea Goh, violin
Isabel Tannenbaum, viola
Ayoun Alexandra Kim, cello
Claude Debussy: String Quartet in G Minor, Op. 10
     I. Animé et très décidé
     III. Andantino, doucement expressif
Elisa Jeon and Sammi Chan, violin
Teresa Zhang, viola
Freddy Renaud, cello
Felix Mendelssohn: String Quartet No. 4 in E Minor, Op. 44, No. 2
     IV. Presto agitato
Jaimie Yoon and Tabitha Mason, violin
Joshua Choi, viola
Calvin Kung, cello
About Esmé Quartet
Wonhee Bae, violin
Yuna Ha, violin
Dimitri Murrath, viola
Yeeun Heo, cello
"Here are four young musicians that play with depth and maturity, which, and even this cliché can be swept off the table, does not depend on age." -Süddeutsche Zeitung    
"It was the Esmé's monumental Schubert Quartet that was the Michelin-starred meal." -Strings Magazine UK
"The lyricism and airy limpidity of the four performers give these movements a profoundity and unexpected allure." -Diapason, France
Praised for their warm sound and powerful stage presence, the Esmé Quartet was formed in 2016 at the Hochschule für Musik in Cologne, Germany by four musicians who had been friends since their youth.  They shared common interests and passions in music, the arts, and life.  The Esmé Quartet brings together four brilliant and distinct musical personalities to form a cohesive, close-knit group that is passionately dedicated to the string quartet repertoire.
The Quartet is based in Germany and has rapidly gained a worldwide reputation as a chamber ensemble of exceptional artistry and achievement.  In spring of 2018, the quartet won the first prize as well as sweeping four special prizes at the prestigious Wigmore Hall International String Quartet Competition in London, and in the same year it became HSBC Laureate of the Académie du Festival d'Aix. This recognition followed prizes at the Trondheim International Chamber Music Competition and the 55th Possehl Musikpreis Lübeck.  In October 2020, the quartet was awarded the first Hans-Gál Prize by the Academy of Sciences and Literature Mainz and Villa Musica.
The Esmé Quartet was named the first Artists-in-Residence at the Lotte Concert Hall, Seoul, Korea for the 2020-2021 season.  They have recently appeared at the Lucerne Festival, at Wigmore Hall and throughout the UK, at the Flagey Musiq3 Festival in Brussels, Auditori Barcelona, Opéra de Lille, and as the quartet in residency at the Aix-en-Provence festival, the McGill International String Quartet Academy in Montreal, the Heidelberg String Quartet Festival and Classic Esterházy in Eisenstadt.
They made their highly acclaimed debut tour of the United States and Canada in Spring 2022 followed by their debut tour of Japan in Fall 2022. Recent highlights include a tour of Italy, and return engagements to the Festival Musiq3 and Wigmore Hall, along with concerts in Germany and Portugal.
The Esmé Quartet performed John Adams' "Absolute Jest" with the Hong Kong Philharmonic in February 2023 and with the Gyeonggi Philharmonic at the Seoul Arts Center in April 2023. They also performed Michel van der Aa's The Book of Water with British actor Samuel West at the Hong Kong Arts Festival in February 2023. Upcoming highlights include performances of Adams' "Absolute Jest" with the Tokyo Metropolitan Orchestra and John Adams, conducting in January 2024; a US tour with 2017 Cliburn gold medalist Yekwon Sunwoo and their debut Australian tour, both in Spring 2024.
Their first international CD "To Be Loved" on Alpha Classics with works by Beethoven, Unsuk Chin, and Frank Bridge was released in January 2020 and was named one of the best classical CDs of 2020 by WQRX Public Radio in New York City.  Their second CD "Yessori" Sound from the Past, also on Alpha Classics, of works by Mozart, Tchaikovsky, and Soo Yeon Lyuh was released in March 2023.
Belgian-American violist Dimitri Murrath joined the Esme Quartet in April 2023, upon the departure of violist Jiwon Kim.
The Quartet has been mentored by artists such as Günter Pichler, Oliver Wille, Eberhard Feltz, Andraś Keller, Christoph Poppen and Jonathan Brown. The Esmé Quartet has also studied at the Hochschule für Musik Lübeck, Germany under the tutelage of Heime Müller.
The Quartet takes its name "Esmé" from the old French word for "beloved."
Esmé Quartet is represented by Christina Daysog Concert Artists and CM Artists, New York.
VIEW SFCM'S EVENT HEALTH AND SAFETY POLICY
As of April 1, 2023, face masks will be optional and at personal discretion for all SFCM concerts & events.  Vaccinations are not required for visitors and guests to campus buildings and performances. Please visit SFCM's full Event Health & Safety policy to read more about our guidelines.