Recital
Latin Jazz Ensemble Recital
Monday, December 4 2023, 07:30 PM
at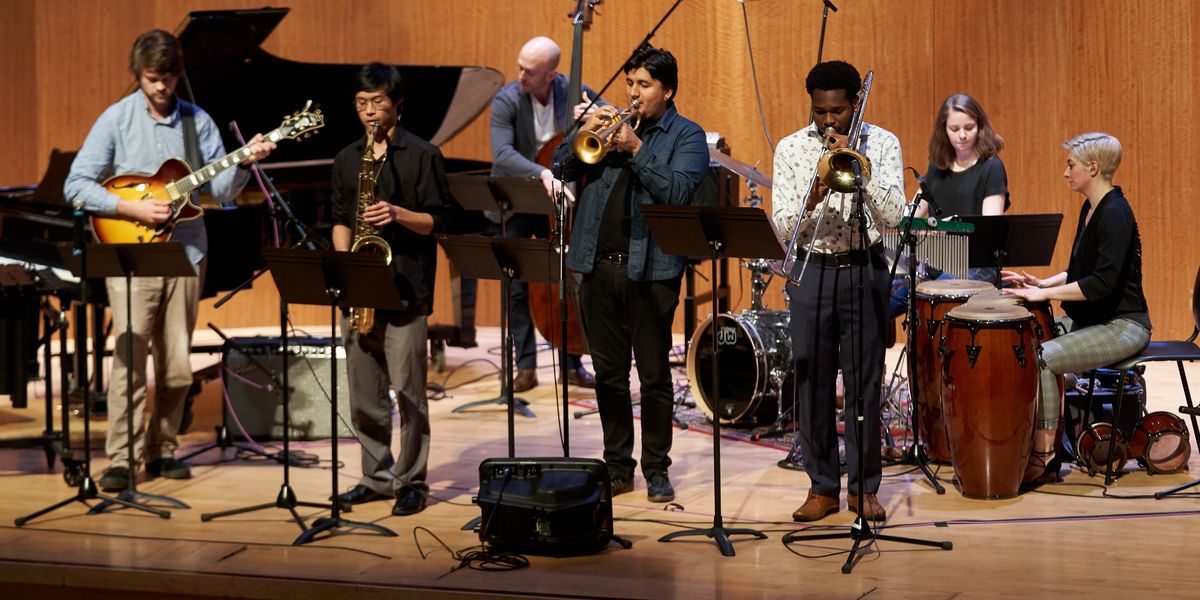 Program
Departmental Recitals showcase performance departments through its students. Featuring various students and repertoire, and curated by the faculty, performances in this recital highlight SFCM programs and the wide range of study. 
Tito Puente: Ti Mon Bo, cha-cha-chá (1958)
Chucho Valdés: El Majá de Vento, guaracha-mambo (2022)
 Margarita Lecuona: Tabú, afro-cha (1934)
C. Valdés: Bacalao Con Pan, son-batá (1974)
María Teresa Vera: Veinte Años, bolero-son (1935)
Ray Barretto: Cocinando, cha-cha-chá (1972)
C. Valdés(additional horn arrangement by  RJAM alumnus Aidan Siemann): Mambo Influenciado, guaracha-mambo (1963)
Ensemble Members:
Neil Advant, trombone
Carlos Alvarez, percussion
Paja Cajic, piano
Luc Campanella, guitar 
Chia-Chen Chiang, piano 
Nico Colucci, tenor sax
Tania Cosma, drums/perc
Xitlalli Estrella, clarinet
Audrey Giancaterino, bass
Kenny Haddox, percussion/electric bass
Morgan Harrison, piano/keys
Amelie-Anna Hinman, congas/perc
Ayden Johnson, alto sax
Alan Jones, bass
Zoe King, tenor sax 
Sasha Lazareva, alto sax
Lalita Pérez Acosta, bass
Amanda Jane Ross, voice
Noah Sánchez, trombone 
Julian Sommer, cello/percussion
Thomas Stenzel, flute/sax
Mario To, guitar
Miles Turk, drums/percussion 
Gene Wadsworth, piano
Nicholas Weathers, clarinet
About SFCM's Roots, Jazz, and American Music Department
Roots, Jazz, and American Music is a first-of-its-kind program that links a world-class music conservatory to an award-winning jazz concert venue at SFJAZZ. A program for undergraduate and postgraduate students that takes a holistic view of jazz from its inception to its current status, RJAM prepares the next generation of great jazz artists by engaging students in an innovative model of apprenticeship with all-star faculty, including members of the SFJAZZ Collective. Students in the RJAM program have the opportunity to perform in multiple venues in the Bay Area, and to collaborate and learn from some of the top jazz artists on the concert circuit today.
VIEW SFCM'S EVENT HEALTH AND SAFETY POLICY
As of April 1, 2023, face masks will be optional and at personal discretion for all SFCM concerts & events.  Vaccinations are not required for visitors and guests to campus buildings and performances. Please visit SFCM's full Event Health & Safety policy to read more about our guidelines.