Thursday, November 16 2023, 07:30 PM
at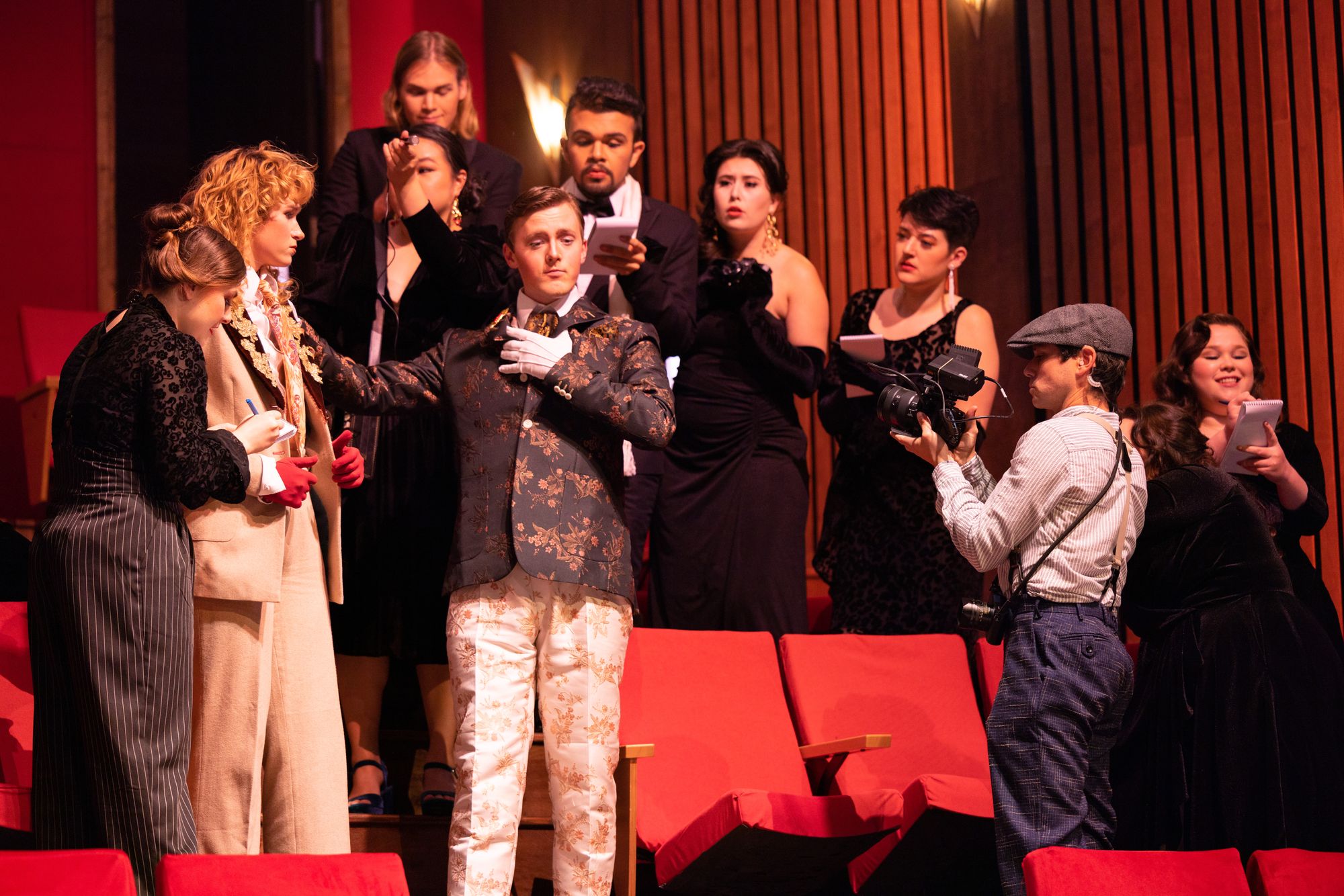 This event is sold out.  To join the waitlist, please fill out this form.
Please note: San Francisco will be hosting the Asian-Pacific Economic Cooperation (APEC) summit this week. Street and highway closures will cause delays in transit into and out of the SFCM area. Please plan accordingly in attending our concerts this week, as we do hope to see you in the audience! For those of you who cannot make it to the concerts, SFCM will be livestreaming most concerts for the week.
PROGRAM
Pietro Mascagni: Zanetto
presented under license from Theodore Presser Co.
Giacomo Puccini: Gianni Schicchi
orchestral edition by Bryan Higgins, by arrangement with Motet Music Publishing Company
CAST
Role: November 16, November 17
Zanetto
Sylvia: Rayna Mia Campbell, Valeria Estrada
Zanetto: Leah Finn, Jordan McCready
Gianni Schicchi
Buoso Donati: Leah Finn, Jordan McCready
Gianni Schicchi: Joseph Calzada, Samuel Downes
Lauretta: Chea Kang, Katie Ivie
Rinuccio: Nathan Bryon, Sid Chand
Zita: MonaLisa Pomârleanu, Sadye Sobel
Nella: Hailey Gutowski, Kaya Giroux
La Ciesca: Sydnee Turrentine-Johnson, Dyanna Bohorques
Simone: Haoran Li, Joe Hack*
Betto: Tony DeLouisa
Marco: Ian Rakunas
Gherardo: Alyssa Vieau
Gherardino: Camryn Finn
Spinelloccio/Armantio: Aaron Hong
Pinellino: Charles McGregor
Guccio: Sergey Khalikulov*
*Guest Alumni Artist
ARTISTS
Heather Mathews, stage director
Curt Pajer, music director and conductor
The Opera Program is thrilled to present two one-act operas for our upcoming fall opera! Join us for a captivating journey through Pietro Mascagni's masterful Zanetto and Giacomo Puccini's classic Gianni Schicchi. 
Zanetto takes us on an introspective journey, exploring themes of longing, desire, and self-discovery. This masterpiece displays all of the lyrical passion of Mascagni's well-known masterpiece Cavalleria Rusticana, and it tells the story of Silvia, a renowned courtesan, who encounters the gentle and naïve Zanetto. As their encounter unfolds, they navigate a profound connection that challenges their perceptions of love and identity.
In Gianni Schicchi, we delve into a tale of family, greed, and love. This comedic gem follows the mischievous Gianni Schicci as he masterminds an audacious plan to outsmart a scheming family and secure his inheritance. 
About SFCM's Opera and Musical Theatre Program
The SFCM Opera and Musical Theatre program draws exceptionally talented young singers from around the world and provides them with advanced training in vocal style, acting, stage movement, and other essentials of stagecraft. Each year, SFCM produces four fully staged opera and musical theatre productions with full or chamber orchestra. Recent fully staged operas have included L'elisir d'amore, Don Giovanni, Mansfield Park, Postcard from Morocco, The Rake's Progress, Così fan tutte, The Marriage of Figaro, and former faculty composer Conrad Susa's Transformations. SFCM has hosted workshops for in-development opera projects such as Mason Bates's The (R)evolution of Steve Jobs and Jake Heggie's Great Scott.
In addition to fully staged productions, a number of scenes, programs, and other performances with piano accompaniment are presented each year. Opera students also have an opportunity to receive coaching from San Francisco Opera music staff, and to participate in productions tailored for school-age audiences in collaboration with San Francisco Opera's Education Department.
SFCM's Musical Theatre Workshop provides ensemble experience to singer/actors with an emphasis on American musical theatre, examining one or more musical theatre composers and their works through rehearsals and performance. Recent performances include such works as The 25th Annual Putnam County Spelling Bee, She Loves Me, Company, Little Women, Urinetown, and The Musical of Musicals (The Musical!).
Visiting artists have included Ryan Taylor (General Director, Minnesota Opera), Roy Rallo (Stage Director, San Francisco Opera), David Maier (Fight Director, San Francisco Opera), Barbara Scott (Improvisation Technique), Matt Chapman (Laban Technique), and Jose Luis Moscovich (General Director, West Bay Opera).
VIEW SFCM'S EVENT HEALTH AND SAFETY POLICY
As of April 1, 2023, face masks will be optional and at personal discretion for all SFCM concerts & events.  Vaccinations are not required for visitors and guests to campus buildings and performances. Please visit SFCM's full Event Health & Safety policy to read more about our guidelines.