Budding SFCM Pianists Perform at Golden Gate Park
Several Pre-College students performed at the annual Flower Piano concert series at the SF Botanical Gardens.
By Mark Taylor
Call it a feast for the eyes and the ears.
This year's Flower Piano concert series at the San Francisco Botanical Gardens inside Golden Gate Park featured musicians from the SF Symphony, SF Jazz, Community Music Center, and SFCM's Pre-College Division.
One of which was 9-year-old Avery Armstrong, who participated in the annual event for the first time. "It was really fun and exciting to play outside," Avery said. Held from September 16-20, Flower Piano featured performances at 12 pianos spaced across the 55-acre park, and while the weather may have featured rain, the performers didn't let that stop their parade: "Everyone was so supportive and kind it was a great experience," Avery added.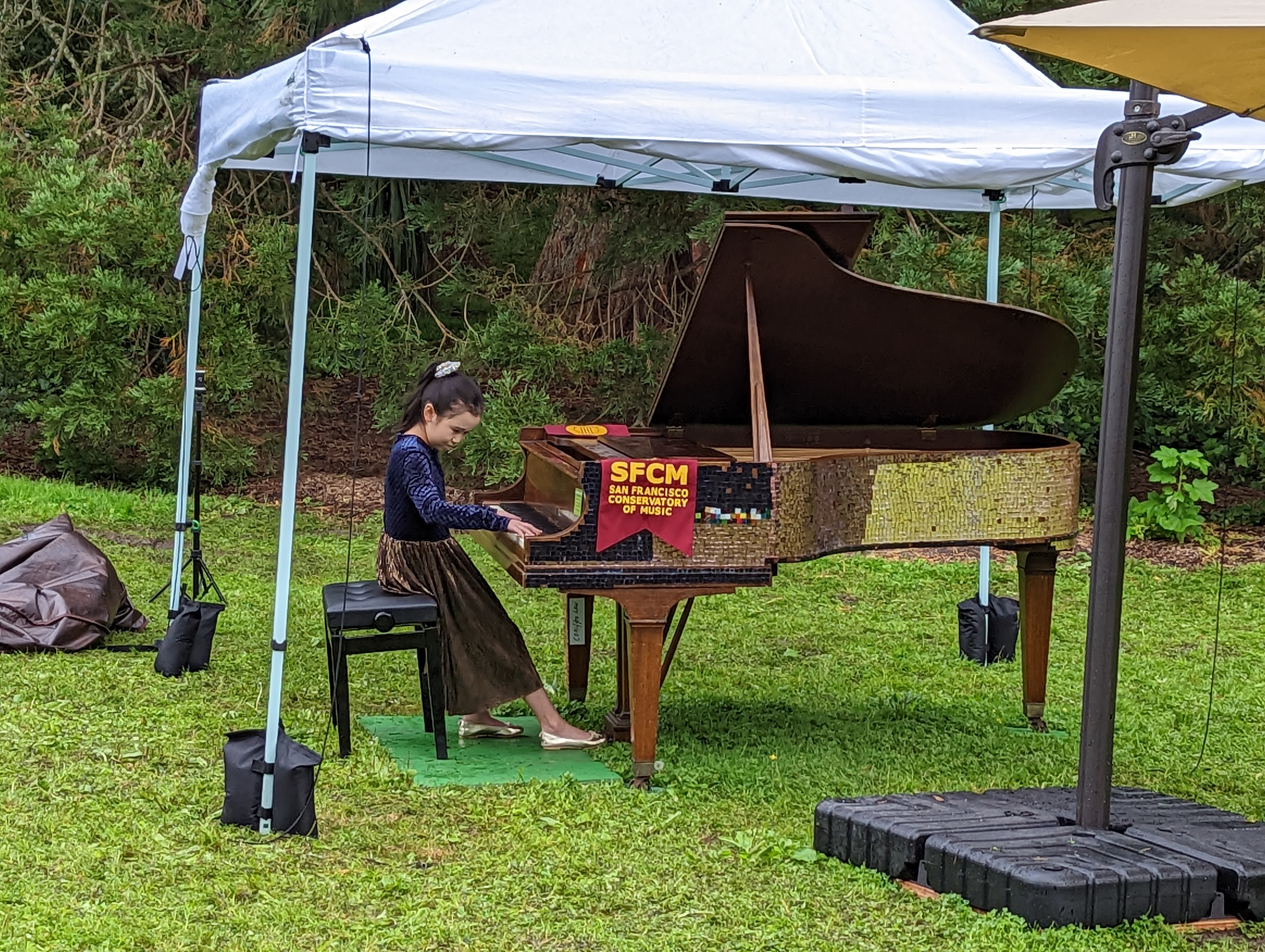 Avery has been part of the Pre-College division since 2019, studying piano with Annamarie McCarthy. Her family was there to celebrate the occasion: "We thought the event was unique and a lot of fun, and even with the rain there was a great crowd with a lot of positive energy." Rob Armstrong, Avery's father, said.
Collaborations like this can provide performance milestones for young student musicians. "The SF Botanical Gardens invited the Pre-College to perform at Flower Piano this year and it was a wonderful performance opportunity for our students," said Justin Sun, the Interim Associate Dean and Executive Director of the Pre-College Division. "It is important for our students to share their passion for music with their community as we continue to develop the next generation of young artists," he added.
SFCM students have performed at Flower Piano before, but this was the first time since 2019. Organizers and musicians alike hope to continue the collaboration, "It was a great experience and Avery is looking forward to hopefully participating again in the years to come!" Rob Armstrong said.
Learn more about SFCM's Pre-College Division.