'The Future is Female' Concert Celebrates Cross-Departmental Collaboration at SFCM
In honor of International Women's Day, the annual concert encourages female and gender-nonconforming students to explore the intersection of music, visuals and technology.
By Alex Heigl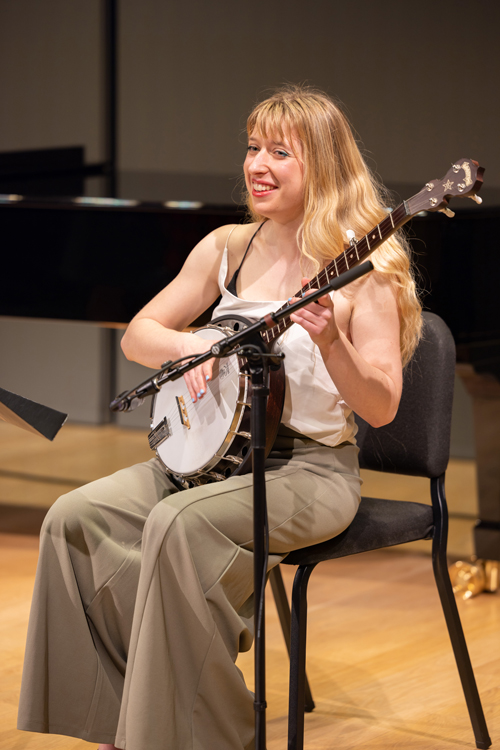 Sir John Everett Millais's Ophelia is one of the most famous 19th-century paintings, but Natasha Frank is reframing it for this one.
The Technology and Applied Composition (TAC) student's piece Death of Ophelia was one of the works performed at the department's annual "The Future Is Female" concert, held March 8, also known as International Women's Day. The piece, for voice and strings, was inspired by the story of Elizabeth Siddall, the then-19-year-old model for the painting, who was submerged in a cold bath for the work and caught a severe cold. "So I thought there's this sort of dual narrative of a drowning woman on both sides of the canvas," Frank, who organized the concert, explained, "and this sort of parallelism is really dark, very powerful, so I wanted to translate something through music about that."
Moving into live-event production was a change from Frank's normally recording studio-heavy experience, but she was encouraged to take the leap by her teacher, Daria Novoliantceva, whose arrangement of Joni Mitchell's "Cactus Tree" closed out the evening inside the Bowes Centers' Barbro Osher Recital Hall.
The night's marriage of visuals and music wasn't unique to Frank's work: Projections screened behind the performers figured into many of the pieces, with alumnus and SFCM studio technician Emma Markowitz using a program called MadMapper to manipulate the images to reflect the music.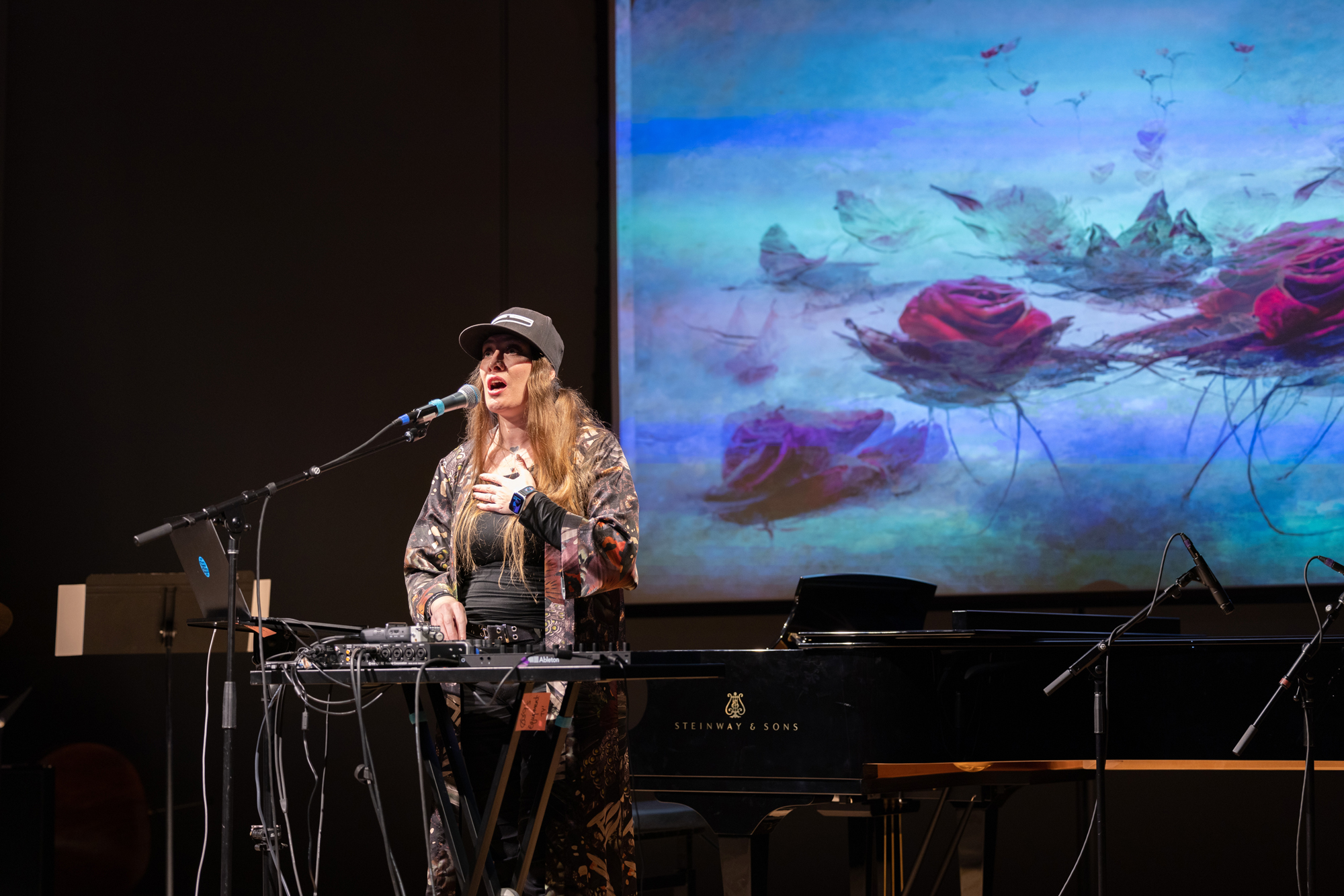 The program purposefully reflected the breadth of the TAC program, and brought together nearly every department and program at the Conservatory, Frank said, with ensembles and instrumentation ranging from electronics to a "conventional" jazz combo to strings, vibraphone, and even Frank on banjo at one point. "I came into this school knowing I wanted to do media music, but what does that mean? I kind of just love collaborating with people and this seemed like a very natural part of it," Frank said.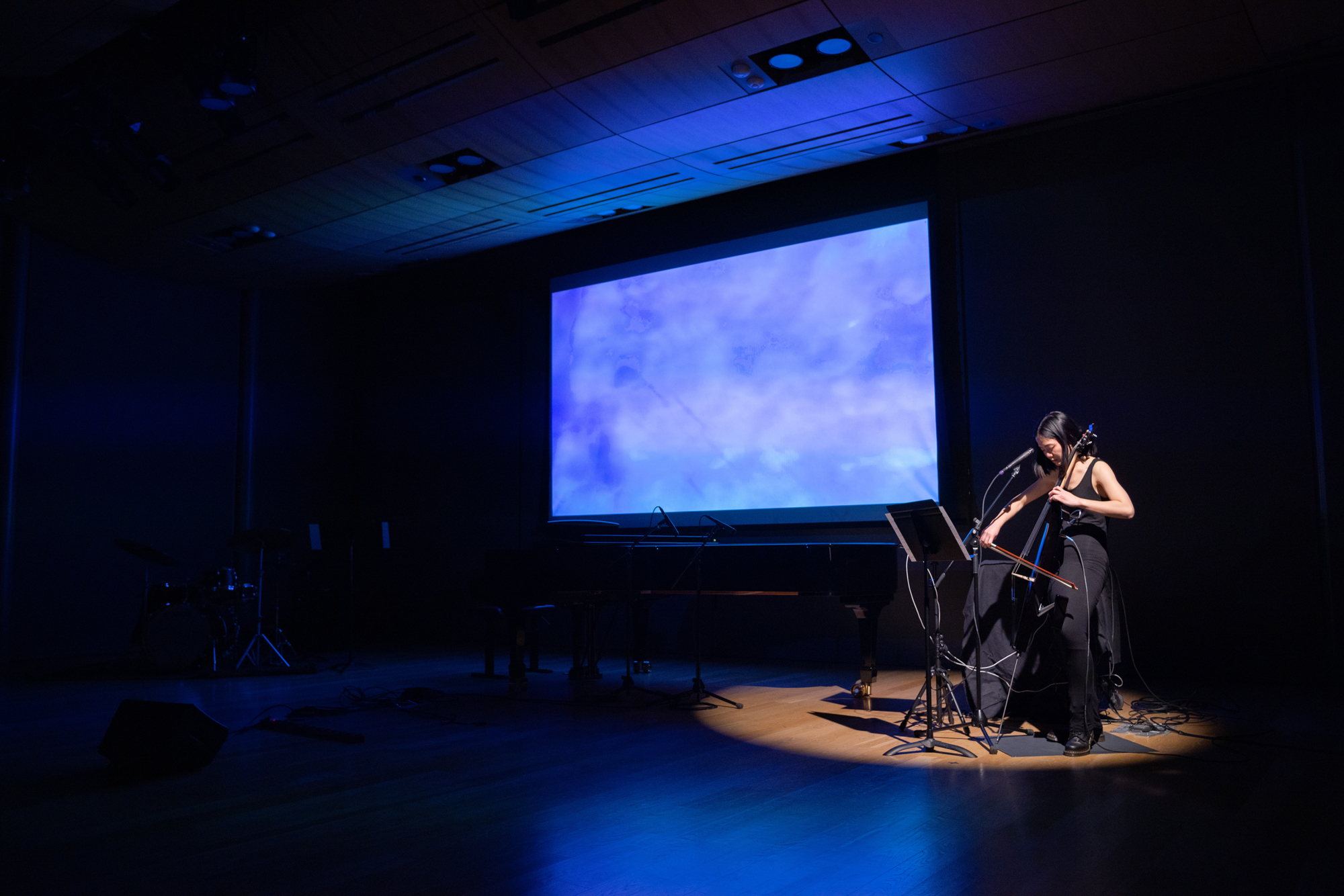 "When I was doing my auditions," student Jasmine Sahd, who performed in Frank's piece at the concert, said, "I was asking a lot, 'Do the departments at this school work with each other? Are they all talking to each other? Are they performing together? And I came here and I didn't even need to ask the question because I literally saw it happening."
"We have an incredibly diverse set of artistic voices," Frank said. "The concert is a celebration of that. Representation is incredibly important. There's space for everybody; it's very difficult to become what you don't see."
Learn more about studying Technology and Applied Composition at SFCM.