Award-Winning Film Composer Michael Abels Visits SFCM
Abels lectured, met with Technology and Applied Composition students for one-on-one lessons.
By Mark Taylor
From the first note in the opening credits of the Oscar-winning film Get Out, audiences are introduced to a sound they may have never heard before: something composer Michael Abels has dubbed "gospel horror."
That dark, unique sound—and Abel's collaboration with Get Out's acclaimed director, Jordan Peele—has taken its composer to new heights. His score for Peele's Us won the World Soundtrack Award, the Jerry Goldsmith Award, and multiple critics' awards, and most recently, he scored Peele's latest, Nope.
Abels came to SFCM to meet one-on-one with Technology and Applied Composition (TAC) students and give a masterclass analysis of his work in late October, explaining, "In school we did not have a TAC program. That was not a thing." Abels studied music in college and later, West African drumming techniques at California Institute for the Arts.
For his breakthrough work on Get Out, Abels told students he was excited to work on the project with Peele, but never anticipated its success. "I never had any expectation that it was going to work out," he said. Before collaborating with Peele, Abels worked as a music teacher and for a time in business, all while composing his own music, a wide-ranging skill set that set him up for success. "My experience working in business and teaching music helped me navigate the waters of scoring a major film," Abels said to students.
For TAC student Roziht Edwards, her biggest takeaway from Abels' visit was a simple one: "Don't underestimate the power of repetition and silence," she said. Edwards worked with Abels and showed him some of her latest music, saying,"I literally learned something new every single minute. It was all about listening critically, actively, thoughtfully, and imaginatively."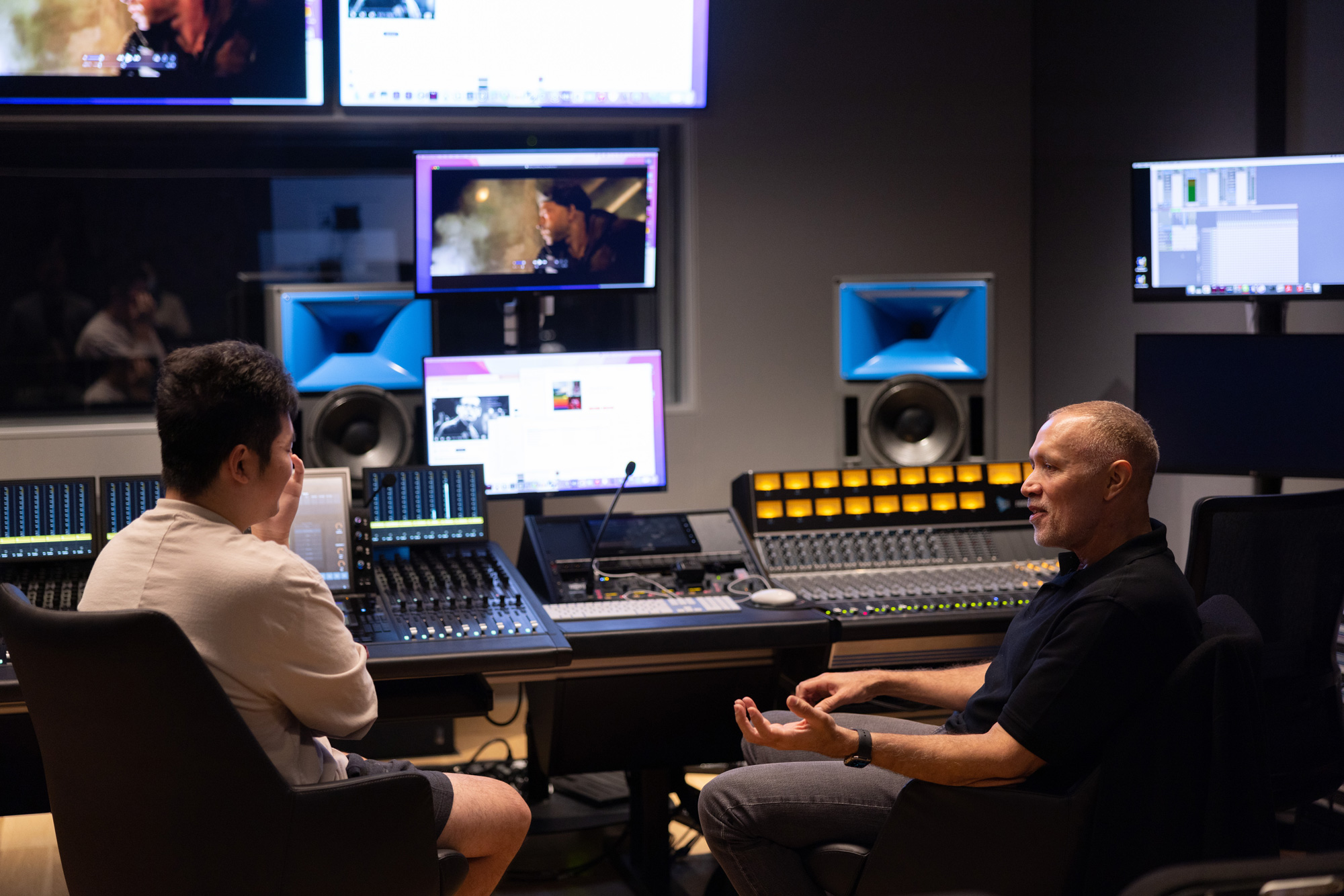 During lessons, Abels stressed to students the importance of timing and emotion in composing, and experimenting with moving music forward or back, even if only by a second or two. "This advice was so helpful because it is completely universal to any piece of media. Scoring to the emotion of the audience is something I will continue to work on because of Mr. Abels' advice," said TAC student Caroline Feitosa. "As a musician and a student, it can be hard to stay motivated. Seeing someone like Mr. Abels hear my music and react positively to it is remarkably encouraging. It inspires me to keep going in my career, and reminds me that my voice is one worth hearing," she added.
As far as advice for emerging artists, Abels told students, "don't take unnecessary risks." Acknoledging that while he funded his spec score for Get Out with his own money, he said he leaned on his other jobs to pay for it, adding, "I took a risk, but I knew it was one I could handle."
"Don't take a risk that will put you on the street," he continued. "Play it like a game."
Learn more about studying Technology and Applied Composition at SFCM.