SFCM Opera Shines in the Dark Tale of 'The Consul'
Directed by Opus 3 Artist Patricia Racette, and conducted by the California Symphony's Donato Cabrera, the opera pushed singers vocally and emotionally in the award-winning story of a family's desperate attempt to flee totalitarian rule.
By Mark Taylor
"To this we've come" sings one of the protagonists of The Consul as the orchestra wells up on a note of raw human dignity, a dramatic emotional peak that shows exactly how far SFCM's Opera and Musical Theatre program has come as it takes on one of its biggest productions ever.
SFCM's The Consul transformed the Caroline H. Hume Concert Hall in the Ann Getty Center into a desolate, enigmatic consulate, set in a gloomy world where a woman, Magda Sorel, the wife of on-the-run dissident John Sorel attempts to secure an entry visa from a supposedly more liberal country, but is met with indifference in a haunting tale on the dehumanizing effect of bureaucracy.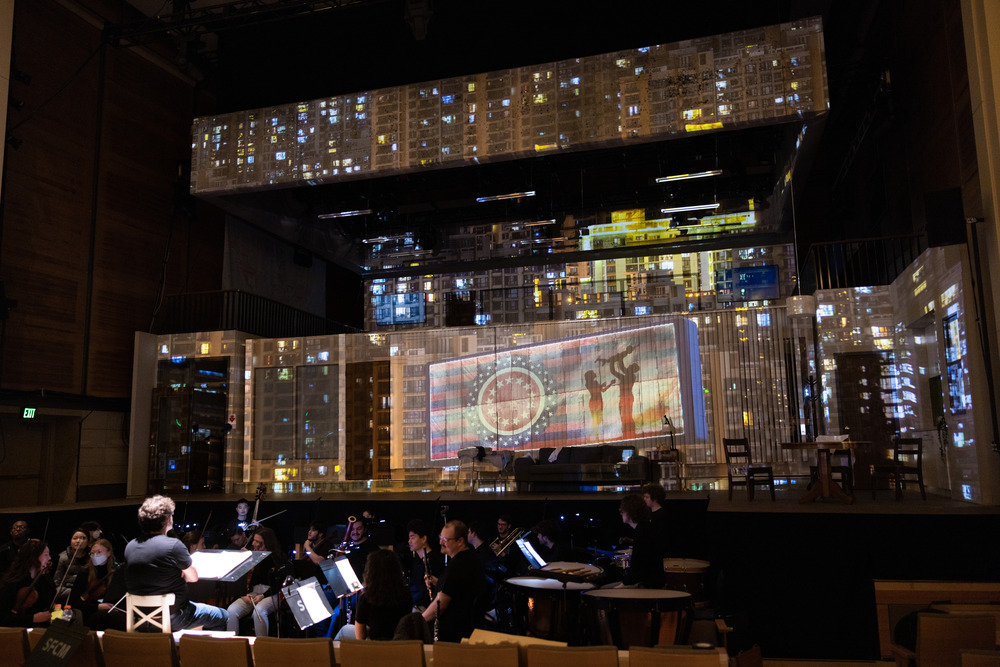 The production was directed by Patricia Racette, who is represented by Opus 3 Artists, the management company acquired by SFCM in 2020, and conducted by maestro Donato Cabrera of the California Symphony. "The students rose to the challenge as a whole and also rose to their individual challenges," Racette said, who herself starred in The Consul in a past production by Chicago Opera Theater. "I love San Francisco, and I love SFCM. Getting to experience both of them simultaneously is a blast. Major shoutout to the staff and colleagues who have welcomed me back as we tackled this dense and wonderful piece!" Featuring two casts, The Consul was presented March 11 and 12.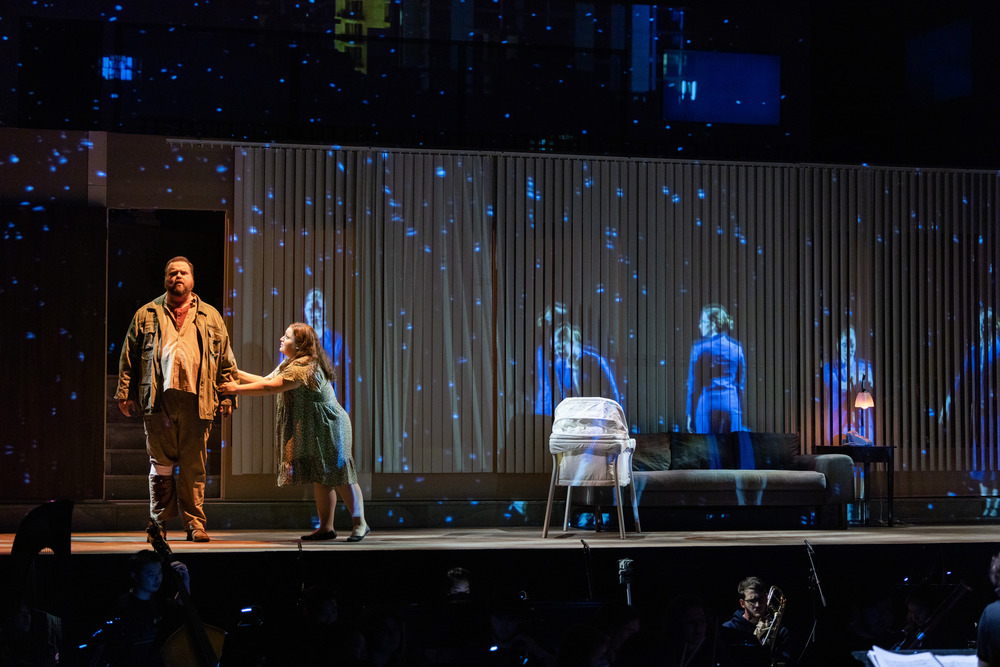 First performed in 1950, Gian-Carlo Menotti's The Consul ran on Broadway for eight months and won Menotti a Pulitzer Prize for Music. The opera is known for its dramatic performances particularly for its three main leads. Laura Fernandez portrayed protagonist Magda Sorel, "Musically, it was a fun challenge. The piece really shined through the drama," Fernandez said. For her, the role brought a personal and emotional meaning: "I grew up in Miami, Florida, where there is a large Cuban immigrant population, my mother and her family being one of them. This role allowed me the opportunity to tell the story that so many are familiar with, and for me the way in which this is so close to home is incredibly special."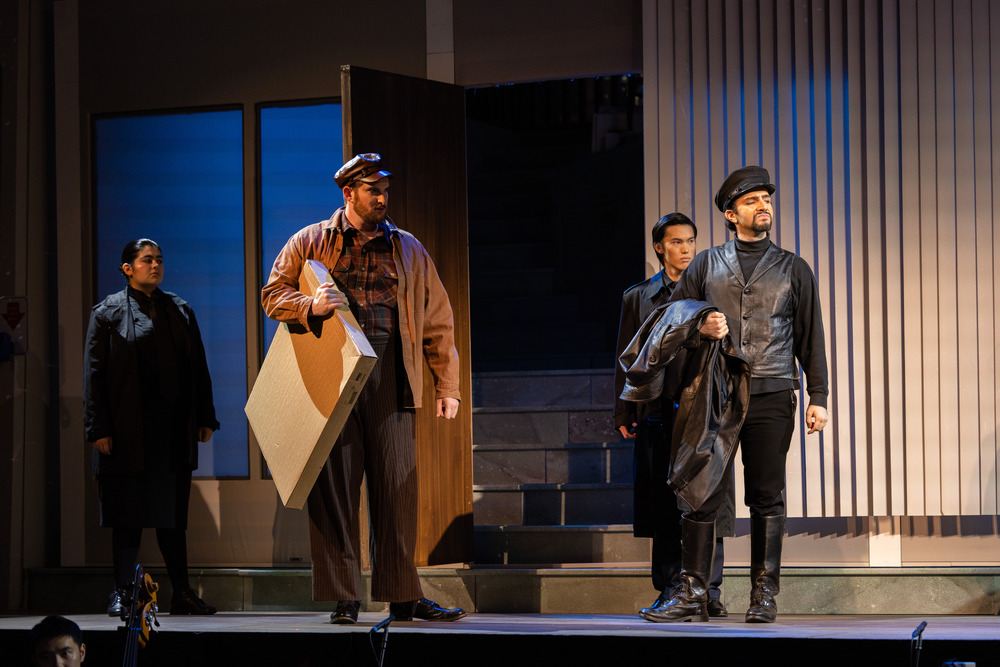 Samuel Downes portrayed male lead John Sorel. "From the very start Patricia Racette brought an intensity to the work we were doing and encouraged and supported us to bring out everything we could emotionally in our characters throughout the entire opera," he said. For Downes, being part of one of the heaviest productions from the Opera program proved to be a special experience. "It blows me away with how much the Conservatory was able to do for the show and it rivals professional opera companies," he added.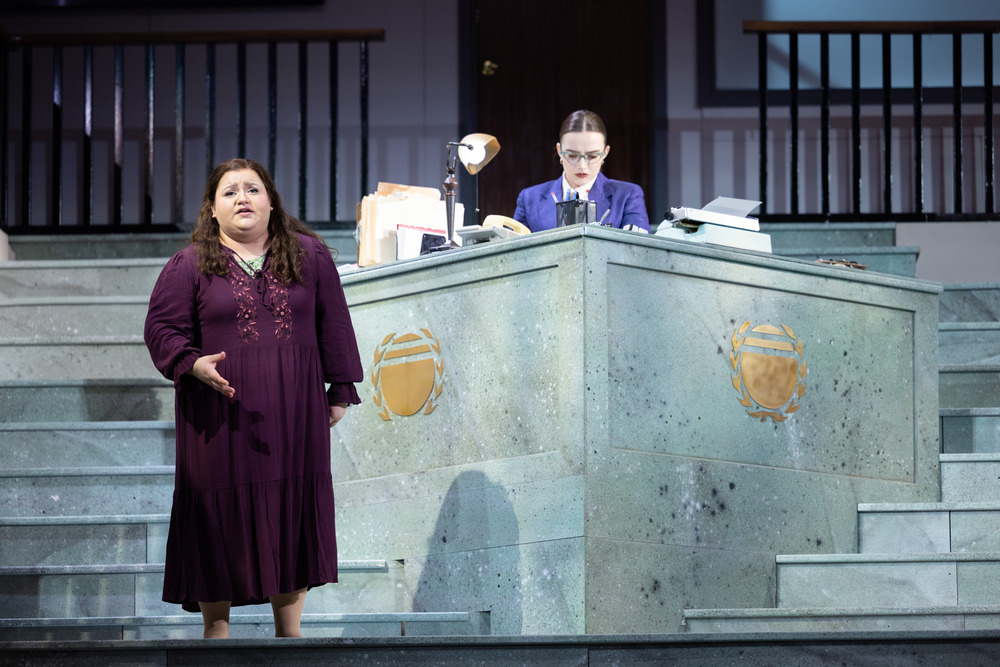 The Consul also starred Leah Finn as The Secretary who works at the consulate, a cold and conflicted character. "Throughout the opera she is faced with the despair of the characters more and more and begins to be weighed down by their stories," Finn said "One of the most interesting things about her is that she seems to have so much more power than the characters, but at the end of it all, she's almost as powerless as they are. She can't do what they need her to do, even if she wanted to, it all comes down to the consul."
In the end taking audiences on such a tragic journey is no easy task for musicians, but one director Racette hopes students learn from, "Artists have a life-long task of figuring out who they are and what they have to say and how they want to say it. I love being a force for good in that journey."
Learn more about Opera and Musical Theatre at SFCM.