Take your place here.
Living on campus has a clear and profound impact on student persistence and engagement. Regardless of important factors like race, parental education, and finances, students that live on campus are more likely to engage in academic activities relative to their off-campus peers, and these activities in turn, affect retention rates, academic engagement, and feelings of belonging to the community.
The Bowes Center
Ute and William K. Bowes, Jr. Center for Performing Arts
200 Van Ness Avenue, San Francisco, CA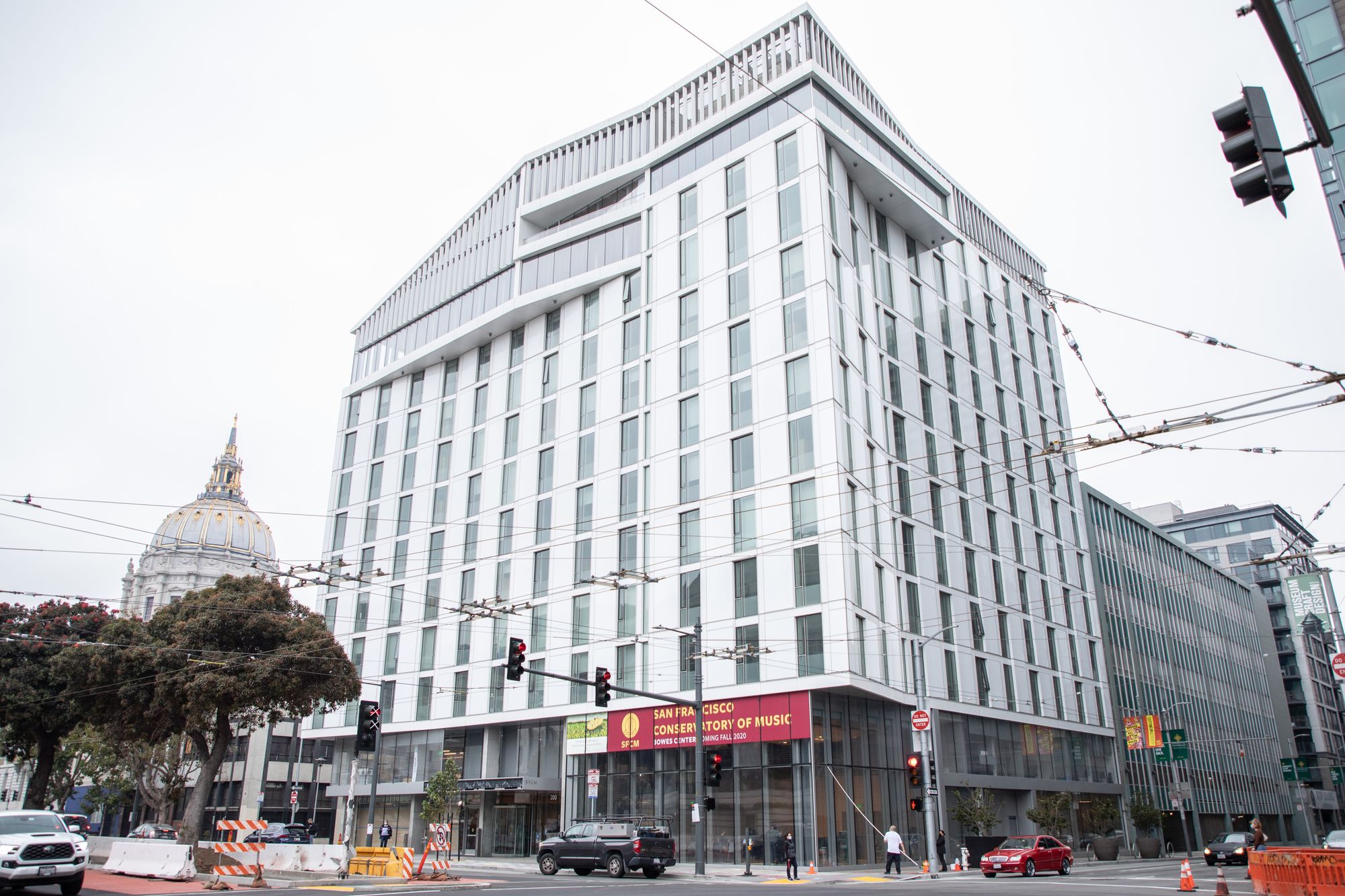 The Ute and William K. Bowes, Jr. Center for Performing Arts, our new, 12-story residence hall and performing arts facility, more than doubles the size of SFCM's campus and provides the unmatched opportunity for SFCM students to live, learn, and perform in the heart of the city's cultural corridor. The Bowes Center welcomed its inaugural class of student residents in Fall 2020 and features flagship performance venues, a recording studio and technology hall, public restaurant with student performance space, student resource center, student lounge and dining facility, and apartments for visiting faculty and artists.
With its close proximity to the Symphony, Opera, Ballet, SFJAZZ, and just a four minute walk from our existing campus at 50 Oak Street, the Bowes Center is a comprehensive arts hub for our students and offers hundreds of performances to the public each year. It fosters innovative partnerships between SFCM and neighboring arts organizations. The integration of Classical KDFC's studio into the Bowes Center is SFCM's inaugural partnership in this new space.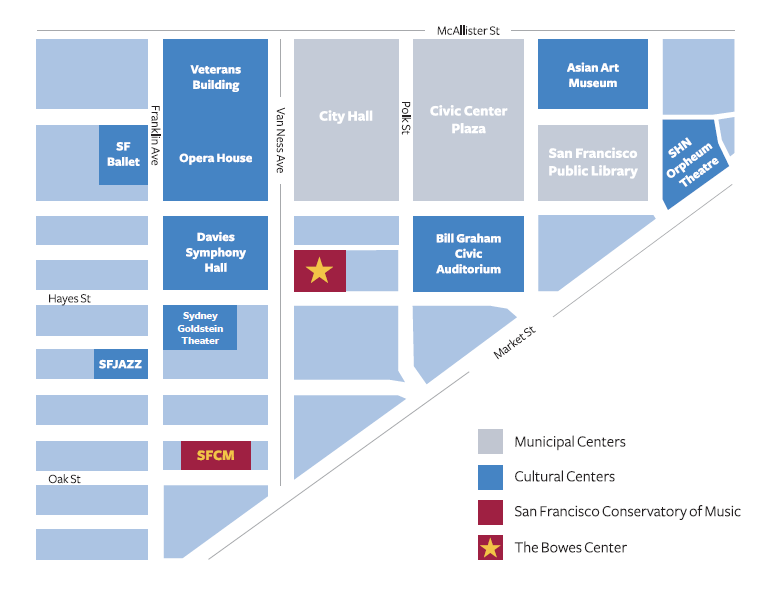 Rooms
Rooms include four- and three-person suites. Each unit includes:
Living room with table, chairs, and a couch
Kitchenette with a microwave oven, refrigerator, and a freezer
Meraki WiFi
Individually controlled heat and air conditioning
Community Amenities
A student lounge with café and study spaces
Dining plan options required for all residents
Practice rooms on each floor (Note that this is in addition to the practicing permitted in student units)
24/7 access to practice and rehearsal spaces with self-recording capabilities on academic floors
A student resource center for individual studying and group meetings
A roof terrace with views of historic San Francisco City Hall and Civic Center
Laundry facilities on each floor
On-site bike storage
Resident Assistants (RAs) support all students living at the Bowes Center and host regular programs and events that help build a strong community.
The Conservatory places students at the Bowes Center based on our Residency Requirement Policy.
Off-Campus Apartments
As the rental market has become extremely competitive, we encourage students to begin the housing search process early. Many students visit San Francisco well in advance (June to early August) to find suitable housing before the semester begins.
Students unable to solidify their housing before Orientation often make a reservation at a hotel, youth hostel, or residence club before their arrival. We recommend that you not search for housing during Orientation placement exams and auditions. Please allow a minimum of three to four weeks to locate permanent housing. Hostels are usually the cheapest alternative, averaging $23–$30 per night. Several hotels and residence clubs in the city provide weekly and monthly rates.
Online Housing Board
In order to distribute timely and important housing information, SFCM has created a private SFCM Housing Google Group. This interactive community provides a forum for Conservatory students to discuss housing needs, trends, and opportunities. Information on joining the housing group, as well as general housing information, is sent to new students that have submitted enrollment deposits.
Tips for Finding an Apartment
Join the SFCM Housing Google Group if you are a current or newly admitted student (those not required to live on-campus will receive a link to the housing group by email over the summer).
Find a roommate! The SFCM Housing Google Group also contains postings for students looking to live with fellow SFCM students. Once you're a member of the group, you can post your own roommate listing.
Walk around the neighborhoods that interest you. Bring pen and paper to record addresses and telephone numbers from "For Rent" signs displayed in windows. Many landlords advertise their vacant apartments by placing a sign in the available apartment.
Use the Internet! Many students find apartments through Craigslist. While on Craigslist, search under apartments/housing, rooms/shared, and sublets/temporary for more opportunities. Please be sure to review the Craigslist information on Avoiding Scams and Fraud. There are many other housing search services, but no matter what service you use, the most important thing is to look early in the summer!
Off-Campus Apartment Disclaimer
SFCM assumes no responsibility for accommodations, services, injuries, loss, or damage that occur on any properties suggested by SFCM and its employees or found through listings on the SFCM Housing Google Group, housing referral board or suggested housing websites, newspapers, or bulletin boards. Students and landlords alike are urged to thoroughly investigate any housing, rental, or roommate options.