Take your place here.
The Panoramic
Located at 1321 Mission Street in San Francisco's bustling SoMa district, the Panoramic is a brand-new high-rise residence for students, offering affordable apartments with full kitchens, natural light, expansive views, and spaces for study, socializing, and practice—all less than a ten-minute walk from SFCM.
All first-year, second-year, and third-year undergraduates stay at the Panoramic. As a resident, you'll enjoy immediate access to transit (BART and Muni); cultural landmarks including the San Francisco Symphony, San Francisco Opera, Center for New Music, and SFJAZZ Center; farmers' markets and grocery stores (Trader Joe's, Whole Foods, and others); and shopping, cafes, and restaurants. The Panoramic also lies at the heart of San Francisco's thriving tech district.
Rooms
SFCM students occupy the top five floors of this 11-story building. Rooms include two-person studios (274-295 sq. ft.) or four-person suites (605-630 sq. ft. corner units). Each room includes:
fully equipped kitchen with a convection microwave oven
flat-screen TV
WiFi
Bay windows with window seats and city views
individually controlled heat and ventilation
engineered soundproofing
extra-deep soaking tub
Community Amenities
An expansive lobby with grand piano, fireplace, lounge, and study areas
A roof deck and garden with vistas across the city and bay
Community space on each floor
On-site bike storage and a repair station
Basement storage
Resident Assistants (RAs) support all students living at the Panoramic and host regular programs and events that help build a strong Conservatory community.
Environmental Features
The Panoramic reflects a commitment to sustainability and environmental consciousness:
Natural light and ventilation
Enhanced indoor air quality
LED lighting
Low-flow plumbing fixtures
Energy Star appliances
Neighborhood Map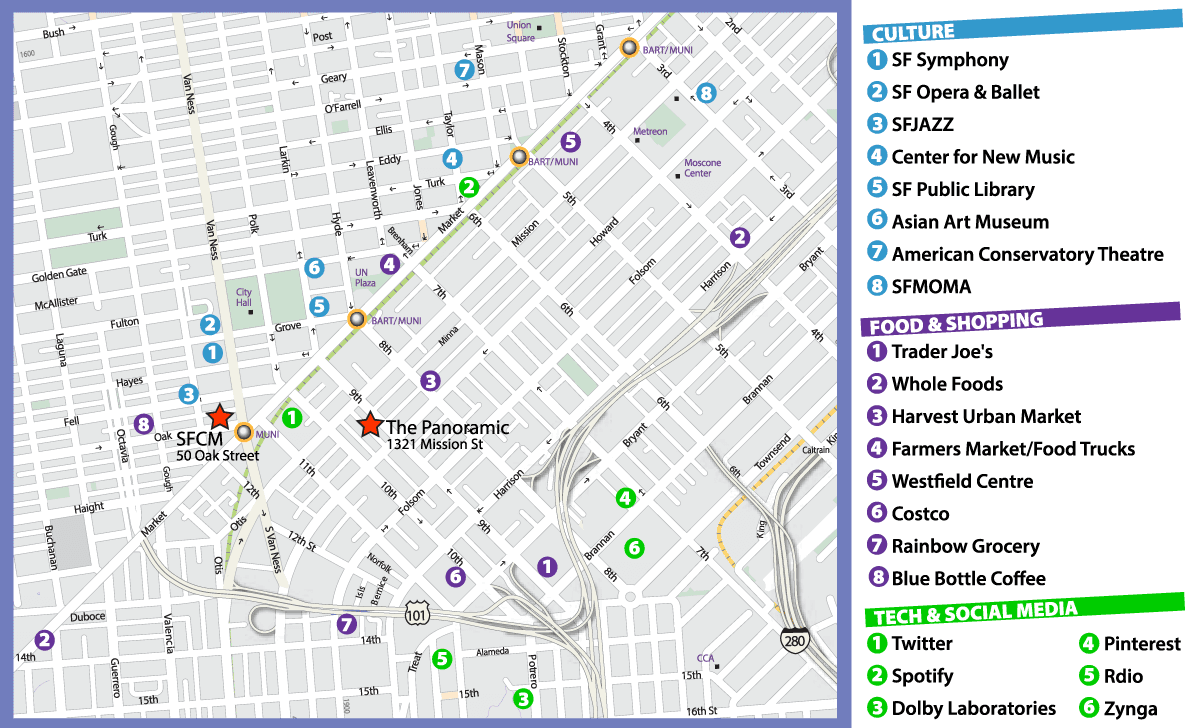 The Conservatory places students at the Panoramic based on our Residency Requirement Policy.
Apartments
As the rental market has become extremely competitive, we encourage students to begin the housing search process early. Many students visit San Francisco well in advance (June to early August) to find suitable housing before the semester begins.
Students unable to solidify their housing before Orientation often make a reservation at a hotel, youth hostel, or residence club before their arrival. We recommend that you not search for housing during Orientation placement exams and auditions. Please allow a minimum of three to four weeks to locate permanent housing. Hostels are usually the cheapest alternative, averaging $23–$30 per night. Several hotels and residence clubs in the city provide weekly and monthly rates.
Online Housing Board
In order to distribute timely and important housing information, SFCM has created a private SFCM Housing Google Group. This interactive community provides a forum for Conservatory students to discuss housing needs, trends, and opportunities. Information on joining the housing group, as well as general housing information, is sent to new students that have submitted enrollment deposits.
Tips for Finding Housing
Join the SFCM Housing Google Group if you are a current or newly admitted student (after you have submitted your enrollment deposit).
Find a roommate! The SFCM Housing Google Group also contains postings for students looking to live with fellow SFCM students. Once you're a member of the group, you can post your own roommate listing.
Walk around the neighborhoods that interest you. Bring pen and paper to record addresses and telephone numbers from "For Rent" signs displayed in windows. Many landlords advertise their vacant apartments by placing a sign in the available apartment.
Use the Internet! Many students find apartments through Craigslist. While on Craigslist, search under apartments/housing, rooms/shared, and sublets/temporary for more opportunities. Please be sure to review the Craigslist information on Avoiding Scams and Fraud. There are many other housing search services, but no matter what service you use, the most important thing is to look early in the summer!
Housing Disclaimer
The Conservatory assumes no responsibility for accommodations, services, injuries, loss, or damage that occur on any properties suggested by the Conservatory and its employees or found through listings on the SFCM Housing Google Group, housing referral board or suggested housing web sites, newspapers, or bulletin boards. Students and landlords alike are urged to thoroughly investigate any housing, rental, or roommate options.