Pre-College Curriculum
Pre-College classes occur on Saturdays between 8:30 AM and 5:00 PM over 30 weeks each academic year. The curriculum consists of weekly private lessons, musicianship classes, and small and large ensemble courses. There is no guarantee of specific schedules. We need flexibility to place students in classes. Students should be expected to be available for classes all Saturday. We partner with the San Francisco Symphony Youth Orchestra so Youth Orchestra students can participate in their rehearsals. If you have any questions regarding Saturday schedules, please contact the Pre-College office.

The Pre-College fosters achievement by incorporating regular input and assessment from SFCM faculty as well as artists in the field. Students have ample performing opportunities, including weekly recitals and semester-end chamber music and chorus concerts recorded by the SFCM Recording Studio. Public chamber music master classes, workshops, and performances are an integral part of the curriculum. Recent master classes have been presented by renowned musicianship from around the world. Students are required to participate in juries once a year and many of our students participate in the Royal Conservatory of Music Development assessments.
---
Certain majors have elective course requirements:
Major
Elective Requirements
Piano and Strings
Chamber Music or Elective Courses
Woodwinds
Chamber Music or Elective Courses
Brass
Brass Ensemble
Percussion
Percussion Ensemble
Harp
Harp Ensemble
Guitar
Guitar Chamber Music
Voice
Vocal Performance Workshop and Opera & Musical Theatre Scenes
Composition/TAC

Composition or TAC Seminar Courses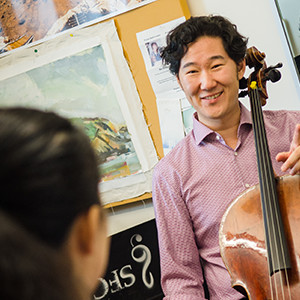 Private Lessons
The cornerstone of a comprehensive curriculum in music education is private instruction. The Pre-College offers consistent, high-level teaching and individual mentoring through private lessons with our excellent faculty. Students may be asked to have their private lesson during the week due to scheduling constraints and private instructor availability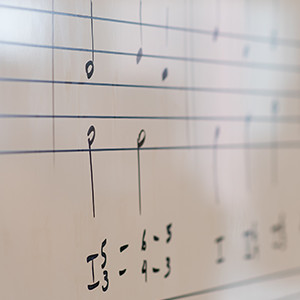 Musicianship
The Pre-College musicianship program cultivates musical literacy as well as musical intelligence. Students master elements of music, sharpen their aural perception, and develop a strong inner pulse by performing sight-singing, keyboard harmony, and rhythmic exercises; taking aural dictation; and studying practical theory, harmony, improvisation, and score analysis.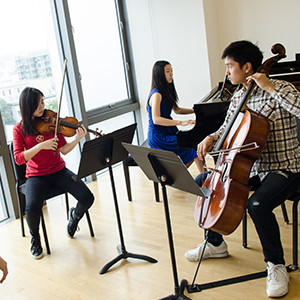 Chamber Music and Elective Courses
Students will participate in chamber music or elective courses in specialized topics. Chamber music training provides some of the most gratifying and transformative experiences in a young musician's development, helping to build collaborative rehearsal and performance skills. All students are eligible for chamber music, however they must complete a chamber music audition to be considered. Students may also choose from a variety of elective courses, including chamber music, sound design, alexander technique, and more, tailoring the curriculum to each student's interests.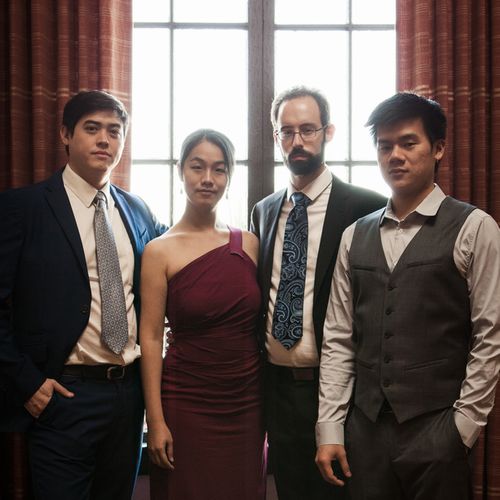 Telegraph Quartet Chamber Music Immersive
An intensive chamber music program for advanced musicians seeking to delve deeper into the study and performance of chamber music. In an apprentice style approach, students will be coached by members of the Telegraph Quartet on a weekly basis, receive one-on-one coaching, rehearse independently, and participate in performance classes, master classes, chamber music seminars, and concerts throughout the academic year. Two string quartet ensembles will be selected for participation based upon chamber music placement process and submission of required audition excerpts.
Audition requirements and course curriculum >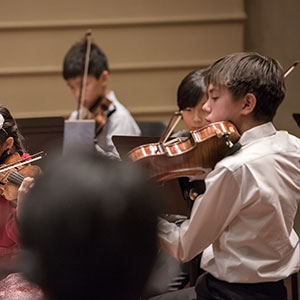 Large Ensemble
Students participate in professionally directed large ensembles, which include chorus, string orchestra, and contemporary music ensemble.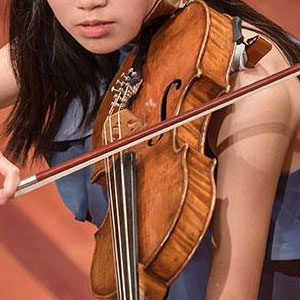 String Orchestra
This large ensemble for young string players provides training with an emphasis on collaboration, technique, and musicianship through the study of standard string ensemble repertoire. Musicians receive instrument-specific instruction from an expert in string pedagogy and learn the skills needed for large ensemble playing. String players age 12 and under will be placed into this ensemble based on their current experience level and need for this aspect of string ensemble training.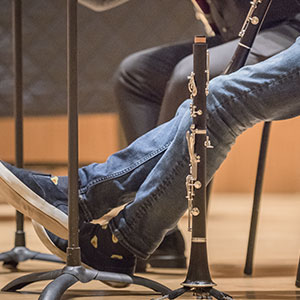 Contemporary Music Ensemble
This mixed instrumental ensemble explores a broad range of musical styles and genres of the 20th and 21st century, including minimalism, indeterminacy, serialism, video game and film music, electronic, and mixed media. Students will perform new works as well as collaborate with Pre-College Composers. Each concert and project will have unique and limited instrumentation needs. Students will be selected from Collegium to participate in CME at the conductor's discretion. Students may not be required for the entire duration of CME rehearsals.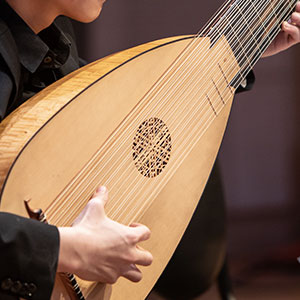 Youth Baroque
Youth Baroque studies and performs music of the baroque and early Classical eras with an aim to introduce students to historically informed style, technique, and performance practice. Students explore works by composers including Bach, Corelli, Handel, Telemann, Vivaldi, and others, while being coached by artists who specialize in historical performance. Students rehearse and perform on modern instruments. Students will be selected to participate in YB at the conductor's discretion and as the repertoire demands.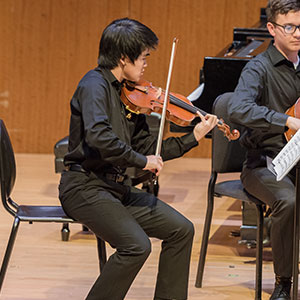 Collegium
Collegium explores music composed for the four-part (SATB) chorus in the European Classical tradition as well as other cultures that have developed a musical style for chorus. In exploring this repertoire, students will further their understanding of singing technique, sight-singing, phrasing and memorization skills, and have the opportunity to develop their inner ear without the aid of a mechanical instrument. This inner ear development, especially will provide the ability to more quickly and accurately learn any music. Unique to the choruses, students will develop a sense of community, performing with their colleagues of every musical discipline.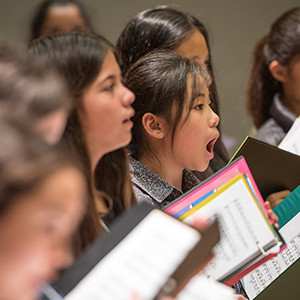 Vocalise
Vocalise explores unison, two and three-part music for treble voices in the European Classical tradition, but also music from other cultures around the world. While developing community, students learn good singing habits and how to work as a large ensemble, including following a conductor, blending voices, memorizing text, and developing the ability to hear multiple parts simultaneously. Attention is given to formation of vowel sounds, precise rhythms and cutoffs, listening as well as singing, to ensure that each individual is a part of the choir, matching in volume and pitch.
Certificate Program
SFCM's Certificate Program is designed to motivate students to achieve academic excellence and to go above and beyond the core requirements of the Pre-College curriculum. Divided into two age categories, the Primary Certificate (ages 13 and under) and the High School Certificate Program (ages 14 and above) encourages students to pursue a well-rounded music education, strive to be active members and leaders in their community, and exercise creativity, independence, entrepreneurship, and drive.