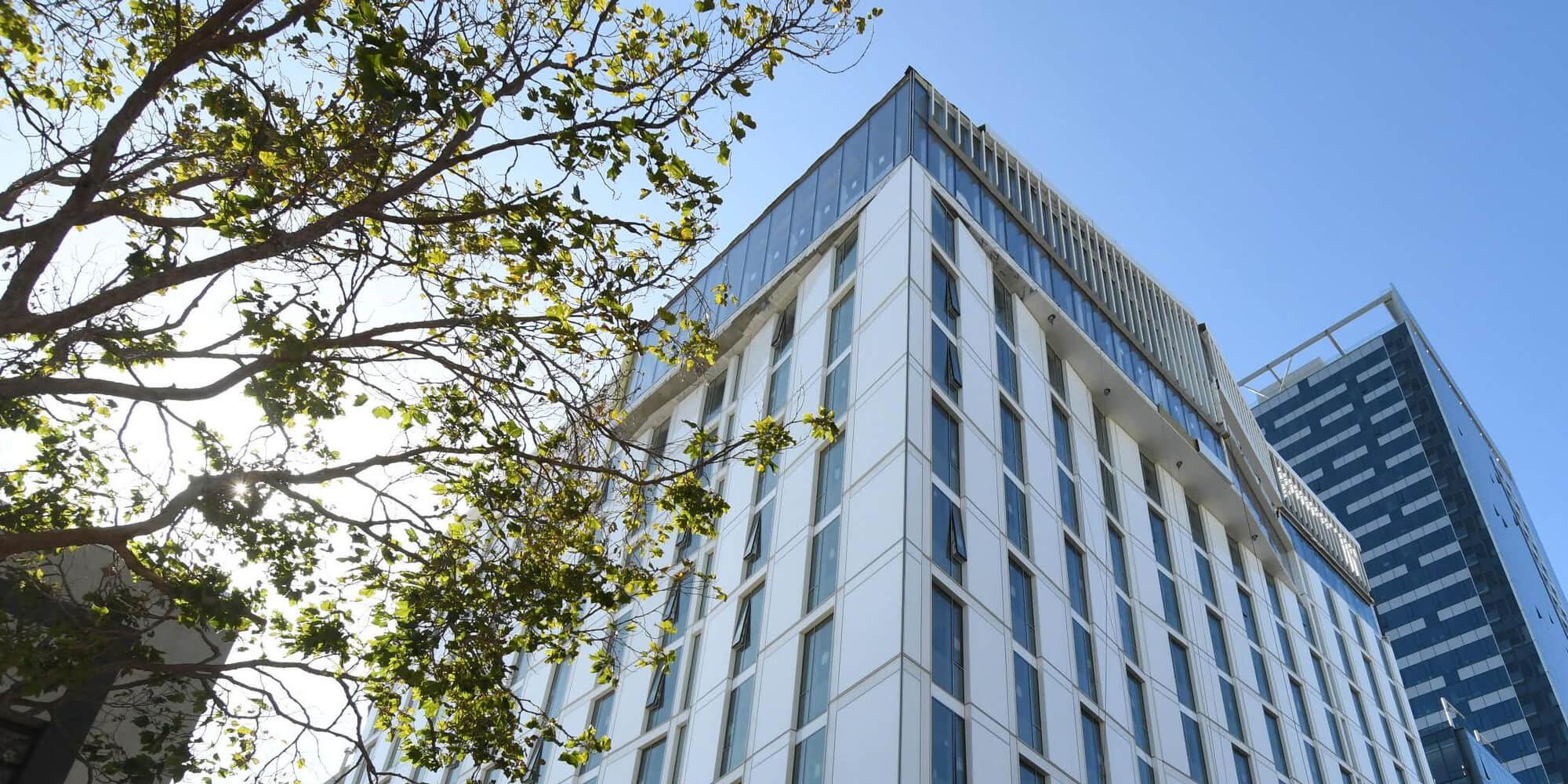 A New Home For Music
Ute and William K. Bowes, Jr. Center for Performing Arts
SFCM Expands into the SF Performing Arts District
In October 2018, the San Francisco Conservatory of Music broke ground on the Ute and William K. Bowes, Jr. Center for Performing Arts (the Bowes Center), a building that transforms San Francisco's arts district with an unparalleled space for students and the community to create, share, and engage with music. The Bowes Center more than doubles the size of SFCM's facilities and dramatically expand the school's campus in the heart of San Francisco's Civic Center.
The Bowes Center is a comprehensive arts hub where SFCM students live, learn, collaborate, and engage the public in unique performance venues. Designed by Mark Cavagnero Associates, the new, 12-story building provides housing for 420 students and accommodates two concert halls (featuring hundreds of performances annually with over 90% of them free and open to the public), a restaurant with a live performance space, multiple classrooms and rehearsal spaces for ensembles, practice rooms, a recording studio and technology hall, a large observation deck and garden, conference facilities, a student center, and several apartments for visiting artists and faculty. In addition, the new building includes 27 apartments to replace the rent-stabilized residential units previously on site.
The $193 million performing arts center and residential tower is located at 200 Van Ness Avenue. The name of the building is in honor and recognition of a financial gift of $46.4 million from the William K. Bowes, Jr. Foundation, which is the largest single gift ever made to a conservatory or music school for a new facility. The existing SFCM building at 50 Oak Street remains in active use.
View the Building Announcement Full Press Release Here >
View the Full Release in Mandarin Here >
San Francisco Performing Arts District
Bowes Center Ribbon Cutting Ceremony
SPACES FOR THE FUTURE
New Vision, New Facilities
Housing for Students and Visiting Artists

The Bowes Center features student housing units that can accommodate 420 individuals. The suites, which are laid out in two- and three-bedroom configurations, are located on nine of the twelve above-ground floors of the building. Each suite contains a full bathroom, kitchenette, and living area, and is designed to accommodate small ensemble rehearsals and individual practice.

The twelfth floor includes several guest suites that will provide housing for visiting faculty, guest artists, and others hosted by the Conservatory.

Concert Halls

Featuring two spectacular concert halls designed to the highest acoustical standards by Kirkegaard and Associates, the Bowes Center promises to offer more performance opportunities and options for SFCM students as well as community organizations.

The Jewel Box Recital Hall on the lobby level will seat just over 100 and feature sprung floors that will meet the needs of dancers and performances that require high elasticity on the stage. This accessible, public-facing space will also feature floor-to-ceiling glass walls that extend to the second floor with views of Van Ness Avenue and Hayes Street.

The Barbro Osher Recital Hall on the eleventh floor will seat more than 200 people. Floor-to-ceiling glass walls will extend up through the twelfth floor, offering views of Van Ness Avenue and the Civic Center at large, including a spectacular vista of City Hall, Davies Symphony Hall, the War Memorial Opera House, and other landmark buildings.

Center for New Media and Technology Hall

The Center for New Media on the second floor will comprise studio space, lesson rooms, and listening booths available to SFCM's Technology and Applied Composition (TAC) and Roots, Jazz, and American Music (RJAM) students. TAC offers curricular direction that includes video game and film music, experimental music, sound design, and production, while RJAM provides a holistic view of jazz, delving into an early history of the art form—as far back as its roots in Africa—and connecting it to a contemporary musical zeitgeist.

The Technology Hall will offer a multipurpose performance and workshop space for multimedia projects and productions developed primarily by SFCM's TAC program. The adjacent Recording Room will include state-of-the-art recording equipment that directly interfaces with all of the Bowes Center's performance spaces.

Why This Matters
We're building the conservatory of tomorrow
$46.4M
The largest gift ever given to a music school for a building
165,000 sq ft
The space for WORLD-CLASS training and creative work
420
Number of Students no longer seeking an apartment in San Francisco
79 ft
distance to Davies Symphony Hall
Student Center

The Student Center will be a common area for students to study, socialize, and dine together. Located on the lobby level adjacent to the kitchen, the Student Center is where students will access dining services. This large lounge will facilitate collaboration and also include a self-service coffee bar and other amenities.

Live Music Innovation Center and Restaurant

The lobby level will also house the Live Music Innovation Center, consisting of a restaurant and bar with a performance space suitable for small ensembles and lectures. The Live Music Innovation Center will regularly see guest chefs working with SFCM's artistic team providing dining and concert experiences that combine food, drinks, and music. The space will feature views of Van Ness Avenue and Davies Symphony Hall.

Terrace and Lounge/Study Areas

The top (twelfth) floor of the Bowes Center will feature an open, green Terrace that runs along Dr. Tom Waddell Place—the north side of the building—overlooking the Civic Center Plaza. The Terrace, directly facing the dome of City Hall, will be accessible to students and will offer a beautiful space for dinners and receptions. The Board Conference Room will also serve as a reading room.

Replacement Housing

In purchasing property at 200-214 Van Ness Avenue, SFCM has agreed to replace the 27 apartments previously inhabited by residents at there. The third and fourth floors of the Bowes Center will consist of replacement housing at a rent-stabilized rate for the residents who have elected to remain at the location. They have been relocated to a neighboring high-rise building and will be moved into a designated space in the Bowes Center.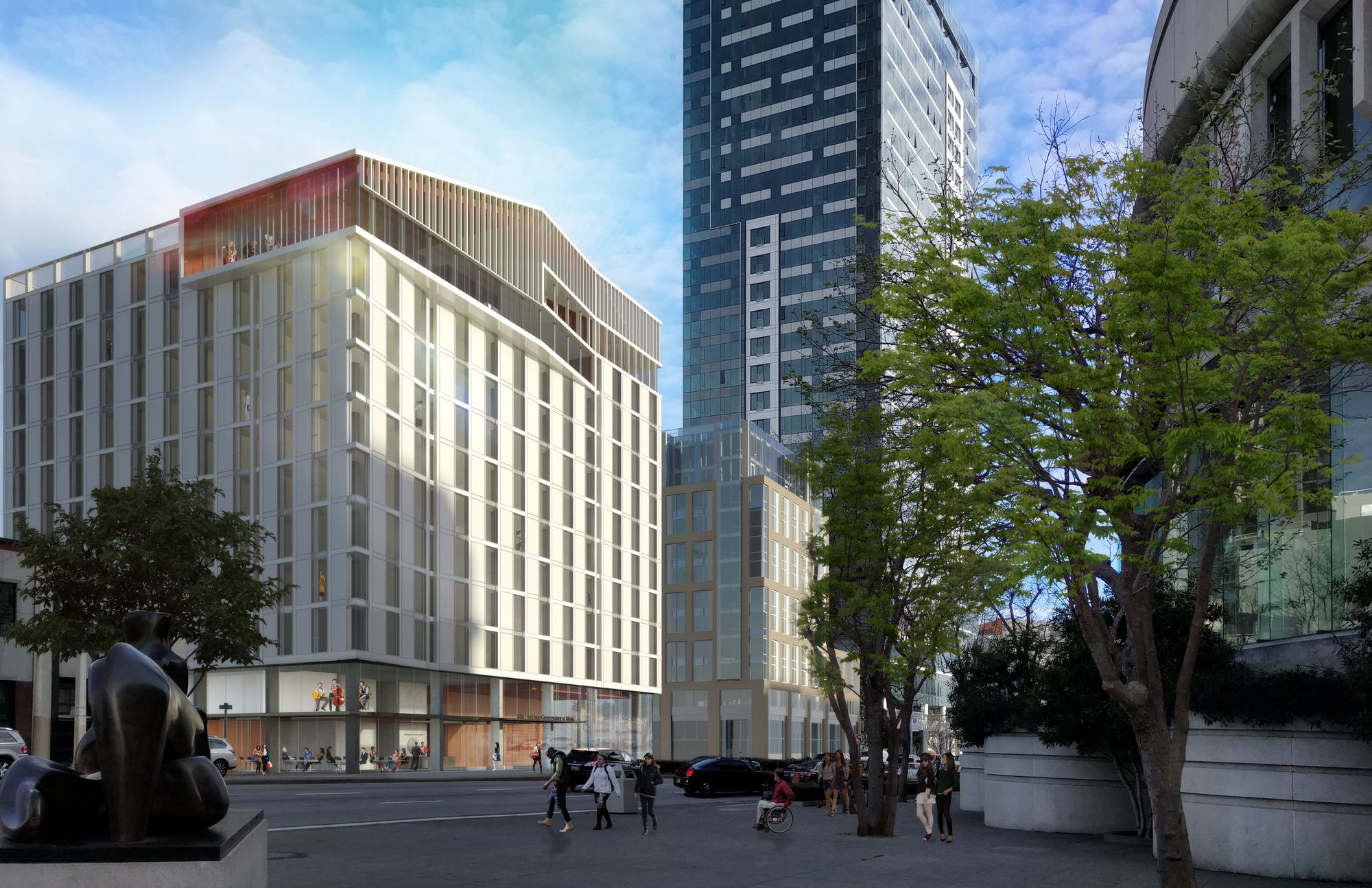 WHO'S INVESTED
Hear from the SFCM community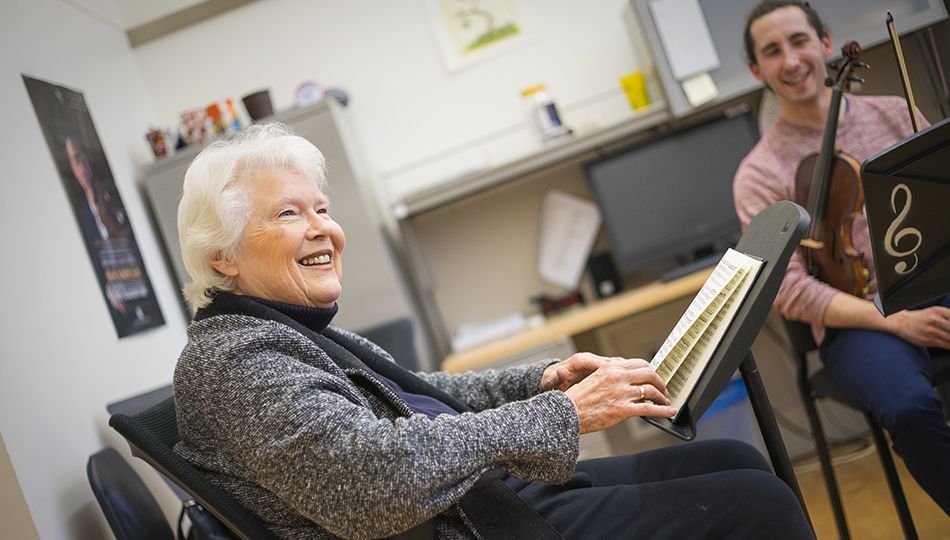 Bonnie Hampton, Renowned SFCM Chamber Music Faculty Member and Donor
"Since SFCM's first location on Sacramento Street, I have been fortunate to be part of all the school's homes. The Bowes Center will bring the fulfillment of SFCM's vision since its first adventuresome years: a vibrant home for students of music to grow and flourish."
Christopher Salinas, Pre-College '19, Bachelor of Music '23, Piano
"The Bowes Center will be a dream come true. The experience of living in the middle of SFCM's campus and the city's inspiring arts district will define the musician I become."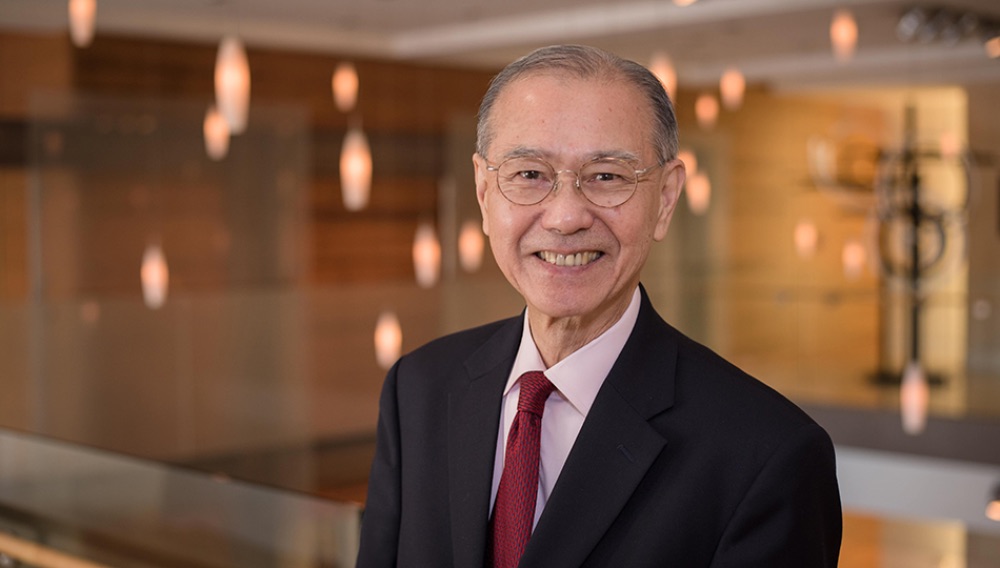 Timothy W. Foo, Chair, Board of Trustees
"I am incredibly proud of how all of us have come together to make this future possible."
Ani Bukujian '18, Professional Studies Diploma,Violin
"Where there is more space, there is more freedom, and more freedom equals greater inspiration."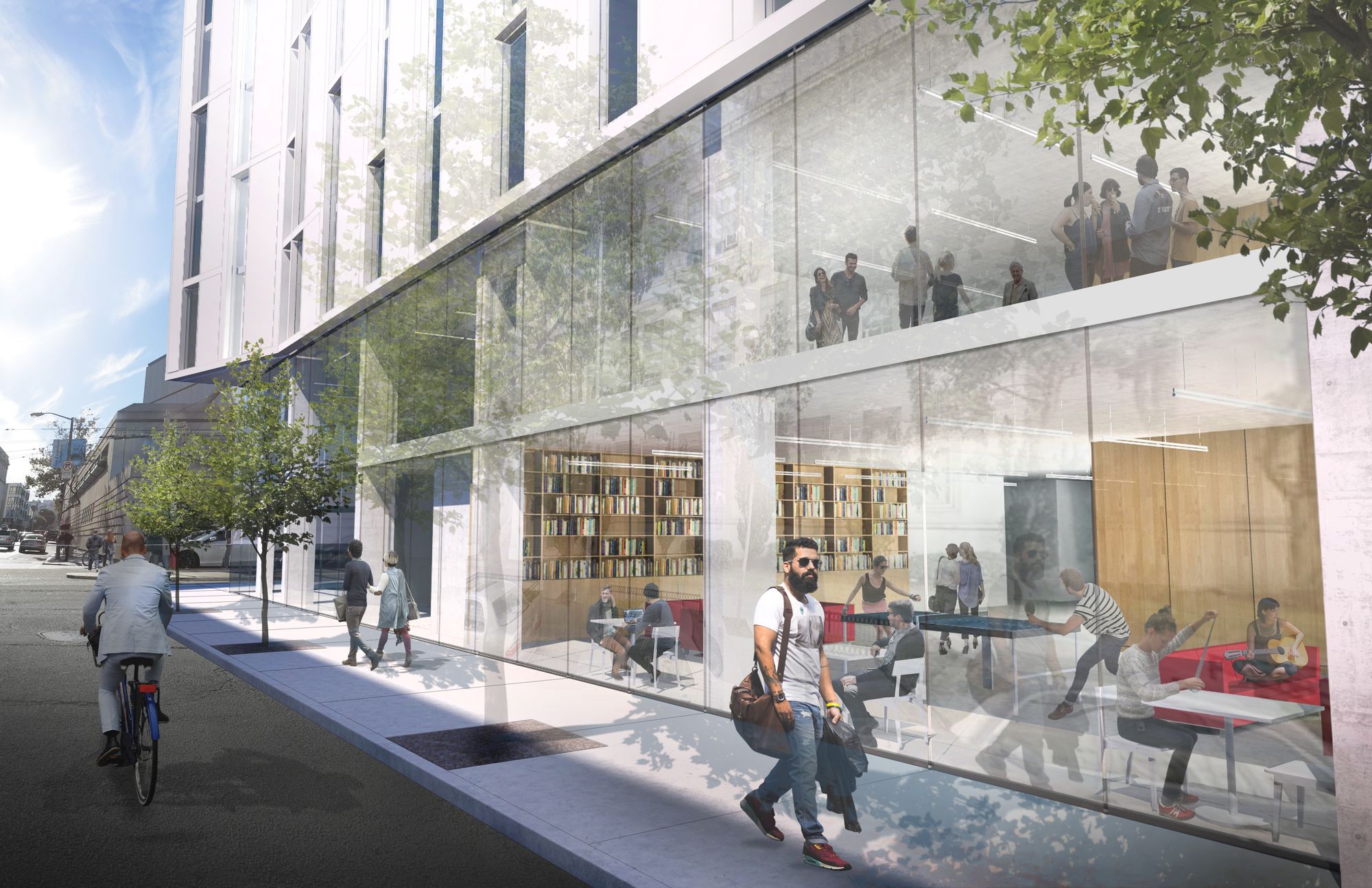 Make a gift to the Bowes Center that is meaningful to you.
SFCM Breaks Ground on the Bowes Center
Ute and William K. Bowes Jr. Center for Performing Arts
On October 25, 2018, SFCM broke ground on the Ute and William K. Bowes, Jr. Center for Performing Arts. The event was attended by San Francisco Mayor London Breed, SFCM President David Stull, SFCM Board Chair Timothy Foo, Ute Bowes, Eileen Blum, Carol Casey, Bernard and Barbro Osher, and Gordon Getty, among other SFCM trustees, students, faculty, staff, and friends. A highlight of the festivities was a choreographed bulldozer ballet to the Triumphal March from Aida.