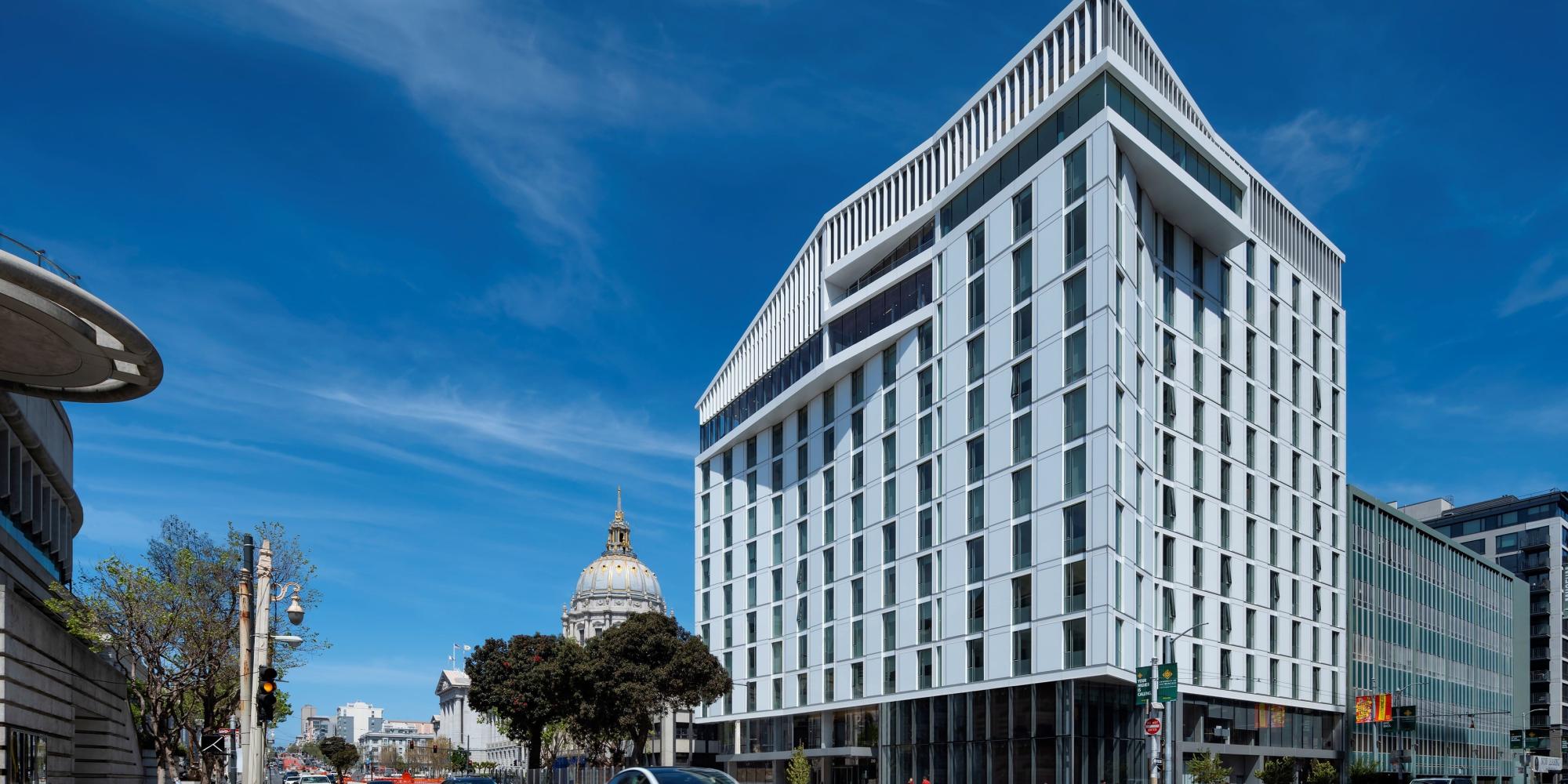 A New Home For Music
Ute and William K. Bowes, Jr. Center for Performing Arts
SFCM Expands into the SF Performing Arts District
The Ute and William K. Bowes, Jr. Center for Performing Arts, located at 200 Van Ness Ave, dramatically amplifies the scale of opportunity SFCM provides for students and deepens our engagement with the community of San Francisco's Civic Center. A "vertical campus" designed by Mark Cavagnero Associates, The $200 million, 170,000 square-foot Bowes Center incorporates affordable student housing, dining, classrooms, rehearsal rooms, performances spaces, faculty and partner offices, and a radio station all under one roof. The building enables students to create, learn, and share music in an integrated, collaborative environment, located within walking distance from SFCM's main 50 Oak Street location.
BUILDING FEATURES
Live Comfortably

Apartments for over 400 student-musicians, learn about living on campus. As well as housing for students at the San Francisco Ballet School, short term housing for visiting faculty and guest performers, and apartments for tenants of the building previously on the site of the Bowes Center. Residential amenities for students include a student center with social and study spaces, dining from Chef Loretta Keller, known for her work at San Francisco's Coco500, and acoustically isolated apartments that allow for practicing.

Practice Productively

State-of-the-art music education facilities, including acoustically controlled classrooms and practice rooms, a keyboard lab, recording studio, and the Center for New Media featuring critical listening rooms for Technology and Applied Composition and Roots, Jazz, and American Music students.

Build Community

Additional building highlights include a flexible event space and terrace on the top two floors of the building and offices for faculty, staff of Opus 3 Artists, and broadcasting facilities for KDFC Classical Radio. The Bowes Center was developed with the environment in mind, and anticipates the new building will reduce annual energy costs by 16.9%. Learn more about the Bowes Center green initiatives.
San Francisco Performing Arts District
THREE DISTINCT PERFORMANCE HALLS
Cha Chi Ming Recital Hall

The jewel-box Cha Chi Ming Recital Hall on the ground floor has seating for over 100 audience members, featuring sprung floors to meet the needs of dancers and performances that require high elasticity on the stage. Visible to all passers-by through floor to ceiling windows that extend to the second floor with views of Van Ness Avenue and Hayes Street.

Barbro Osher Recital Hall

The 200-seat Barbro Osher Recital Hall on the 11th floor features floor-to-ceiling glass walls offering views overlooking a spectacular vista of City Hall, Davies Symphony Hall, the War Memorial Opera House, and other Civic Center landmarks.

Technology Hall

The black box Technology Hall is a multipurpose performance and workshop space for multimedia projects and productions developed primarily by the Technology and Applied Composition department. The adjacent recording room includes state-of-the-art recording equipment that directly interfaces with all of the Bowes Center's performance spaces.
ABOUT BILL & UTE BOWES
Philanthropist

Bill and Ute Bowes have been longtime supporters of SFCM and dedicated trustees for many decades. Bill Bowes first made a name for himself as a pioneer in venture capitalism and was a long-time philanthropist to the arts. His inspiring leadership and generous financial contributions to SFCM have helped the school to become a beacon of conservatory education. In his own words he shared this simple fact, "Music makes me happy!" Sadly, he passed away in late 2016.

Donation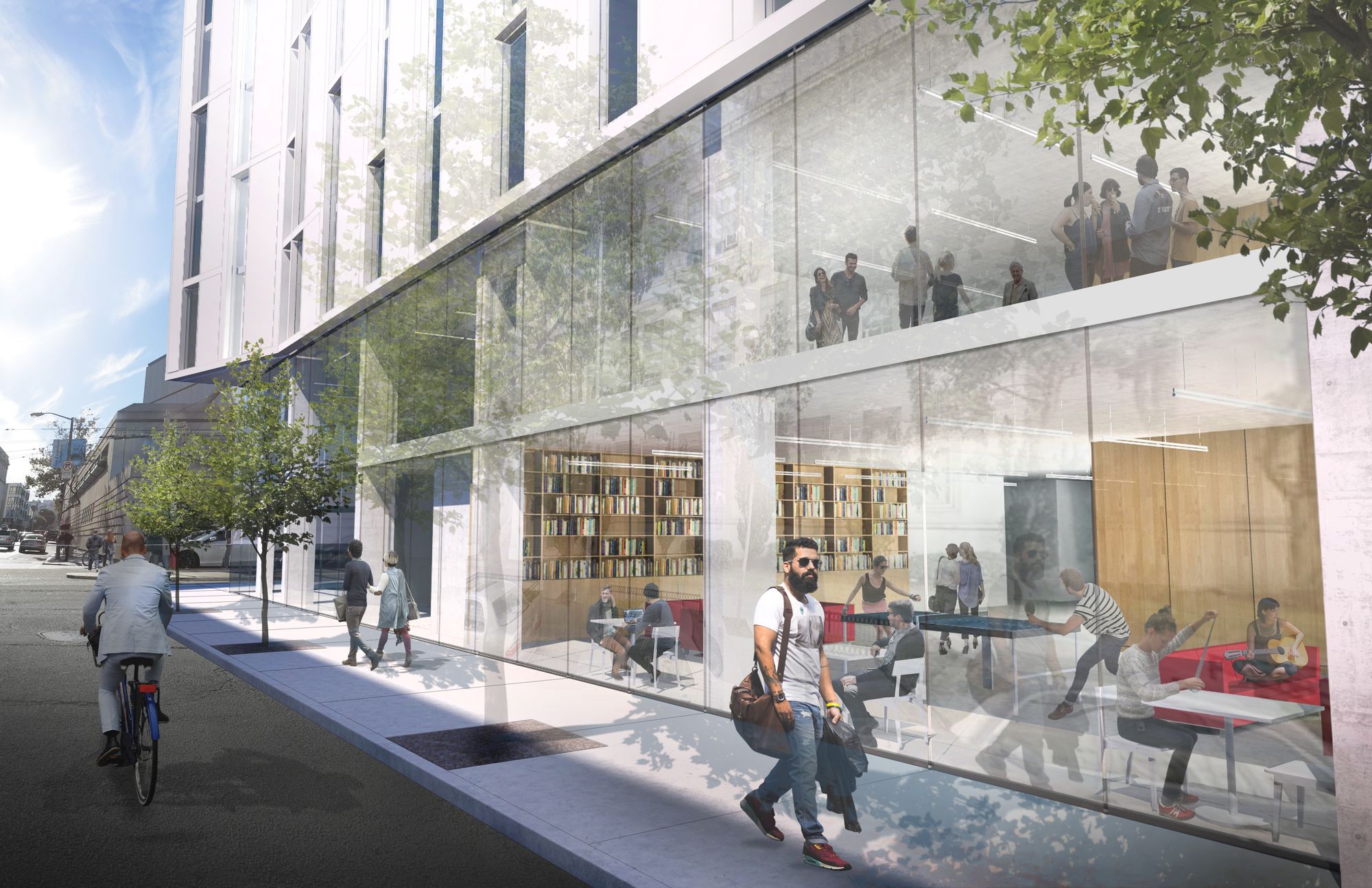 Make a gift to the Bowes Center that is meaningful to you.
ARCHITECTURE, DESIGN, AND CONSTRUCTION
Stunning Design

The Bowes Center was designed by Mark Cavagnero Associates (MCA), a socially- and environmentally- conscious architecture firm known for civic and institutional projects in San Francisco. The white and transparent glass design welcomes the city in to witness and participate in the craft of music, and the building's 170,000 square feet effectively doubles the size of SFCM's campus.