SFCM Hosts Academy of St Martin in the Fields for Residency
During a three-day residency in March, the Opus 3 Artists held masterclasses and performed in a side-by-side concert with students.
March 24, 2023
by Mark Taylor
By Mark Taylor
Hailed as one of the world's finest chamber orchestras, Academy of St Martin in the Fields is renowned for fresh, brilliant interpretations of the world's greatest orchestral music—and recently they brought those skills to share with SFCM students.
During a three-day residency, the Academy ran a number of student masterclasses with leader Tomo Keller and held side-by-side sessions and rehearsals with students, all culminating in a side-by-side performance in the Barbro Osher Recital Hall at the Bowes Center on March 10.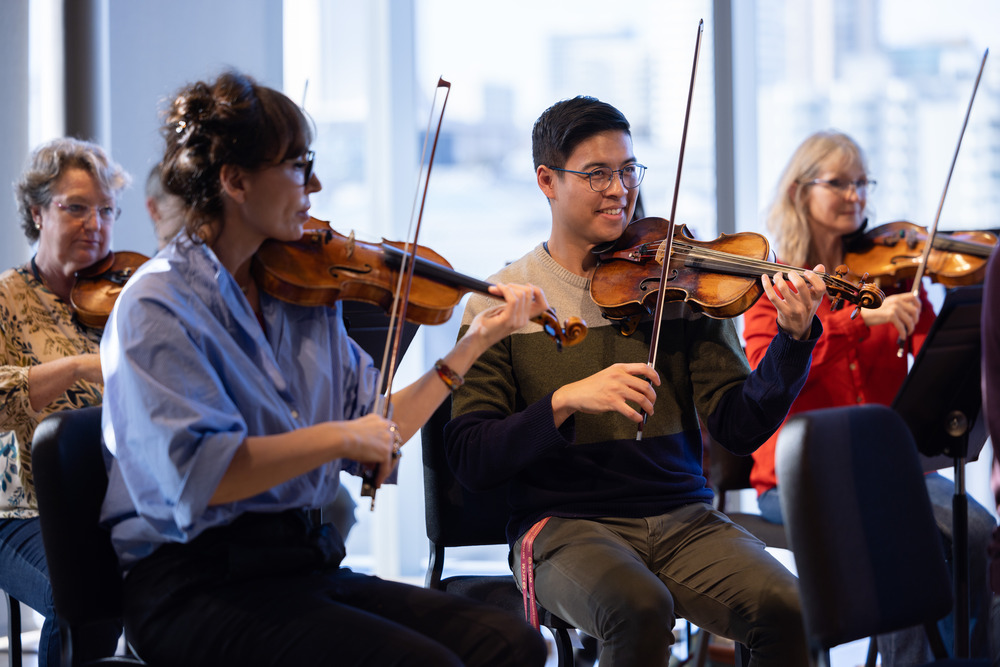 For students like violinist Daniel Tan, working with the acclaimed orchestra was a lesson in going above and beyond nailing the notes. "Working with the Academy was a strong reminder that playing music is so much more than good technique and perfect playing. Playing with strong musical intent while aiming for the most heightened version of character you can manage is infinitely more fun to be a part of and compelling to witness," he said. Tan is a graduate student studying with Cordula Merks. "Working with the Academy was a thrilling and inspiring experience," he added.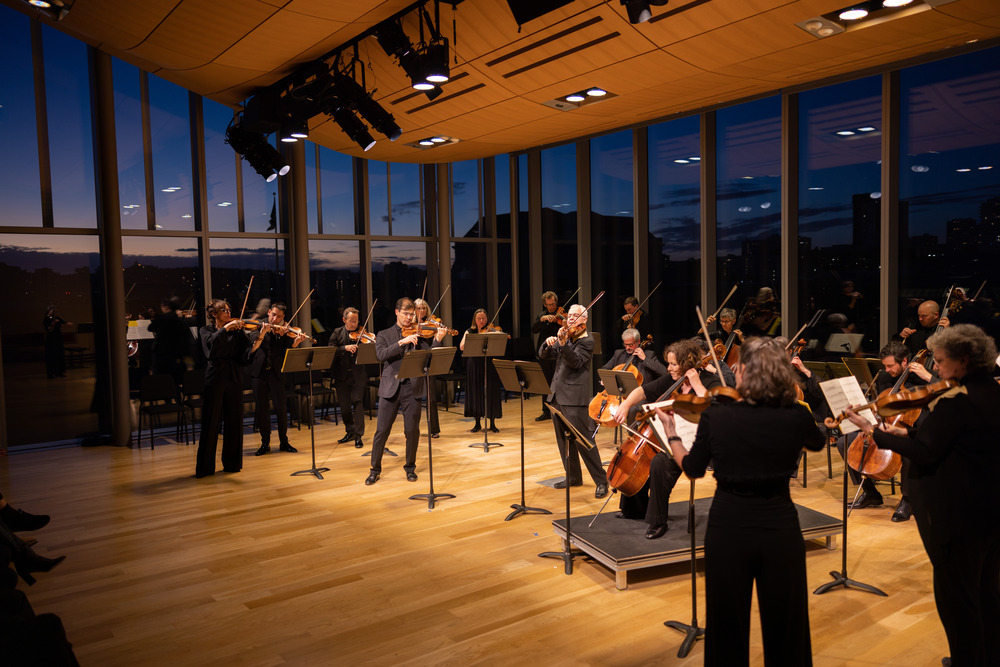 The Academy, who are Opus 3 Artists, the management company acquired by SFCM in 2020, is known to push boundaries of player-directed performance to new heights, which provided a unique experience for students. "As the Academy plays without a conductor, [the music] requires sensitive chamber music skills. Everyone has to take responsibility, so it was impressive to see how quickly the students assimilated what was required," said Martin Burgess, the Principal Second Violin of ASMF. "I hope they picked up in the rehearsals how important the team effort is and how sharing ideas and being open to different interpretations can enhance the final result," he added.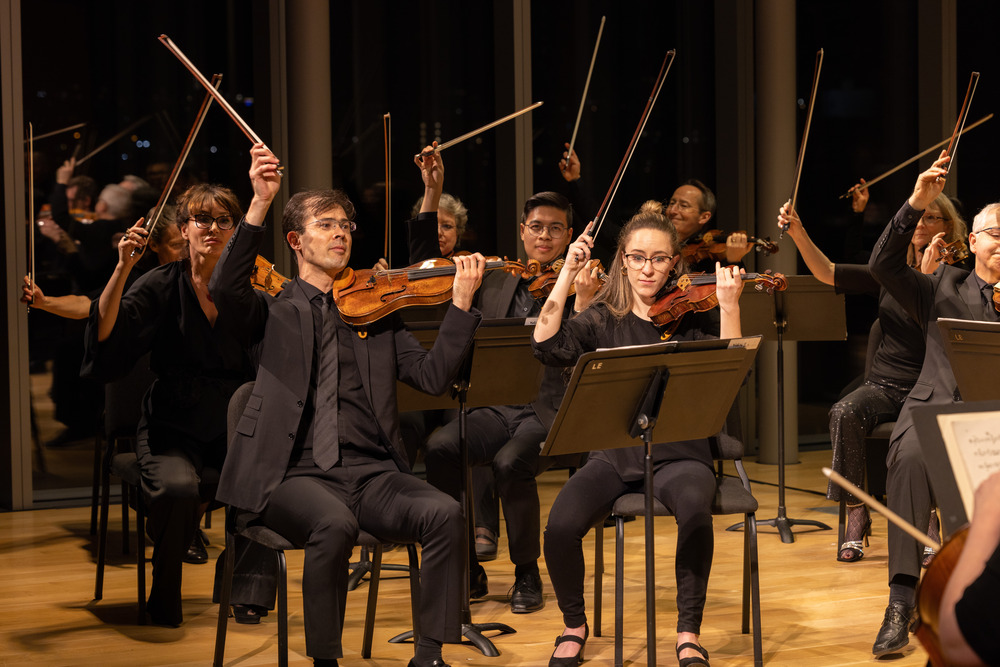 Academy members were impressed not only by SFCM's students but also by its facilities. "It was a great pleasure to work with the highly motivated, very well-prepared students of SFCM. In the masterclasses they were highly responsive and open to new ideas," said Ursula Smith, guest Principal Cello of the Academy. "It was a great pleasure to have them with us for the concert. They truly enhanced the performance. SFCM is admirable on every level, with astonishing facilities," she added. 
Learning to communicate on a higher level was also a key lesson for students like Chuxuejie Zhang, a violist studying with Dimitri Murrath. "I was very inspired by their playing style. They were very considerate, and there was a lot of communication between ensemble members. I feel like they knew each other's parts perfectly, how the music moves, the harmonies and the notes," she said.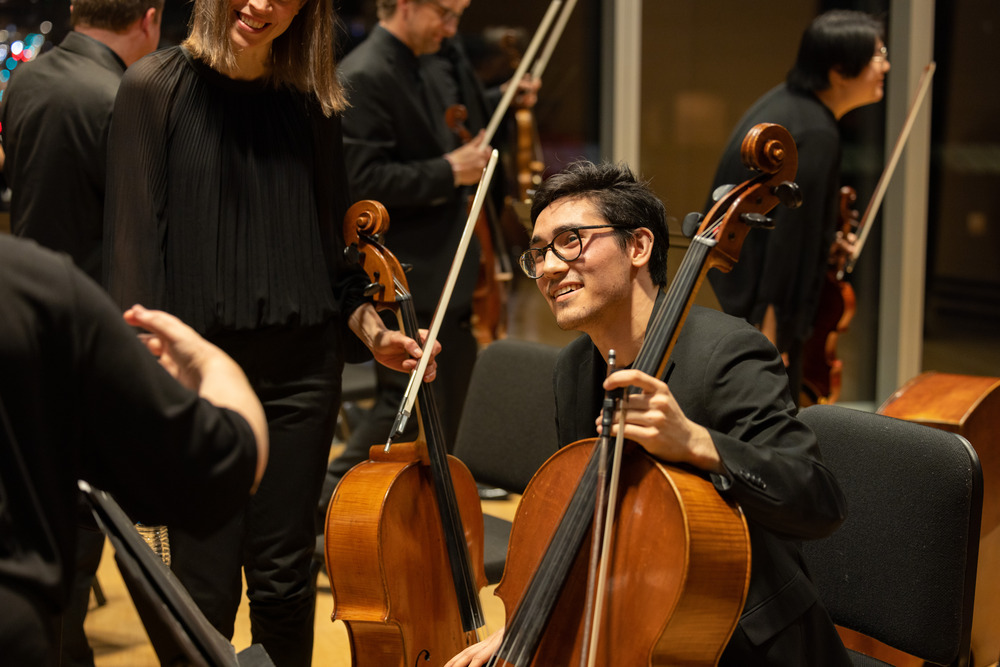 Practicing and performing alongside the Academy was the highlight for many students, including cellist Constantine Janello, a graduate student working with Jennifer Culp. "With that ensemble, the legacy of music making is so ingrained in each of the performers you feel that they really perform for the love of the music. As someone who is lucky enough to join that for a performance it makes you rise to that level of commitment," Janello said. 
Learn more about studying strings at SFCM.