Yuja Wang at SFCM
The acclaimed pianist worked one-on-one with students, led a masterclass, and notched a number of brand-new collaborations during her two-part residency at SFCM, the first of its kind at a U.S. conservatory.
March 10, 2023
by Mark Taylor
By Mark Taylor
She has been called "possibly the most famous pianist on the planet," whose concerts elicit gasps from the audience for her "scintillating pianism, her fabulous gowns, and her adventurous spirit"—and that was before her historic, marathon performance of everything Sergei Rachmaninoff wrote for piano and orchestra in a single, three-and-a-half-hour concert at Carnegie Hall in late January.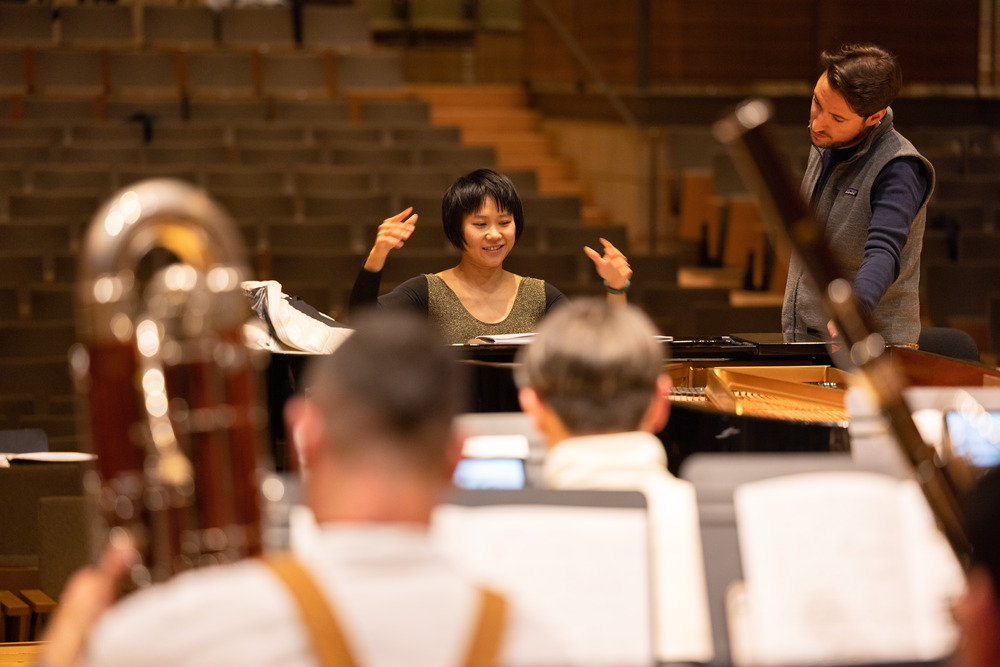 Yuja Wang brought those skills and more to SFCM in February for the second half of a year-long residency where she gave a masterclass, worked directly with piano students, and collaborated across departments with students from the Roots, Jazz, and American (RJAM) and Pre-College programs. 
This was Yuja's second visit to SFCM this school year. In November, Yuja spent a two-week residency at the Conservatory, working, teaching, and performing at a celebratory event alongside students that raised $1.2 million to support student scholarships.
"The San Francisco Conservatory of Music is an incredible place for students to learn and grow, and to inspire each other. I had a great time working with them and they certainly inspired me," Yuja said of her time at SFCM.
The feeling was mutual: SFCM President David Stull noted her excellence and ingenuity, saying how generously Yuja acted integrating herself into the community,noting how her work with RJAM students brought new understanding to everyone who participated and how her culminating performance delivered music to spaces in the community that might not otherwise experience it.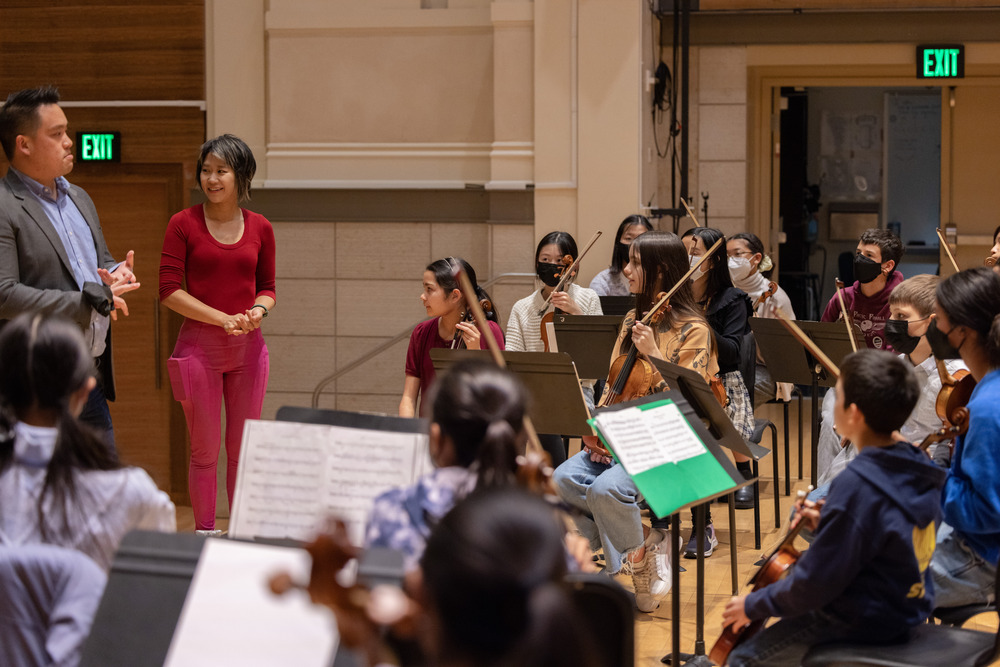 During her masterclass, Yuja worked side-by-side with numerous student musicians in SFCM's lauded piano program, including Maryann Gou. "She really is the embodiment of the modern woman in classical music today," Gou said. "She was very philosophical in her approach, she was really contemplative, and she talked about not just the music, but the emotions behind the music."
Gou was inspired not just by the lesson but by learning directly from one of the most sought-out pianists working today. "Sometimes our careers seem too idealistic, almost unattainable, but with her being here it's just reignited this hope, like, 'Wow, I can actually do this. It's real,'" Gou said.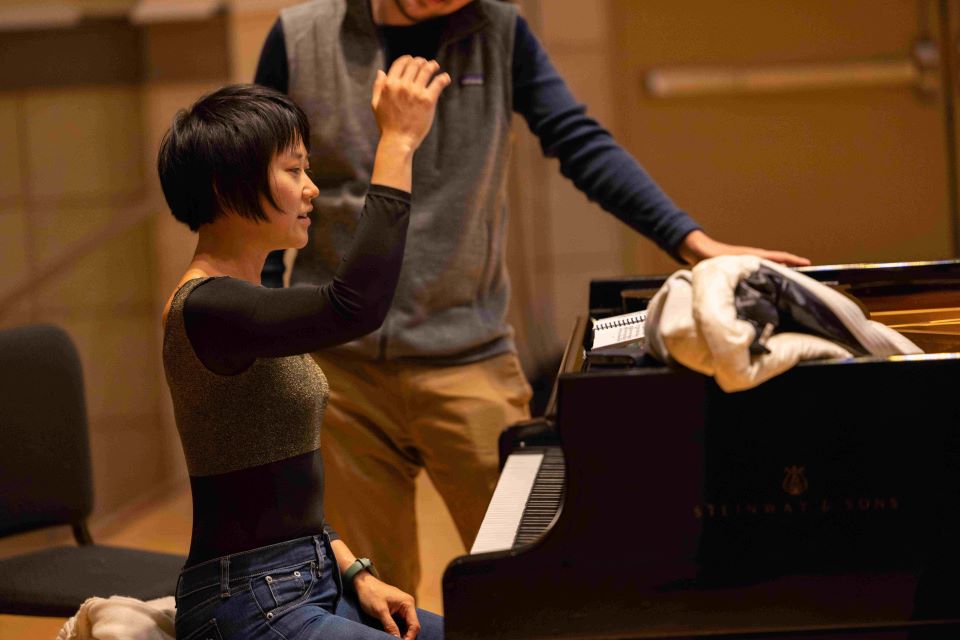 During her two visits to SFCM, Yuja has notched several new experiences and groundbreaking concerts that featured several firsts for the world-renowned artist. "In this first-of-its-kind collaboration, I started the concert debuting a new piece with SFCM students from their revolutionary Roots, Jazz, and American Music program, followed by a sonata with Opus 3 Artist Apprentice and Conservatory Pre-College violinist Amaryn Olmeda, and a four-hands piece with SFCM pianist sophomore Parker Van Ostrand. At the end of the program I performed with the trailblazing contemporary ballet company the Alonzo King LINES Ballet," Yuja said.
In addition, a concert pianist like Yuja working with students in the RJAM program brought in a new perspective. "What makes Yuja so special is that she still wants to learn and actively seeks out music outside of her comfort zone. In that regard, she's a jazz musician at heart!" said Jason Hainsworth, Executive Director of the RJAM program. "I think that's one thing that she shared with the RJAM students: Don't be afraid to push yourself musically. It's how we grow," he added.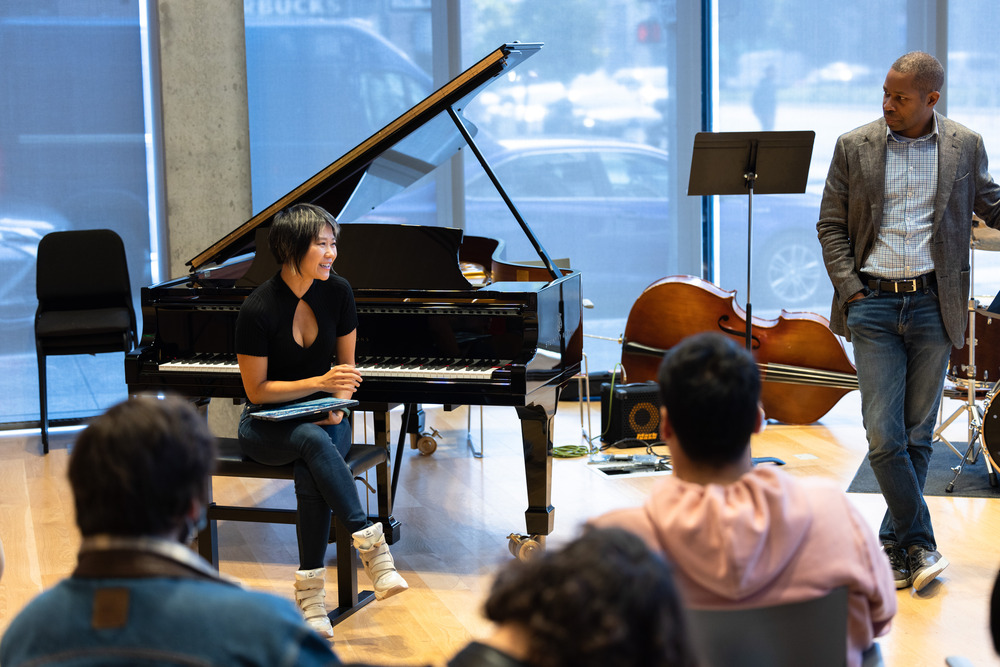 For SFCM student Parker Van Ostrand, working with Yuja was "A dream come true. There's nothing like this I've ever experienced in my life," he said.  "I am not sure I'll experience something like this again, and it's all because of SFCM, I'm very grateful that I came here." 
Hopefully it won't be long until SFCM students see more of Yuja. The pianist says she loves working with inspiring—and being inspired by—young musicians: "They want to hear what you have to say. They are just so open to learning, and it's so inspiring to see that," Yuja continued, "I look forward to returning to SFCM again soon!"
Learn more about studying piano at SFCM.