Recital
Cello Department Recital
Thursday, November 16 2023, 07:30 PM
at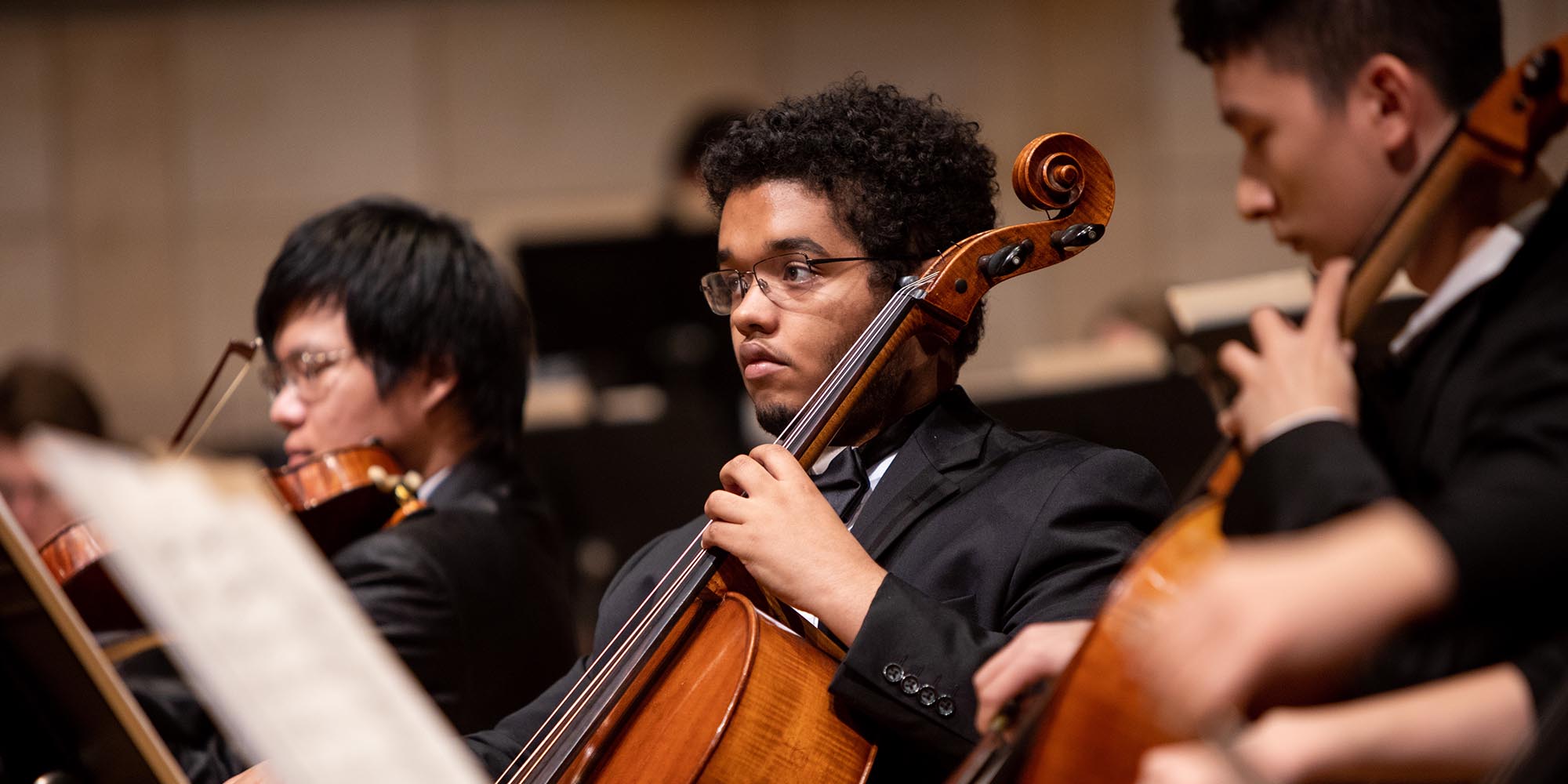 Please note: San Francisco will be hosting the Asian-Pacific Economic Cooperation (APEC) summit this week. Street and highway closures will cause delays in transit into and out of the SFCM area. Please plan accordingly in attending our concerts this week, as we do hope to see you in the audience! For those of you who cannot make it to the concerts, SFCM will be livestreaming most concerts for the week.
Program
Departmental Recitals showcase performance departments through its students. Featuring various students and repertoire, and curated by the faculty, performances in this recital highlight SFCM programs and the wide range of study. 
COLLABORATORS
Jason Kim, piano
Amy Chiu, piano
Keisuke Nakagoshi, piano
Corey Jamason, harpsichord
Antonin Dvorak: Cello Concerto in B Minor, Op. 104, B. 191
     I. Allegro
Chen-Yu Chang, cello
Amy Chiu, piano
Edvard Grieg: Cello Sonata in A Minor, Op. 36
     II. Andante molto tranquillo
Elmer Carter, cello
Jason Kim, piano
Antonio Vivaldi: Sonata No.7 in A Minor, RV 44
     I. Largo
     II. Allegro poco
     III. Largo
     IV. Allegro
Riuwen Liu, baroque cello
Rocío López Sánchez, baroque cello 
Corey Jamason, harpsichord 
-Intermission-
J.S. Bach: Sonata for Viola da Gamba in D Major, BWV 1028
     I. Adagio
     II. Allegro
     III. Andante
     IV. Allegro
David Au Yeung, cello
Amy Chiu, piano
Dmitri Kabalevsky: Cello Concerto No. 1 in G Minor
     I. Allegro(1904–1987)
     II. Largo, molto espressivo
Frederick Renaud, cello
Keisuke Nakagoshi, piano
J.S. Bach: Cello Suite No. 4 in E-flat Major, BWV 1010
     IV. Sarabande
     V. Bourrée I and II
     VI. Gigue
Griffin Seuter, cello
Dimitri Shostakovich: Cello Concerto No. 1 in E-flat Major
     I. Allegretto
     II. Moderato
Weian Gu, cello
Amy Chiu, piano
About SFCM's Cello Department
Opportunity awaits you as a cellist at SFCM. Part of SFCM's comprehensive strings program, the cello department has a studio of about 29 students, all honing their craft with the guidance of four dedicated faculty members. Students can perform with resident ensembles such as the Conservatory Orchestra and chamber groups from the baroque to the contemporary, as well as enter the annual String Concerto Competition.
VIEW SFCM'S EVENT HEALTH AND SAFETY POLICY
As of April 1, 2023, face masks will be optional and at personal discretion for all SFCM concerts & events.  Vaccinations are not required for visitors and guests to campus buildings and performances. Please visit SFCM's full Event Health & Safety policy to read more about our guidelines.