Department Recital
Collaborative Piano Department Recital
Wednesday, November 29 2023, 07:30 PM
at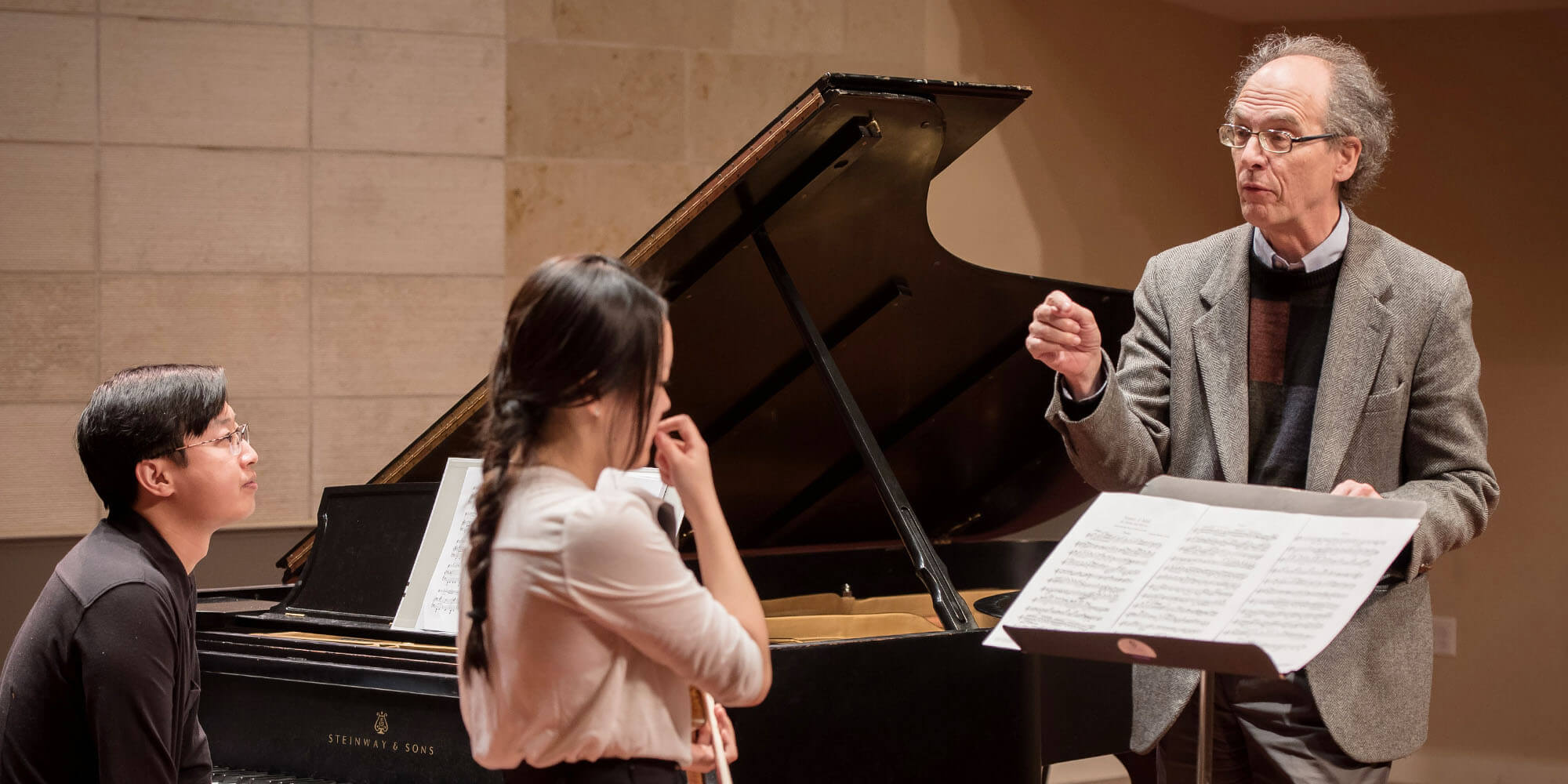 Program
Departmental Recitals showcase performance departments through its students. Featuring various students and repertoire, and curated by the faculty, performances in this recital highlight SFCM programs and the wide range of study. 
Joaquin Rodrigo: Fantasia para un gentillhombre
     I. Villano 
     II. Ricerare
     III. Espanoleta
Samuel Liang, guitar
Amanda Reyes, piano 
Heitor Villa-Lobos: Concerto No. 1
     I. Allegro preciso – Poco meno
     II. Andantino e Andante
Matt Wherley, guitar 
 Amanda Reyes, piano 
Giovanni Bottesini: Concerto for Double Bass No. 2 in b minor 
     I. Allegro
Alexandria Kelley, double bass
Hao Wu,  piano
Johannes Brahms: Sonata No. 2  in A Major Op. 100
     I. Allegro amabile
Zeke Sokoloff, violin
Enle Xu, piano
Francis Poulenc: Fiancailles pour Rire
     I. La Dame d'André
     II. Dans l'herbe
     III. Il vole
     IV. Violon
     V. Mon cadavre
     VI. Fleurs
Emilia Perrotta, soprano 
Aaron Kurz, piano
Henri Dutilleux: Sonatine for Flute and Piano 
      I. Allegretto
      II. Andante
      III. Animé
Jolie Fitch, flute 
Jenny Ma, piano
- Intermission -
Serge Koussevitzky: Concerto for Double Bass Op. 3
      I. Allegro 
      II. Andante
Soren Davick, double bass 
Hao Wu, piano
Gabriel Faure: Sonata in A Major, Op. 13 
      I. Allegro Molto
Ruby Ro, violin 
Niyang Wang, piano
Robert Schumann: Frauenliebe und Leben
      I. 'Seit ich ihn gesehen'
      II. 'Er, der Herrlichste von allen'
      III. 'Ich kann's nicht fassen, nicht glauben'
      IV. 'Du Ring an meinem Finger'
Jaimie Langner, mezzo-soprano 
 Yuhan Xue, piano
Michiru Oshima: Memories (2011) 
Yiran Yao, violin
Yuhan Xue, piano
Johannes Brahms: Clarinet Sonata No. 2 in Eb Major Op. 120 No. 2 
      I. Allegro appassionato
Liam Cameron, clarinet
Niyang Wang, piano
Paul Juon: Sonata in D Major Op. 15
      I. Moderato 
Adrian Jackson, viola
Jason Kim, piano
About SFCM's Collaborative Piano Department
Make music with your peers in our highly selective collaborative piano program. We offer piano students who want to learn the art of accompaniment and ensemble performance a special place in our keyboard department. The collaborative piano program is designed to ready the next generation of pianists for a life playing music in groups.
VIEW SFCM'S EVENT HEALTH AND SAFETY POLICY
As of April 1, 2023, face masks will be optional and at personal discretion for all SFCM concerts & events.  Vaccinations are not required for visitors and guests to campus buildings and performances. Please visit SFCM's full Event Health & Safety policy to read more about our guidelines.