Orchestra
SFCM Orchestra Concert with Edwin Outwater
Saturday, September 23 2023, 07:30 PM
at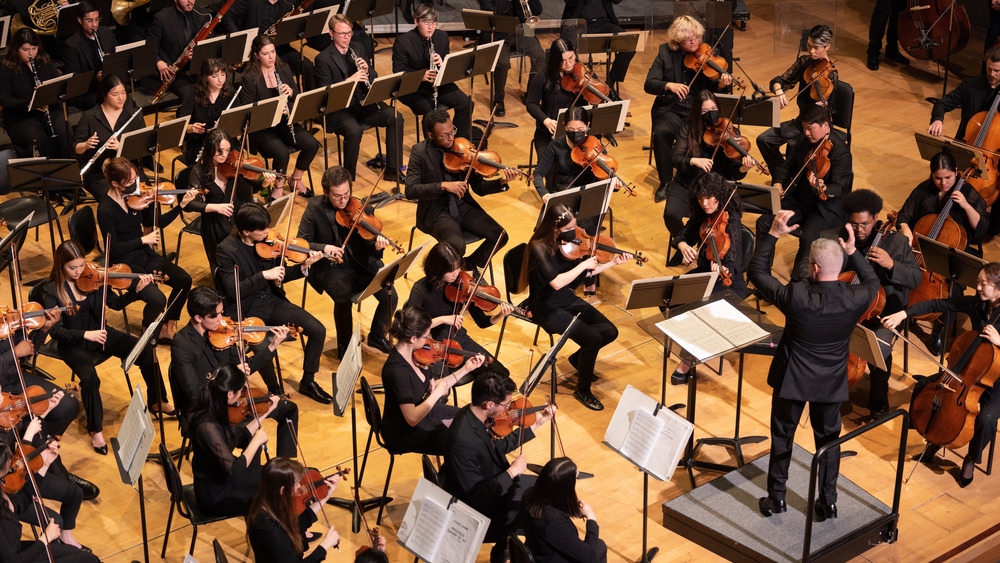 This event is sold out.  To join the waitlist, please fill out this form
PROGRAM
Anna Clyne: Masquerade
William Walton: Viola Concerto
     I. Andante comodo
     II. Scherzo and trio
     III. Finale. Allegro moderato
Mikhail Glinka: Kamarinskaya
Dmitri Shostakovich: Symphony No. 1 in F Minor, Op. 10
     I. Allegretto – Allegro con moto
     II. Allegro – Meno mosso
     III. Lento – Largo – Lento
     IV. Allegro molto – Lento
ARTISTS
Edwin Outwater, conductor
Isabel Tannenbaum, viola
Edwin Outwater and the SFCM Orchestra kick off the season with a multigenerational and eclectic program of music inspired by dance, pleasure gardens, viola virtuosity and the pressures of graduating. Masquerade evokes the experience of London's pleasure gardens and the music of English country dance and song. Isabel Tannenbaum won the school's concerto competition by channeling the virtuosity required in Walton's Viola Concerto. Glinka's Kamarinskaya was the first orchestral work to be based on Russian folk songs, and Shostakovich wrote his first symphony to graduate, at the age of 19, only for the piece to make him an international teenage star.
About the SFCM Orchestra
As a member of the SFCM Orchestra, you'll experience firsthand the advantages of playing in a large ensemble. You'll also get a complete overview of orchestral repertoire, and that begins with examining both masterworks and lesser-known pieces of every era. The symphony orchestra has a large repertoire, and each stylistic period deserves attention. Do you take to the classical period works of Mozart and Haydn? The grand romantic works of Brahms and Tchaikovsky? How about the 20th-century masterpieces by Aaron Copland and Benjamin Britten? Add to that more recent works by such luminaries as John Adams and Joan Tower, and collaborations with Opera Theatre, and you're on your way to becoming the well-rounded, informed musician the performing world expects.
The SFCM Orchestra presents several performances a year that prominently feature student soloists. Participation also includes public orchestral workshops with distinguished guest conductors. Recent guests have included Donald Runnicles, Carl St. Clair, Nicola Luisotti, and Peter Oundjian.
VIEW SFCM'S EVENT HEALTH AND SAFETY POLICY
As of April 1, 2023, face masks will be optional and at personal discretion for all SFCM concerts & events.  Vaccinations are not required for visitors and guests to campus buildings and performances. Please visit SFCM's full Event Health & Safety policy to read more about our guidelines.