Recital
String and Piano Chamber Music Recital
Thursday, November 30 2023, 07:30 PM
at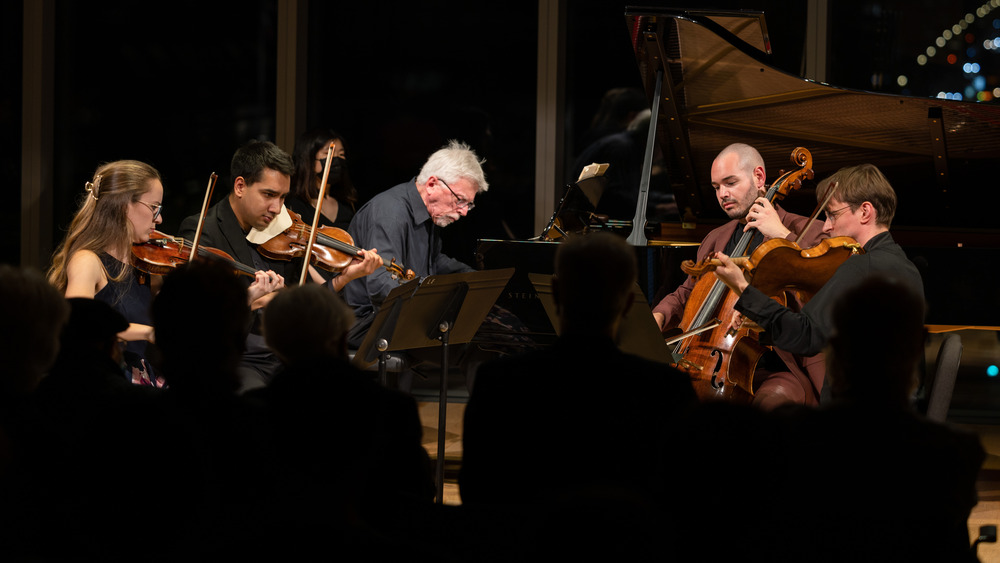 Program
Departmental Recitals showcase performance departments through its students. Featuring various students and repertoire, and curated by the faculty, performances in this recital highlight SFCM programs and the wide range of study. 
Joseph Haydn: String Quartet in Bb Major, Op. 76, No. 4, "Sunrise"
     I. Allegro con spirito
     II. Adagio
     III. Menuetto. Allegro
     IV. Finale. Allegro ma non troppo  
Shintaro Taneda, violin
Mathea Goh, violin
Isabel Tannenbaum, viola 
Alexandra Ayoun Kim, cello
About SFCM's String and Piano Chamber Music Department
The String and Piano Chamber Music degree and diploma programs are a year-round focus on chamber music, providing the same atmosphere of a summer festival. Performance opportunities are wide-ranging through workshops, masterclasses, and concerts for the public—all while playing regularly with acclaimed industry professionals and faculty. SFCM created the nation's first graduate String and Piano Chamber Music program and the musical excellence continues to this day.
The String and Piano Chamber Music program is one of SFCM's most selective. Intentionally small, the program allows for several talented individuals each year, meaning that students in the program enjoy unrivaled access to learn from and perform with top faculty and accomplished guest artists.
Chamber Music Students will experience high profile performance opportunities through SFCM's unique Chamber Music Residency Series, giving members of the program the opportunity to intensely and perform closely with exciting and world renowned chamber musicians. Recent artists-in-residence include Marcy Rosen, Tessa Lark, Donald and Vivian Weilerstein, and the Miro Quartet.
VIEW SFCM'S EVENT HEALTH AND SAFETY POLICY
As of April 1, 2023, face masks will be optional and at personal discretion for all SFCM concerts & events.  Vaccinations are not required for visitors and guests to campus buildings and performances. Please visit SFCM's full Event Health & Safety policy to read more about our guidelines.