Department Recital
Recital
Trombone Choir Recital
Tuesday, November 14 2023, 07:30 PM
at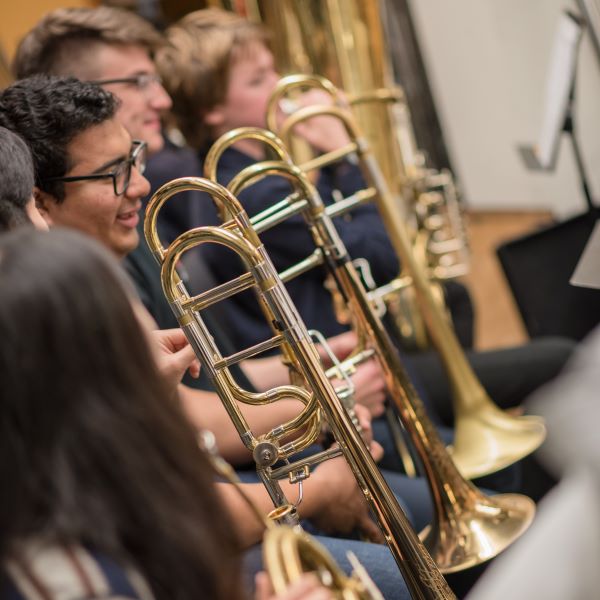 Please note: San Francisco will be hosting the Asian-Pacific Economic Cooperation (APEC) summit this week. Street and highway closures will cause delays in transit into and out of the SFCM area. Please plan accordingly in attending our concerts this week, as we do hope to see you in the audience! For those of you who cannot make it to the concerts, SFCM will be livestreaming most concerts for the week.
Program
Departmental Recitals showcase performance departments through its students. Featuring various students and repertoire, and curated by the faculty, performances in this recital highlight SFCM programs and the wide range of study. 
Vaclav Nelhybel: Tower Music
Giovanni Gabrieli (arr. Tim Higgins): Canzon per sonar septimi toni, No. 2
G. Gabrieli (arr. Tim Higgins): Sancta Maria
David Biedenbender: blue dream of sky
Ralph Vaughan Williams: Concerto for Tuba
Madeline A. Lee: La Cathedrale
Enrique Crespo: Bruckner Etude
Derek Bourgeois: Scherzo Funebre
About SFCM's Brass Department
Made up of principal brass chairs of the San Francisco Symphony, as well as principal players of the San Francisco Opera and Ballet orchestras, and a close-knit student body, SFCM's Brass Department challenges and inspires the next generation of great players.
Studio sizes are kept small to ensure students receive the mentorship and performance opportunities they need, and a yearly side-by-side reading of major brass repertoire with faculty members provides insight into the finer points of orchestral brass performance.
VIEW SFCM'S EVENT HEALTH AND SAFETY POLICY
As of April 1, 2023, face masks will be optional and at personal discretion for all SFCM concerts & events.  Vaccinations are not required for visitors and guests to campus buildings and performances. Please visit SFCM's full Event Health & Safety policy to read more about our guidelines.