Canadian Brass Visit Brings One Player Back to SFCM
SFCM alumni Achilles Liarmakopoulos is the trombonist of Opus 3 Artist Canadian Brass, who will come to campus for a masterclass and side-by-side performance with students on February 23.
By Mark Taylor
Achilles Liarmakopoulos has his foothold in the classical music world.
Described as "one of the most celebrated trombonists of his generation," the musician has been a member of the Canadian Brass since 2011. Years before that though, he got his education at SFCM, graduating in 2006.
With an international reputation as one of the most popular brass ensembles today, SFCM will welcome the Canadian Brass for a residency, ending with a side-by-side performance with brass students February 23. After acquiring Opus 3 Artists in 2020, SFCM is able to provide its students with access to classical music's most elite artists and ensembles—like the Canadian Brass—for masterclasses, side-by-side performances, and unprecedented learning opportunities. The group's arrival at SFCM will be a homecoming of sorts for the trombone player.
In addition to his role with the Canadian Brass, Liarmakopoulos' discography includes six solo albums, and he has toured extensively throughout North and South America, Europe, and Asia, performing and educating in the world's most important venues and institutions.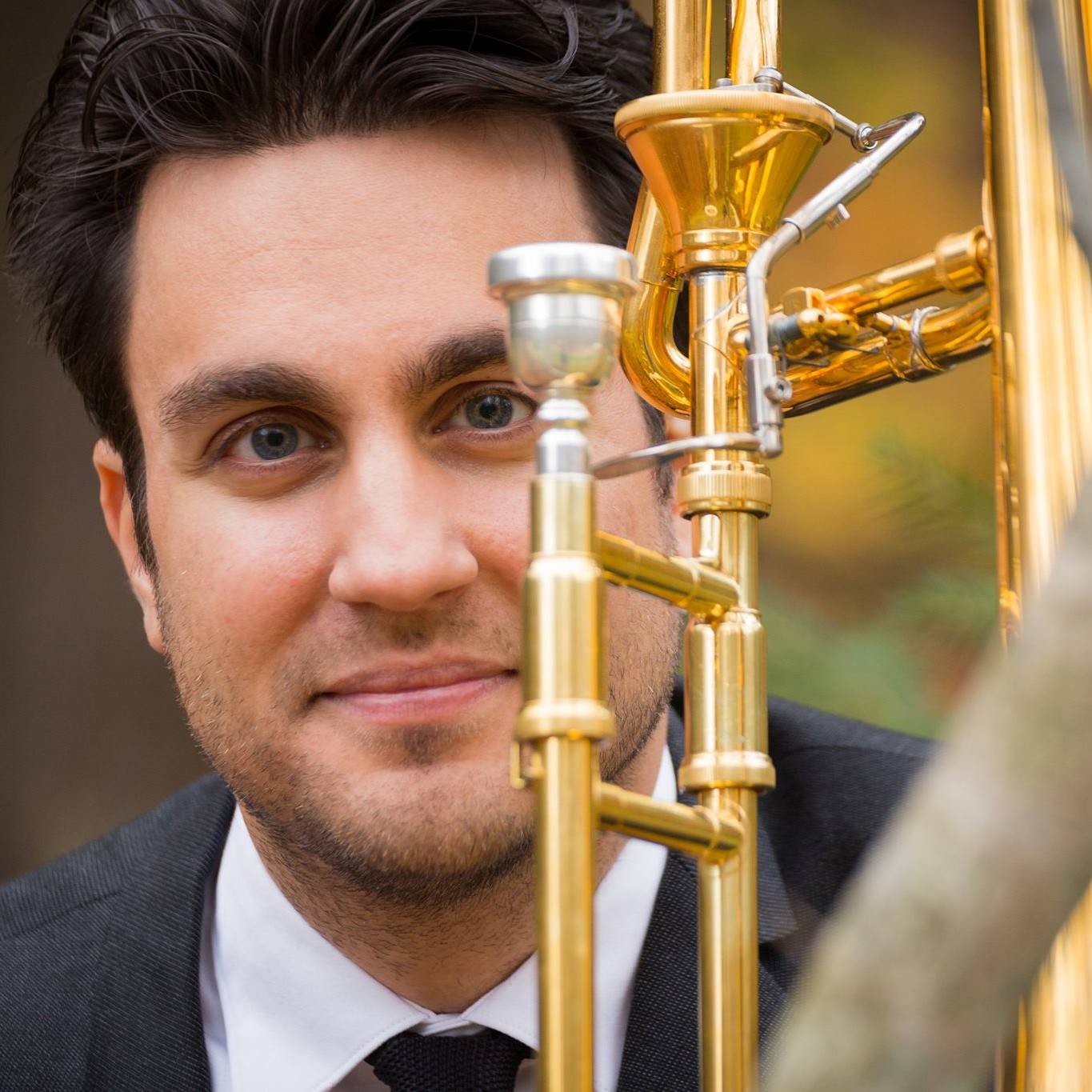 Ahead of the residency, the SFCM newsroom sat down with Liarmakopoulos to find out how things have gone since graduation day, and his advice for current students.
What are you currently listening to?
So much music, but very recently old albums by Eddie Palmieri, Pablos Milanes, and tons of baroque music.
How has it been since you graduated from SFCM in 2006?
It has been a beautiful journey… moving to Greece for a year and playing Principal Trombone with the National Symphony Orchestra of Greece, to joining the Canadian Brass and two years later Pink Martini, many collaborations, recording projects and tons of trips performing all over the world.
How do you prepare for performances?
Trying to eat as well as I can, sleep well, practice slowly, in small segments, and prepare mentally.
How does it feel returning to SFCM to perform after studying here as a student?
Amazing! I have so many great memories from SFCM and I learned so much from my teachers, especially my trombone professor Mark Lawrence and the professor of Western Civilization Dr. Nikolaus Hohmann.
What is your biggest piece of advice for young musicians?
Listen to lots of music, perform for your friends and family, practice slowly!
Guests are asked to reserve seats for the Canadian Brass Side-by-Side Concert on Thursday, February 23rd, at 7:00 PM.
Learn more about studying Brass at SFCM.