SFCM Hosts Beloved SF Avant-Garde Rockers The Residents for Winter Term
The concert, a longtime goal of SFCM Music Director Edwin Outwater, is the band's last US show before their 2023 Europe tour.
By Alex Heigl
It gives a new meaning to the term "artist in residence."
San Francisco underground rock legends The Residents celebrated their 50th anniversary at SFCM Saturday as part of the school's Winter Term, performing alongside students before they head overseas for their 2023 European tour.
The band has zealously guarded their true identities for their entire career, performing exclusively in masks that have frequently taken the shape of giant, head-sized eyeballs—usually paired with full tuxedos—and this approach extended to the SFCM performance, promoted by the band as a "secret thing," not promoted and accessible only via a dedicated email address on their website.
The band's experimental music veers through rock, electronic, jazz, and classical, and their embrace of theatrical visuals and technology (at one point, they released a CD-ROM video game to accompany a record) situated them perfectly at SFCM, Music Director Edwin Outwater said.
"This is something that I've been working towards basically since I got back to San Francisco and came to the Conservatory," Outwater said. "The Residents have always been one of the most forward-thinking bands in the Bay Area, and I'm thrilled that we're able to help them celebrate this milestone as part of SFCM's Winter Term."
The performance, directed by John Sanborn, featured a wide-ranging host of luminaries from across the musical spectrum, like pianist Sarah Cahill, bassist/singer Les Claypool (best known for his work with Primus), along with drummer Josh Freese (whose credits include Devo, Sting, Guns N' Roses, Paramore and Weezer) composers Pamela Z and Ego Plum, Bauhaus bassist David J, composer and former TAC faculty member Dren McDonald, and the SF Girls Chorus.
"There's such a rich tradition of musical experimentation in San Francisco, and I think the students can learn a lot from a band like the Residents, who have been active here for five decades," Outwater added. "Not just in how they incorporate visuals or technology in their music, but in the tenacity and determination it takes to sustain a vision for that long."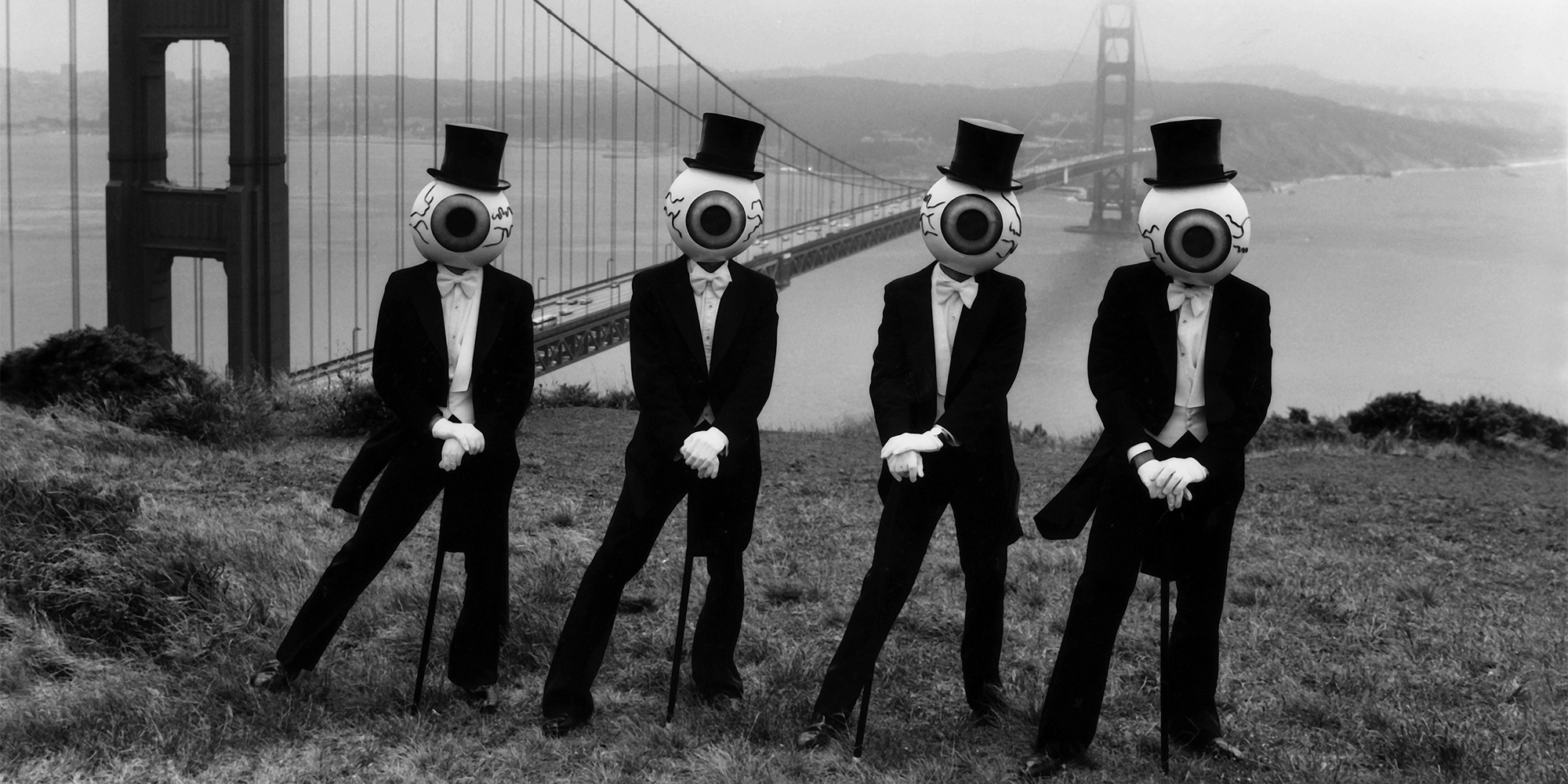 First-year master's student Maryann Gou (studying with Garrick Ohlsson) who played keyboards in the performance, wasn't particularly familiar with the band before signing up. "I think what first really drew my attention was the message and meaning behind the work. Because of the obscurity and the anonymity, they're able to go forward boldly and say whatever they need to without worrying about judgment because no one really knows who they are, and I think there's some sort of power in that."
Gou, who completed a law degree in Australia before coming to SFCM, added that the band is in keeping with her other interests in boundary-pushing art. "I like to watch very abstract avant-garde films and read experimental novels, and they're really able to express and delve into the human experience in a different way than how we would normally think about and approach things. And I think the Residents' visual side of things touches on, like Nietzsche's theory of perspectivism, how everyone can view things in a different way and their personal interpretation of the stimulation adds to the music."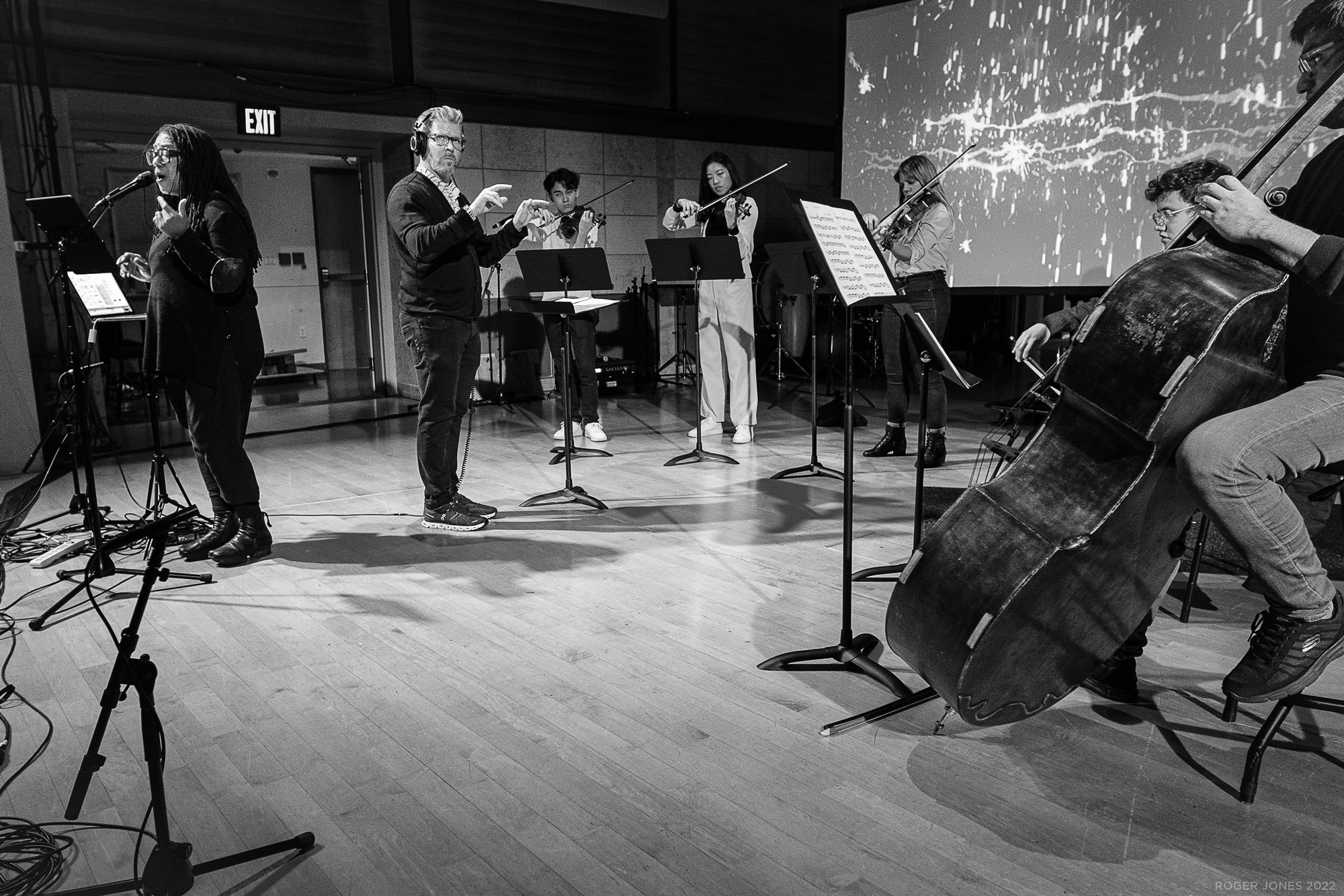 Technology and Applied Composition (TAC) student Garret Nothern, also involved in the performance, was a fan of the band beforehand, and talked excitedly about the band's ability to "build worlds" around each of their releases, as well as their ability to balance technology and more immediate musicality. "They've always experimented with technology, but it's underpinned by the more direct emotive aspect of music, even with all the boundary-pushing they do."
Nothern said he's still somewhat "shocked" at "the opportunity to share the stage with some truly inspiring people." He continued, "coming from the place of not only musician, but also engineer and producer, being able to take a bit of a privileged peak into the archives and under the hood of some of these works … I wouldn't have guessed that I would've had this opportunity a couple months ago."
Learn more about SFCM's Winter Term or studying TAC, piano at the Conservatory.