TAC Student's Studies Take Them to Prestigious Parisian 'Sound Institute'
Jenna Flohr talks about their time in Paris this summer studying at the city's groundbreaking IRCAM institute, dedicated to avant-garde and electro-acoustic music.
By Alex Heigl
Located next to Paris' world-famous Centre Pompidou, the Institute for Research and Coordination in Acoustics/Music (IRCAM), is a forward-thinking research center dedicated to avant-garde and electro-acoustic music—and it's where Jenna Flohr found themselves this summer.
Founded by trailblazing French composer Pierre Boulez, IRCAM has featured icons like John Cage, Karlheinz Stockhausen and Terry Riley and other modernists like Luciano Berio, Kaija Saariaho and Tristan Murail. This is to say nothing of Boulez, who composed several pieces there over the course of a career that included time as music director of the New York Philharmonic, chief conductor of the BBC Symphony Orchestra and principal guest conductor of the Chicago Symphony Orchestra and the Cleveland Orchestra.
Flohr—who switched from violin to Technology and Applied Composition (TAC) after taking an improvisation class with Alisa Rose—locked on to IRCAM's improvisers program and was accepted as one of the 10 students from all over the world. The class with Rose, Flohr said, "opened a whole side of what I could do with my violin," and pushed them towards composition, and the IRCAM class was taught by Bernhard Lang, an award-winning Austrian composer who works in a wide variety of settings drawing on influences as far-ranging as free jazz and computer-generated music.
In Professor David Coll's Survey of Electronic Music History class, Flohr mentioned that they were applying to IRCAM, at which point Coll revealed that he'd done a fellowship there and shed light on the Institute and its importance in the history of electronic music.
For the first week of the two-week program, Flohr sat in on a wide array of classes discussing topics like spatial audio and sound processing, which they called "educationally invigorating." The visiting artists arrived at IRCAM for the second week of the program. "In the morning, we had a topic that was presented, and then we'd have some coffee breaks, talk about improvising, take lunch, and then have a recording session with all of the IRCAM engineers."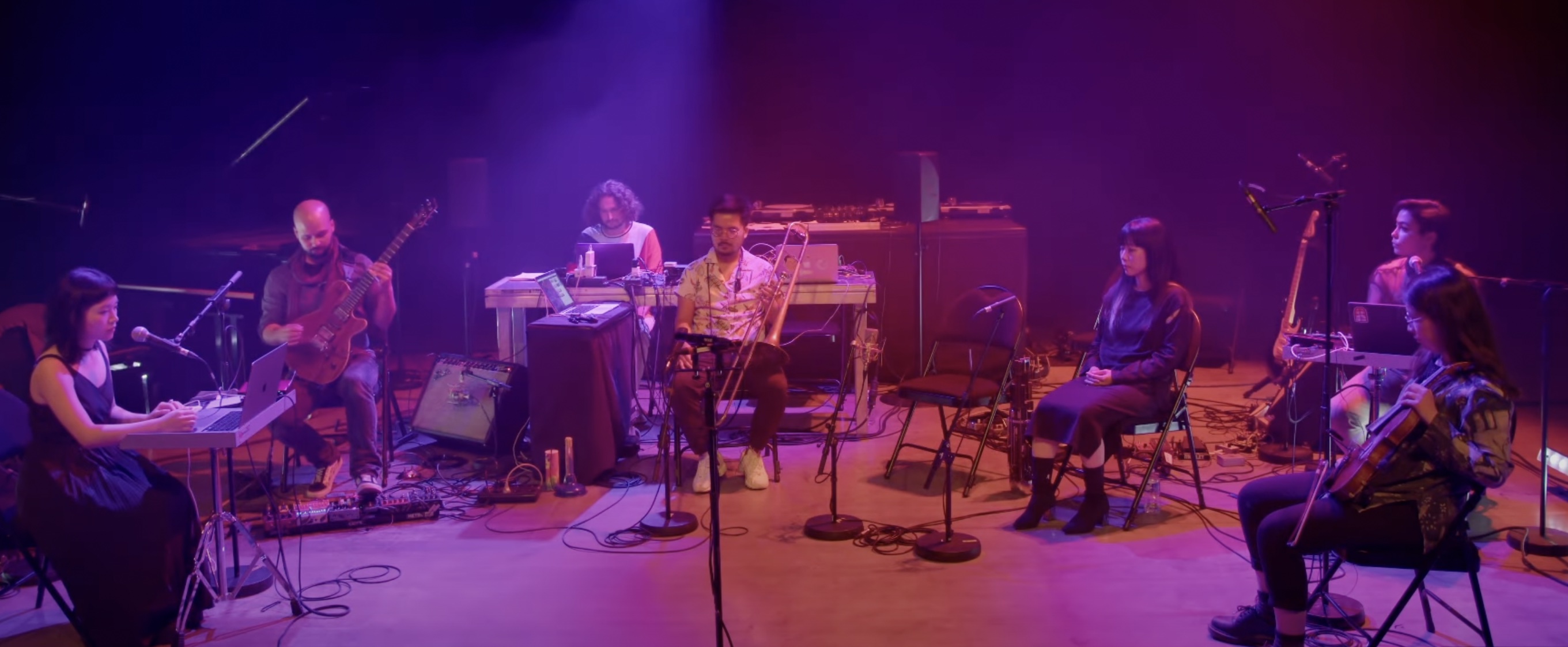 Flohr's favorite lecture from Lang explored the history of improvisation, bringing in examples from jazz to 20th-century minimalism and connecting it to the visual arts. One early "a-ha moment" for Flohr learning the differences between how American and Europeans approach improvising. As opposed to a more tonal approach to improvisation, "European improv is all about sounds and deconstructing the instrument or whatever tools you're using and making new textures and sounds," Flohr explained of their lessons.
For one piece, they said, trombonist Kalun Leung used a Max/MSP patch he built for his trombone that allowed him to trigger samples he'd recorded of his collaborators standing around him onstage—without them actually being on stage. "When we left the stage, he could point his trombone at the place we'd been standing to trigger the samples," Flohr explained. "So he was able to have a real-time, spatial improvisation with our music without us being there."
Although the trip was technically a return to France for Flohr, who traveled there with a high school orchestra at 15, this was the first time they went as an adult, an experience they describe as "life-changing for sure." Flohr will return to SFCM this fall for their final semester of undergrad studying with Taurin Barrera and plan to apply for upcoming artist residencies and jobs—as well as keep in touch with their new friends from IRCAM from countries as far as Hong Kong, Sweden, Iceland, and the United States.
Watch a video to Jenna's performance at IRCAM below and learn more about studying technology and applied composition at SFCM.