Personalized training. Professional rigor.
Visiting Faculty
The Technology and Applied Composition (TAC) program relies on the guidance and real-world perspective of visiting professors working directly as professional technologists and film/game composers at the top of their field to shape its curriculum for maximum relevance. A number of high-profile visiting artists work with TAC students regularly, offering insights not only in technique, but the industry as a whole.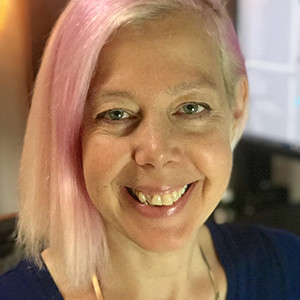 BECKY ALLEN has worked in the audio gaming industry for over 20 years. She is currently at PopCap/EA where she recently Directed the audio for Plants Vs. Zombies Heroes. Becky received her MFA at California Institute of the Arts where she studied with Morton Subotnick. After graduating, she worked at Microsoft as Audio Lead, Sound Designer, and Composer on a variety of projects. She returned to Los Angeles and worked in business and production for Soundelux Design Music Group for 13 years. During her tenure there, she also continued working on her own music with artists such as Sharon Lockhart and Bill Viola. In 2012, she moved back to Seattle to work at PopCap Games where she is currently head of Audio for the Studio. Becky is also a Founding Member of AMP (Audio Mentorship Project) since 2017.
Lesley Barber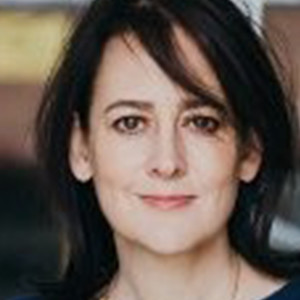 A 2016 Academy of Motion Picture Arts and Sciences initiate, film composer Lesley Barber writes music marked by intelligence and emotional depth. From orchestral to atmospheric, alternative to children's music, Appalachian to electronic, Lesley has an innate ability to bring the essential to light and avoid the cliché.
In Manchester by the Sea, the new film directed by Kenneth Lonergan, Lesley employs intricately harmonized vocal performances and subtle, atmospheric orchestral work that provides integral support for the incredible performances by Casey Affleck, Michelle Williams, Kyle Chandler and young discovery Lucas Hedges. Praise for her work on this project promises to launch her into the top tier of a new generation of film composers.
The power of music to articulate the unspoken and take a film to a new level truly inspires Lesley. After starting her career as a concert composer, she knew shed found a new calling on her first feature, Patricia Rozema's When Night Is Falling. Other auteur-driven projects followed and shaped her career, including for the Oscar-winning You Can Count On Me (also directed by Lonergan, with Mark Ruffalo and Laura Linney) and Mira Nair's Golden Globe-winning Hysterical Blindness(starring Uma Thurman and Gena Rowlands) which combined a full orchestra with a separate string quartet and unusual, inventive electronic effects. Lesley's interest in modern electronic programming, loops, and effects adds dimension to her work. She often employs a signature solo instrument as well. For the award-winning documentary How To Change The World (dir: Jerry Rothwell) Lesley used the hardanger (Norwegian fiddle) and the bowed acoustic guitar as part of a primarily electronic score. For Mary Harrons The Moth Diaries, she used prepared piano, string harmonics and effects. A conservatory-trained pianist, she plays many of the piano solos in her scores, as well as other instruments. Other film credits include a string of award-winning and highly acclaimed projects including Patricia Rozema's Mansfield Park, Boaz Yakin's A Price Above Rubies, Yo-Yo Ma: Six Gestures, Bette Gordon's Luminous Motion, Wiebke Von Carolsfeld's Marion Bridge, and the childrens classic Little Bear with Maurice Sendak, and the recently released powerhouse doc The Apology by Tiffany Hsiung. Lesley is currently working on a remake of the film Beaches, directed by Alison Anders, starring Idina Manzel and Nia Long, as well as Attiya Khan's feminist documentary A Better Man, for which she is utilizing analog synthesizers and other 80s genre electronics. Lesley is an active member of the Alliance for Women Film Composers, which has taken a leading role in the much-publicized diversity conversation now occurring in Hollywood. She has a passion for good food, great cities and interesting company.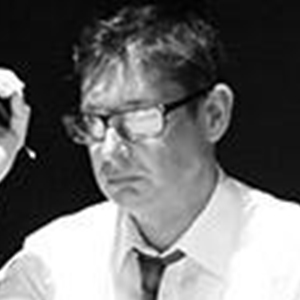 Tim Davies is one of the busiest conductors and orchestrators in Hollywood. His recent film and TV credits include Minions, Ant­ Man, Empire, The Peanuts Movie, Frozen, The Book of Life, and Edge of Tomorrow. He has conducted and orchestrated numerous video game scores, such as the God of War and Infamous series, The Last of Us, and both Batman: Arkham City and Batman: Arkham Knight. In 2015 he made his concert stage debut conducting Pokemon: Symphonic Evolutions with the Baltimore Symphony.

Davies is an active arranger as well. Recent highlights include arranging and playing drums for the twentieth anniversary concert of NAS' Illmatic and being lead arranger for Kendrick Lamar's recent performance of To Pimp a Butterfly, both featuring the National Symphony at the Kennedy Center in Washington DC. He has arranged for albums by chart­-topping artists Amy Winehouse, Akon, Miguel, and Cee Lo Green. He plays drums and writes for his own group, the 18-­piece Tim Davies Big Band, and received a Grammy nomination for Best Instrumental Composition in 2010.

Recently Davies has been in demand as a composer, working with two­-time Oscar winner Gustavo Santaolalla on the score to the Fox animated film The Book of Life. This was also the beginning of a partnership with producer/director Guillermo del Toro, which led to writing additional music for Crimson Peak and now scoring his new animated TV show, Trollhunters, produced by Dreamworks Animation for Netflix.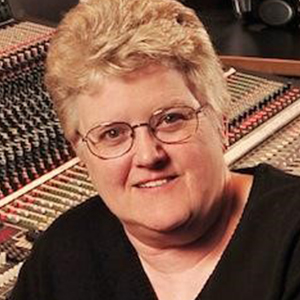 Leslie Ann Jones has been a recording and mixing engineer for over 30 years. Starting her career at ABC Recording Studios in Los Angeles in 1975, she moved to Northern California in 1978 to accept a staff position with David Rubinson and Fred Catero at the legendary Automatt Recording Studios. There she worked with such artists as Herbie Hancock, Bobby McFerrin, Holly Near, Angela Bofill, Frankie Beverly and Maze, Carlos Santana and Narada Michael Walden, and started her film score mixing career with "Apocalypse Now."

From 1987 to 1997 she was a staff engineer at Capitol Studios located in the historic Capitol Records Tower in Hollywood. She recorded projects with Rosemary Clooney, Michael Feinstein, Michelle Shocked, BeBe & CeCe Winans, and Marcus Miller, as well as the scores for several feature films and television shows.

In February of 1997 she returned to Northern California to accept a position as Director of Music Recording and Scoring with Skywalker Sound, where she continues her engineering career recording and mixing music for records, films, video games, television, and commercials. And she now adds Record Producer to her list of credits.

In 2003, Jones was nominated for a Grammy Award for Best Engineered Recording, Classical, and received a Grammy Award for The Kronos Quartet's recording of Berg: Lyric Suite, which won Best Chamber Music Album. In 2005 she received another Grammy Award for her work as engineer on Diane Reeves' "Good Night and Good Luck" CD and in 2011 she won a Grammy Award for Best Engineered Album, Classical for Quincy Porter: Complete Viola Works by Eliesha Nelson & John McLaughlin Williams. In 2014 she was also nominated for Best Engineered Recording­ Non­-Classical for her work with Madeleine Peyroux as well as for Best Surround Sound Album.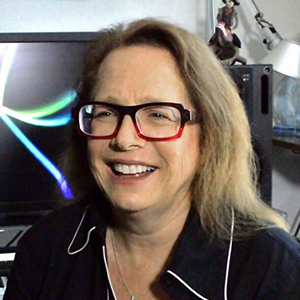 Four­-time Emmy award winning composer Laura Karpman maintains a vibrant career in film, television, video game, concert and theater music. Her distinguished credits include scoring Kasi Lemmons' Black Nativity for Fox Searchlight, Spielberg's miniseries Taken, the Showtime series Odyssey 5and; Masters Of Science Fiction (both Emmy-­nominated) and numerous video games including Microsoft's Project Spark, Kinect Disneyland Adventures, Everquest II and Untold Legends. Karpman was resident orchestral composer of Sony Online Entertainment and has received two GANG awards and an additional nomination for her video game music, which has been performed by orchestras internationally. Her score for the animated film, A Monkey's Tale, received a 2006 Annie Award Nomination.
Commissioned by Carnegie Hall, Karpman collaborated with soprano Jessye Norman and The Roots on Ask Your Mama, a multimedia opera on a text by Langston Hughes, which received its sold out premiere at Carnegie Hall in March 2009, and its West Coast premiere at The Hollywood Bowl and was revived at the Apollo Theater in Harlem.
Laura has scored projects for every major network, and has a new unannounced series forthcoming with the iconic R&B artist Raphael Saadiq. She created a unique soundscape for Showtime's acclaimed science fiction series, ODYSSEY 5 starring Peter Weller. This Emmy-nominated highly unusual score, featuring 12 cellos, bassoons, basses, duduk and countertenor, caught the attention of Steven Spielberg, who invited her to create an epic orchestral score for his 20-hour miniseries, TAKEN. She seamlessly intertwined traditional Americana with evocative modernist strains in this sprawling, adventurous sci-fi score.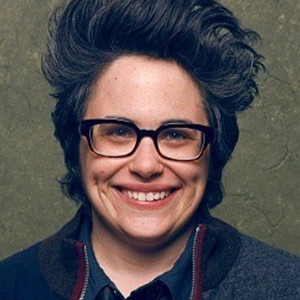 Grammy Award-winning Juilliard trained composer Nora Kroll-Rosenbaum, born NYC, collaborates with radical filmmakers and ingenious musicians on scores that include Nikole Beckwith's Stockolm, Pennsylvania (Sundance), Deepti Kakkar & Fahad Mustafa's Powerless/ Katiyabaaz (Berlinale, Tribeca), Brittany Huckabee's After Fire (DocNYC), Michael Urie's What's Your Emergency, and Thabo Wolfaardt's Joburg (Telluride).
She frequently makes noise with her spouse, composer Laura Karpman, co-scoring Nancy Kates' Regarding Susan Sontag (HBO, Tribeca), Amit Madheshiya & Shirley Abraham's The Cinema Travelers (Cannes), Jeff Kaufman's The State of Marriage, and Robin Reynold's Code, as well as engineering Laura's scores for Underground, The Beguiled, Paris Can Wait, and Step.
Nora's commissions include the London Symphony Chorus, San Francisco Symphony, Seattle Symphony, Cabrillo Festival of Contemporary Music and fellowships from the Sundance Composers Feature and Doc Labs. She was a co-founder of VisionIntoArt, which is now in residence at National Sawdust, and she is on the board of The Alliance for Women Film Composers.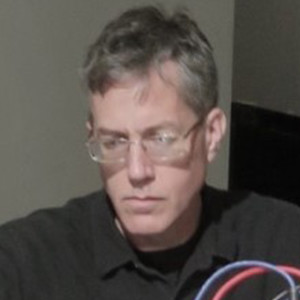 Jon Leidecker has been engaged with the medium of electronic music since the mid 1980's, with an emphasis on live performance and collaboration. Early works utilized sonic collage & musical appropriation, growing out of a series of appearances on Negativland's live-mix radio program Over The Edge -- improvising with recorded sounds to produce music which inherently resists the act of being recorded. Recent work investigates the history and musical aesthetics implied by the physics of acoustic and electrical feedback, research into the technology and creative workflow required for immersive sound diffusion (including five years of work as a member of the engineering team for Dolby's 3D sound format Atmos), and the use of mobile devices and their built-in microphones as cybernetic improvising partners.
In 2008, the Museum of Contemporary Art in Barcelona commissioned the podcast 'Variations', a nine hour musicological tour through the history of collage & the practice of 'sampling' through the 20th century -- charting how the definition of composition changed, as the site of the 'finished work' migrated from written notation to the captured (and increasingly manipulable) sonic recording. Live and studio collaborations include work with Negativland, Dieter Moebius, Tim Story, Matmos, People Like Us, Fred Frith, Zeena Parkins, Carl Stone, John Oswald, Thomas Dimuzio, Huun-Huur-Tu, and Sagan. In 2015 he inherited Negativland's long-running Over The Edge radio collage program, which continues to be broadcast twice a month on Berkeley's KPFA FM.
Sam Marshall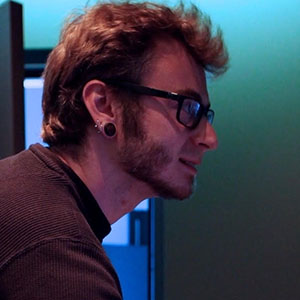 Sam Marshall has always found ways to unite his passion for music with technology. At 10 years old, Sam was rigging boom boxes together to do overdubs and creating full-length songs in Mario Paint. After playing in several rock bands over the years that followed, Sam realized his true passion was composition.
Studying Filmscoring, Composition and Interactive music, Sam graduated with distinguished honors from Berklee College of Music. Over the years, Sam has worked on an impressive list of titles including:
Concrete Genie
Call of Duty WWII
Call of Duty Infinite Warfare
Mass Effect Andromeda
Counterstrike GO
Skull Girls Mobile
The Last Guardian
Entwined
DeadStar
Uncharted 3
Uncharted Golden Abyss
TicTactics
Rehearsals and Returns
Symon
Sylvia Lenore Massy is an American entrepreneur, record producer, mixer and engineer, author and artist. Massy is perhaps best recognized for her work on 1993's Undertow, the full-length double platinum-selling debut for Los Angeles alternative metal band Tool and her works with System of a Down, Johnny Cash and Red Hot Chili Peppers.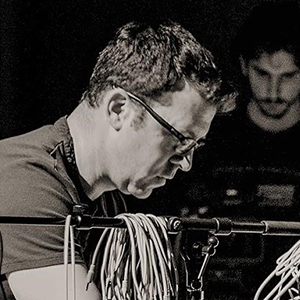 Jonathan Mayer (JD Mayer) is the Senior Music Manager at Sony Playstation Group and has been a visiting faculty member of the TAC program since 2015. In addition to coaching students on various professional projects he also mixes and co-produces selected works of top achieving students. He has been producing, composing and performing music for the past 25 years. For the past 11 years he has been a staff music producer and managed music production at Sony Playstation in the Bay Area. During that time, he has produced over 50 hours of original music for more than 25 video games.
In his role as Sr. Music Manager on one of the industry's most unique teams, Jonathan has had tremendous opportunity to provide music support and production to developers such as Naughty Dog, Sucker Punch, Sony Santa Monica, Insomniac Games, and many more. Jonathan's focus today is on leveraging his experience to refine the paradigm of music design and production for video games.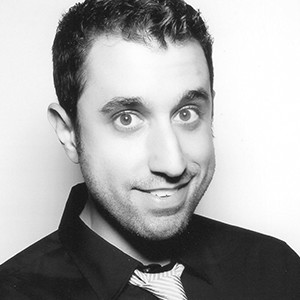 Composer Jake Monaco's musical fingerprints can be found on some of the biggest film scores of the past decade. Most recently he composed the score for Fox's action comedy Keeping Up With the Joneses starring Isla Fisher, Jon Ham, Zach Galifianakis and Gal Gadot, Fox Searchlight's comedy Absolutely Fabulous: The Movie starring Jennifer Saunders, Joanna Lumley, Rebel Wilson and Jon Hamm, Kindergarten Cop 2 starring Dolph Lundgren, A Cinderella Story: If The Show Fits for Warner Bros. and the Fox action comedy Let's Be Cops starring Jake Johnson and Damon Wayans Jr (co-scored with Christophe Beck). His other work includes the classroom comedy Struck by Lightning, the romantic drama Kilimanjaro, the murder mystery Out to Kill, the romantic comedy Playing It Cool starring Chris Evens and Michelle Monaghan, President Obama's re-election film, The Road We've Traveled, narrated by Tom Hanks and Piper, the hit Pixar short (an Oscar front-runner in the animated short category) the score for which Jake arranged, orchestrated and produced. In television Monaco scores three family-favorite animated series, enriching the world's of Amazon's The Stinky and Dirty Show, Netflix and Dreamworks Animation Television's DinoTrux and Be Cool Scooby Doo for Warner Bros. Animation. As a producer and composer of additional music for Christophe Beck, Monaco has contributed to the animated magic of Frozen, the record-breaking laughs of The Hangover trilogy, the furry hijinks of The Muppets, the real-life drama of Waiting for Superman. Monaco grew up in New Jersey and New Hampshire, and revealed his heart's bearing toward music as early as age 2 when his parents took him to the circus and he walked right past the clowns and animals to the band pit. He studied composition and music technology at the University of Richmond in Virginia, and started the band NE3 opening for bands like Maroon 5—before enrolling at the film scoring program at USC. There he began his fruitful and ongoing collaboration with Beck. "I've always loved storytelling through music, which is why songwriting came so naturally," says Monaco. "I found it difficult to conjure up inspiration for a piece just for the sake of writing music. So when I finally made the connection between music and film, it just clicked and I fell in love."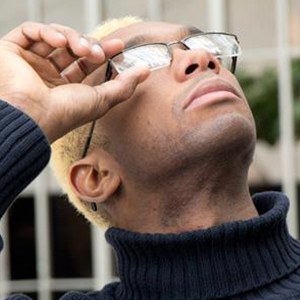 Wilbert Roget, II is an award-winning composer for the film and videogame industries. In 2008 Wilbert joined the in-house music team at LucasArts, working as a composer for Star Wars: The Old Republic and music editor on the Star Wars: The Force Unleashed series, Monkey Island special edition remakes, and several other titles. In 2011 he had the honor of winning two Game Audio Network Guild awards for his contributions to the Star Wars: The Old Republic soundtrack. His final soundtrack as LucasArts' staff composer was the unreleased Star Wars: First Assault, a live orchestral score recorded by the London Symphony Orchestra at Abbey Road Studios.
As a freelance composer, Roget has scored Lara Croft and the Temple of Osiris and Dead Island 2, with his music for these titles earning award nominations from the Academy of Interactive Arts and Sciences (D.I.C.E. Awards) as well as the Game Audio Network Guild. He is also a successful sample library developer, having founded Impact Soundworks and produced the Vocalisa: Slavic Women's Choir, Sitar Nation, and Impact: Steel sample libraries; now mainstays in the film and video game music composition world.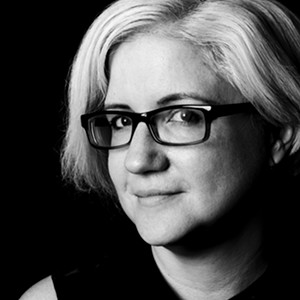 Margaret Anne Schedel is a composer and cellist specializing in the creation and performance of ferociously interactive media whose works have been performed throughout the United States and abroad. As an Associate Professor of Music at Stony Brook University, she serves as Co-Director of Computer Music and is the Director of cDACT, the consortium for digital arts, culture and technology. She ran SUNY's first Coursera Massive Open Online Course (MOOC), an introduction to computational arts and is the co-founder of arts.codes. Schedel holds a certificate in Deep Listening and is a joint author of Cambridge Press's Electronic Music. She recently edited an issue of Organised Sound on the aesthetics of sonification and her two of her pieces are featured on the REACT recording by Parma Records. Her work has been supported by the Presser Foundation, Centro Mexicano para la Música y les Artes Sonoras, and Meet the Composer. She has been commissioned by the Princeton Laptop Orchestra the percussion ensemble Ictus, and the reACT duo. Her research focuses on gesture in music, the sustainability of technology in art, and sonification/gamification of data. She sits on the boards of 60x60, the International Computer Music Association, is a regional editor for Organised Sound and an editor for Cogent Arts and Humanities. In her spare time she curates exhibitions focusing on the intersection of art, science, new media, and sound and runs arts.codes, a site celebrating art with computational underpinnings.
Marc Senasac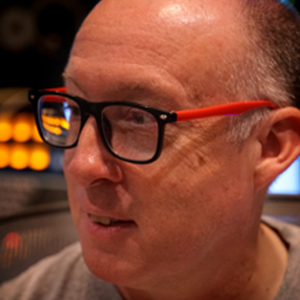 Marc Senasac is a Grammy nominated recording engineer who's audio path began in the Northern California music scene with creators like The Tubes, Chris Isaak, and Exodus. He has mixed and re-mixed tracks for the likes of En Vogue, 2Pac, Digital Underground, and Blue Oyster Cult. His work spans from film and television, to rock and jazz, to classical and orchestral scoring.

Nearly two decades ago, Senasac turned his efforts toward interactive media. Today, he's Music Engineering Manager of Sony PlayStation's World Wide Studios group where he leads recording production pipelines and manages audio studio facilities throughout California. The group works to support leading edge technology and audio formats for PlayStation game development as well as Sony marketing efforts.
He's also part of the Sony Worldwide Studios Audio Standards Working Group, which recommends best practices for the development of audio content in interactive entertainment products.

Marc has been a guest lecturer at Foothill College, San Francisco City College, San Francisco Conservatory of Music and San Francisco State University.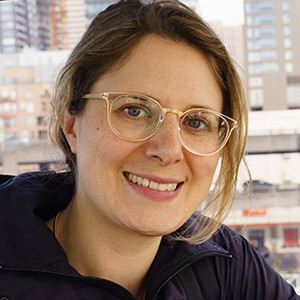 Jaclyn Shumate is an award-winning Audio Director and Sound Designer. She strives for cross-team collaboration to create magical moments and a seamless, cohesive, and immersive audio experience. Jaclyn is currently an Audio Director at Microsoft, leading audio innovation for Story Remix. Previously, she was an Audio Director at PopCap Games, where 3 of the games she worked on won 4 GANG awards and 2 additional nominations between them: Bejeweled Stars (iOS, Android), Peggle Blast (iOS, Android), and Peggle 2 (XboxOne, PS4). While there, her work on Peggle Blast and Bejeweled Stars established her as an expert in run-time sound design, and getting the most possible out of a small memory footprint. Jaclyn's educational background is in classical violin and liberal arts, but this took a backseat after falling in love with sound design. Her first project was Pirates of the Burning Sea, a PC MMO published by Sony Entertainment Online. Other credits include: Project Spark (Xbox One, PC), Fable: The Journey (X360), Kung Fu Panda 2: The Kaboom of Doom (X360, PS3), The Princess and the Frog (Wii), Marvel Super Hero Squad: Comic Combat (X360, PS3, Wii) and many others.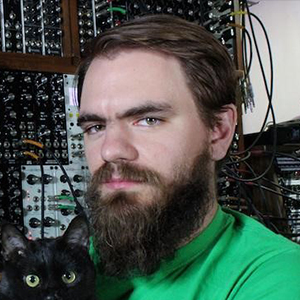 Jonathan Snipes is a composer and sound designer for Film and Theater living in Los Angeles. He is a member of the rap group clipping. on the Sub Pop Label.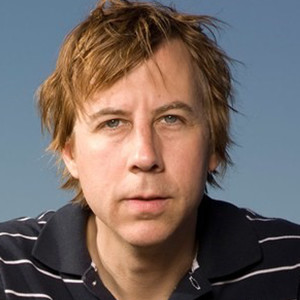 John Vanderslice is an American musician, songwriter, record producer, and recording engineer. He is the owner and founder of Tiny Telephone, an analog recording studio with locations in San Francisco Mission District and North Oakland. He released 10 full-length albums and 5 remix records and EPs on Dead Oceans and Barsuk Records and has collaborated with musicians such as The Mountain Goats, St. Vincent, and Spoon. Since 2014, Vanderslice has been a full-time record producer at Tiny Telephone and has worked with Frog Eyes, Samantha Crain, the Mountain Goats, and Grandaddy. He has previously worked with Sophie Hunger, Bombadil, Strand Of Oaks, and Spoon.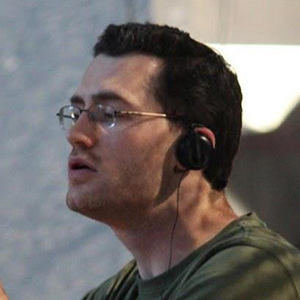 Austin Wintory is an American composer who has composed scores for films and video games. He is particularly known for composing the scores to the acclaimed video game titles flOw and Journey, the latter of which was nominated for a Grammy Award for Best Score Soundtrack for Visual Media (the first ever for a video game). His film efforts include the scores to the 2009 Sundance hit Grace, as well as the 2008 Sundance Audience Award winner Captain Abu Raed. Wintory has composed 300 scores since 2003.
Austin has also scored nearly 50 feature films, and his first major film score, for the Sundance Film Festival-winning film Captain Abu Raed, was shortlisted for the 2009 Academy Awards for Best Original Score by the LA Times. His next major film, Grace, was also a hit at the Sundance Film Festival. Austin's score (which featured a wild array of custom-recorded sounds such as babies crying and horse flies, in addition to a large ensemble of clarinets at London's famed Abbey Road Studios), was also highly lauded, earning a notorious Fangoria Chainsaw Award nomination and being cited by "Visions in Sound" (a popular film scoring radio program) as among the Top 10 Scores for 2010. His most recent films are writer/director Adam Alleca's Standoff, starring Thomas Jane and Laurence Fishburne, and Amin Matalqa's The Rendezvous, starring Stana Katic.