Recital
Composition Department Recital
Friday, December 8 2023, 07:30 PM
at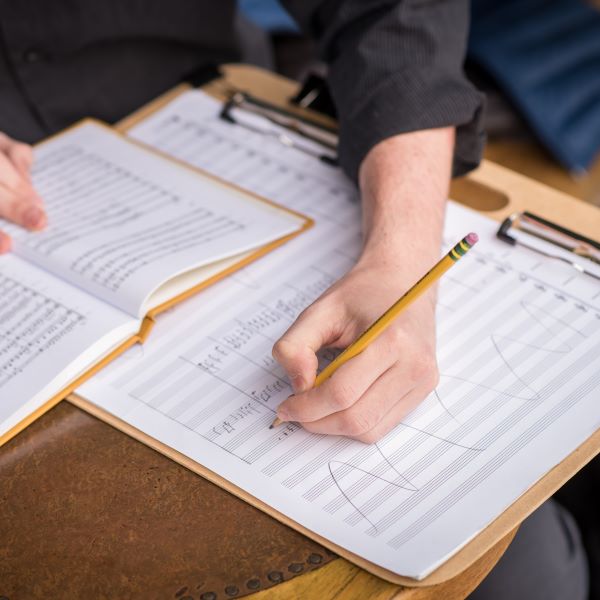 Program
Departmental Recitals showcase performance departments through its students. Featuring various students and repertoire, and curated by the faculty, performances in this recital highlight SFCM programs and the wide range of study. 
Jodie Lai: Spaceship
Paisley Kim and Sofia Malvinni, violins
Ricardo Ibarra, viola
Eric Inadomi, cello
Lawrence Pech: Sonata for Cello and Piano
     II. –
Pavle Cajic, piano
Joshua Gordon, cello
Cooper Grosscup: Unison
Leah Froyd, violin
Jon Lee, piano
Tony McCahill: Butterfly (Reprise)
Tony McCahill, piano and voice
Yifan Shao: Three-Part Canon
Yifan Shao, painter
Matin Kealaokahinano Boulos, bass
Pavle Cajic: Extinction & Rebellion 
Cindy Ow, viola
Pavle Cajic, piano
Alexander Malinas: Where are you now, Moishe?
Alexander Malinas, piano
- Intermission -
Brayden Meng: Urbanite Odyssey
     I.
     II.
     III.
Xue Yuhan, piano
Chia-Chen Chiang: Nocturne for Violin and Piano
Paisley Kim, violin
Chia-Chen Chiang, piano
Grant Steinweg:
Autumn Leaves (text by Arthur L. Bourinot)
My Spirit Longeth for Thee (text by John Byrom)
Grant Steinweg, voice
Alex Rotundo, piano
Max Marcus: Three Lorca Songs (text by Frederico Garcia Lorca)
Max Marcus, voice
Alex Rotundo, piano
Zoe Yost: Seven Scenes for String Quartet
     IV. Camaraderie
     V. Fracas
     VI. Such Words Were Mine?
PoYu Lee and Shintaro Taneida, violin
Zoe Yost, viola
Calvin Kung, cello
Sam Mason: Prelude in A Major
Alexander Malinas, piano
Mason: Prelude in A Major (orchestration)
Jolie Fitch, flute
Nicholas Weathers, clarinet
Aria Shum, violin
Max Marcus, cello
Matin Kealaokahinano Boulos, bass
Alexander Malinas, piano
About SFCM's Composition Department
Prize-winning faculty develop and refine the skills of the next generation of great composers. The composition department both honors tradition and encourages innovation. Our four versatile faculty members closely mentor students while maintaining high-profile composing careers. We strongly emphasize interdepartmental collaboration, matching composers with performers, as well as offer frequent concerts and readings of student works. Every year, SFCM hosts the Highsmith Competition, an internal composition contest that grants the winner a performance of the submitted work by the Conservatory Orchestra. You'll be able to take advantage of the extraordinarily rich musical life of San Francisco, home to some of the most groundbreaking musical activity of the past half-century.
VIEW SFCM'S EVENT HEALTH AND SAFETY POLICY
As of April 1, 2023, face masks will be optional and at personal discretion for all SFCM concerts & events.  Vaccinations are not required for visitors and guests to campus buildings and performances. Please visit SFCM's full Event Health & Safety policy to read more about our guidelines.