Recital
Guitar and Voice Recital
Thursday, October 19 2023, 07:30 PM
at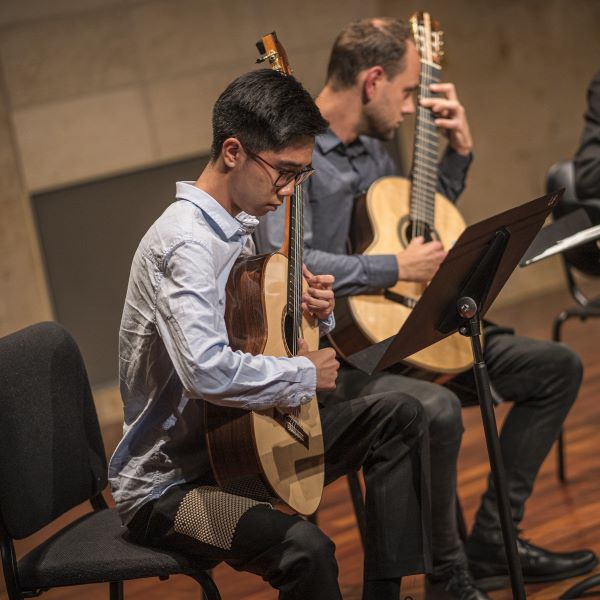 PROGRAM
Departmental Recitals showcase performance departments through its students. Featuring various students and repertoire, and curated by the faculty, performances in this recital highlight SFCM programs and the wide range of study. 
John Dowland: Come Again, Sweet Love
Yitong Wu, soprano
Luyao Jiang, guitar
Fernando Obradors: Selections from Canciones Clásicas Españolas
     El vito
     Del cabello más sutil
Lena Goldstein, soprano 
Nikhil Goswami, guitar
Dominick Argento: "Franz Schubert" 
      from Letters from Composers
Addelyn Geenen, soprano 
ZiYuan Tang, guitar
Roberto Gerhard: "El Toro"
     from Seven Cantares for Soprano and Guitar
Aaliyah Capili, soprano 
David Cemin, guitar
Gustav Mahler: "INun Will Die Sonn' So Hell Aufgeh'n"  
     from Kindertotenlieder
Charles McGregor, baritone 
Kaz Hudson, guitar
Joaquín Rodrigo: "Adela"  
     from Doce Canciones Españolas
Garrett Wilmoth, tenor 
Henryk Linantud, guitar
Franz Schubert: Ständchen
Mumtozbegim Ochilova, soprano 
Eduard Hrmushyan, guitar
Henry Purcell: Music for a While
Jana Justus, mezzo-soprano
Gabriel Balogh, guitar
Manuel de Falla: Tus ojillos negros
Alissa Goretsky, soprano
Eduard Hrmushyan, guitar
J. Dowland: Flow My Tears 
Tony DeLouisa, baritone
Matt Wherley, guitar
R. Gerhard: Selections from Seven Cantares for Soprano and Guitar
     La indita
     La ausencia
Christy Xu, mezzo-soprano
Junhao Ma, guitar
M. de Falla: Polo
Leora Gilgur, mezzo-soprano
Eduard Hrmushyan, guitar
About SFCM's Guitar Department
Study classical guitar in the heart of one of the country's most active guitar scenes. SFCM produces some of the most successful and influential classical guitarists in the world. Spearheaded by renowned faculty and complemented by visiting artists such as Sérgio Assad, the department honors the tradition of the classical guitar while cultivating innovation. The Harris Guitar Collection, owned by SFCM, gives students a chance to see—and play—some of the most extraordinary guitars of the last two centuries.
About SFCM's Voice Department
Find your voice—and your community. A tight-knit group, voice students work closely with all-star faculty who have performed at the Metropolitan Opera, San Francisco Opera, Houston Grand Opera, Paris Opera, Milan's La Scala, and many others. As a student at SFCM, you'll have the opportunity to regularly attend dress rehearsals at the San Francisco Opera and take advantage of performance opportunities around the Bay Area.
VIEW SFCM'S EVENT HEALTH AND SAFETY POLICY
As of April 1, 2023, face masks will be optional and at personal discretion for all SFCM concerts & events.  Vaccinations are not required for visitors and guests to campus buildings and performances. Please visit SFCM's full Event Health & Safety policy to read more about our guidelines.