Recital - Collegiate Dept
Kristin Pankonin American Art Song Award Showcase
Monday, November 13 2023, 07:30 PM
at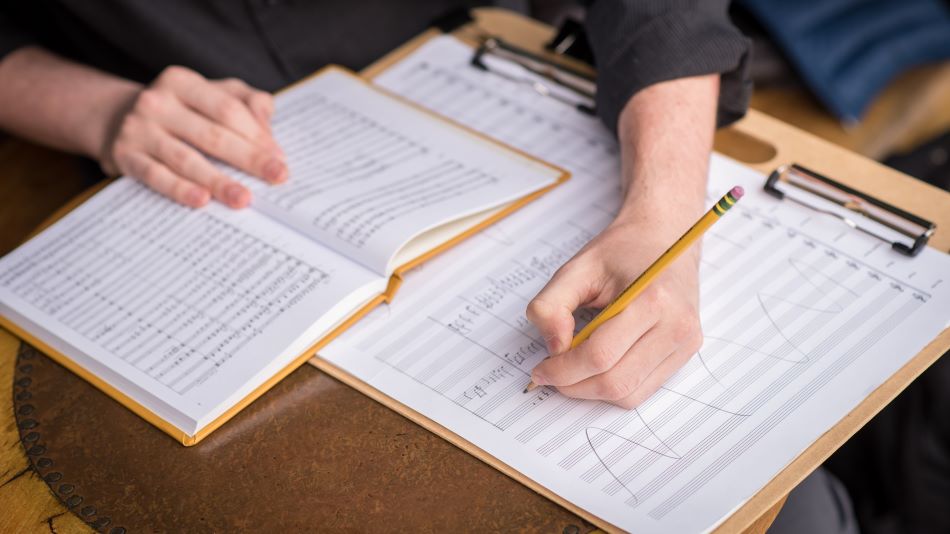 Please note: San Francisco will be hosting the Asian-Pacific Economic Cooperation (APEC) summit this week. Street and highway closures will cause delays in transit into and out of the SFCM area. Please plan accordingly in attending our concerts this week, as we do hope to see you in the audience! For those of you who cannot make it to the concerts, SFCM will be livestreaming most concerts for the week.
ABOUT THE KRISTIN PANKONIN ART-SONG AWARD
The Kristin Pankonin Art-Song Award was endowed at SFCM by Kristin's friends and fans to honor her legacy of collaborative music-making, and her passion for new vocal work. Each fall student consortiums comprised of a composer, vocalist, and collaborative pianist submit proposals for new English-language art-song cycles. The proposals–which include samples of previous works, the selected poem or text, and vision for the cycle–are vetted by SFCM faculty, with the assistance of outside judges.  The winning consortium receives a cash prize, and then creates and rehearses the new piece, which is premiered the following spring at the annual Kristin Pankonin Art-Song Showcase Concert.
ABOUT KRISTIN PANKONIN
A long-time staff accompanist at SFCM, Kristin Pankonin drew students, faculty members, and guest artists into her orbit by force of her compelling artistry, skill, commitment, and humor. She moved audiences around the world through countless recitals. Those fortunate enough to share the stage with her would say that she had "it," a hard-to-define quality that made for particularly rich and satisfying music-making. A champion of new music, Kristin became a first-choice pianist for composers who appreciated her uninhibited and insightful approach. Her discography for Pentatone includes world premiere recordings of pieces by John Corigliano, David Garner, Gordon Getty, Jake Heggie, and Luna Pearl Woolf, many written for her and her collaborative partners. A master of many genres, she was particularly inspiring with vocal music.
Program
COLLABORATORS
Marnie Breckenridge, soprano
Susan Gundunas, soprano
Kindra Scharich, mezzo-soprano
Leah Finn, mezzo-soprano
Matt Boehler, bass
Kevin Korth, Connor Buckley, and Dale Tsang, piano
David Conte: A Hope Carol, No. 3
     from Three Poems of Christina Rosetti
Elinor Armer: Where the Slope Grows Steep
     I. Come to Dust 
     II. To the Rain
     III. On the Western Shore
Kindra Scharich, mezzo-soprano
Kevin Korth, piano
Matt Boehler: Let Beauty Awake
Marnie Breckenridge, soprano
Kindra Scharich, mezzo-soprano

Conte: Homecoming
     from Everyone Sang
arr. Celius Dougherty: Shenandoah (trad. American folk song)
William Bolcom: Song of Black Max (as told by the de Kooning boys)
     from Cabaret Songs
Persis Vehar: spring swan
     from From Buk's Battered Heart
Bolcom: Fur (Murray the Furrier)
     from Cabaret Songs
Matt Boehler, bass
Kevin Korth, piano
Jameson Caps: will you change me ? 
(2023 Kristin Pankonin American Art Song Award)
     waiting
     hoping
     wanting
     praying
Leah Finn, mezzo-soprano
Connor Buckley, piano
-Intermisison-
Alva Henderson: Selections from Janet Lewis Songs
     Love is Not All
     Love is a Constant
David Garner: Selections from Phenomenal Woman [Maya Angelou]
     1. Call Letters: Mrs. V.B.
     3. Lord, in My Heart
     6. No Loser, No Weeper
     7. Phenomenal Woman
Susan Gundunas, soprano
Dale Tsang, piano
Mason Bates: "I Could Learn to Like You"
     from The (R)evolution of Steve Jobs
Conte: Selections from Sexton Songs
     IV. Riding the Elevator Up to the Sky
     V. Us
Garner: "Star Light, Star Bright-" No. 3
     from Tombstones in the Starlight
Marnie Breckenridge, soprano
Kevin Korth, piano
Conrad Susa: Selections from Hymns for the Amusement of Children
     I. For Sunday
     V. At Undressing in the Evening
     VI. The Conclusion of the Matter
Marnie Breckenridge, soprano
Kindra Scharich, mezzo-soprano
Matt Boehler, bass
Kevin Korth, piano
About SFCM's Composition Department
Prize-winning faculty develop and refine the skills of the next generation of great composers. The composition department both honors tradition and encourages innovation. Our four versatile faculty members closely mentor students while maintaining high-profile composing careers. We strongly emphasize interdepartmental collaboration, matching composers with performers, as well as offer frequent concerts and readings of student works. Every year, SFCM hosts the Highsmith Competition, an internal composition contest that grants the winner a performance of the submitted work by the Conservatory Orchestra. You'll be able to take advantage of the extraordinarily rich musical life of San Francisco, home to some of the most groundbreaking musical activity of the past half-century.
VIEW SFCM'S EVENT HEALTH AND SAFETY POLICY
As of April 1, 2023, face masks will be optional and at personal discretion for all SFCM concerts & events.  Vaccinations are not required for visitors and guests to campus buildings and performances. Please visit SFCM's full Event Health & Safety policy to read more about our guidelines.