SFCM Musicians Take Fans Back in Time for 'A Bridgerton Experience'
Magdalena Zaczek, (lead violin) and Alexandra Simpson, (viola) perform in the immersive musical experience exploring the music of the hit Netflix show during its San Francisco residency.
By Mark Taylor
The Queen herself has invited you to a once-in-a-lifetime evening, and two SFCM musicians have already accepted. Alexandra Simpson (viola, '21) and Magdalena Zaczek (violin, '23) can be seen in The Queen's Ball: A Bridgerton Experience, now running in San Francisco.
Held at SVN West from July through September, the experience calls itself an immersive Regency-era ball with period costumes, stunning decor, and acrobatic experiences, with music inspired by the Bridgerton soundtrack. The hit Netflix show, as the SFCM newsroom explored, brought classical music to the masses earlier this year by skyrocketing orchestral covers of pop songs to the top of the charts.
Simpson was already a big fan of the show when she was encouraged to apply for the gig by SFCM instructor Chen Zhao, also a fan of the show. "I had seen my friends doing it in other cities and thought it looked super fun so I jumped at the opportunity," Simpson said. But earning a spot on the "the Ton" wasn't easy, and had specific requirements from skills to costume fittings. "They required three audition videos of their pop arrangements, plus resume and videos of past performances," she added. While at SFCM Simpson studied with Dimitri Murrath.
In addition to their musical performance, Simpson and Zaczek appear in full costume, "I think that the whole aesthetic is beautiful and the costumes are gorgeous!" said Zaczek. But both are tight-lipped on what exactly visitors can expect other than hearing some fantastic music. "I don't want to spoil too much, but for me, the best part of the show is seeing how excited and involved the audience is when interacting with the performers, including musicians," Zaczek continued. "Music plays a huge role in this show and the audience really appreciates it." Zaczek will be a junior at SFCM and is working with instructor Simon James.
Bridgerton is known for its classical pop arrangements of modern singers like Rihanna, Ariana Grande, and Miley Cyrus, an element that was somewhat new for both musicians. "Some pop arrangements for this show were not easy! We play to a click track, but for a lot of classical musicians, rhythm is not our strong suit," Simpson said. "It took us a lot of rehearsing to lock in some of the more intricate grooves."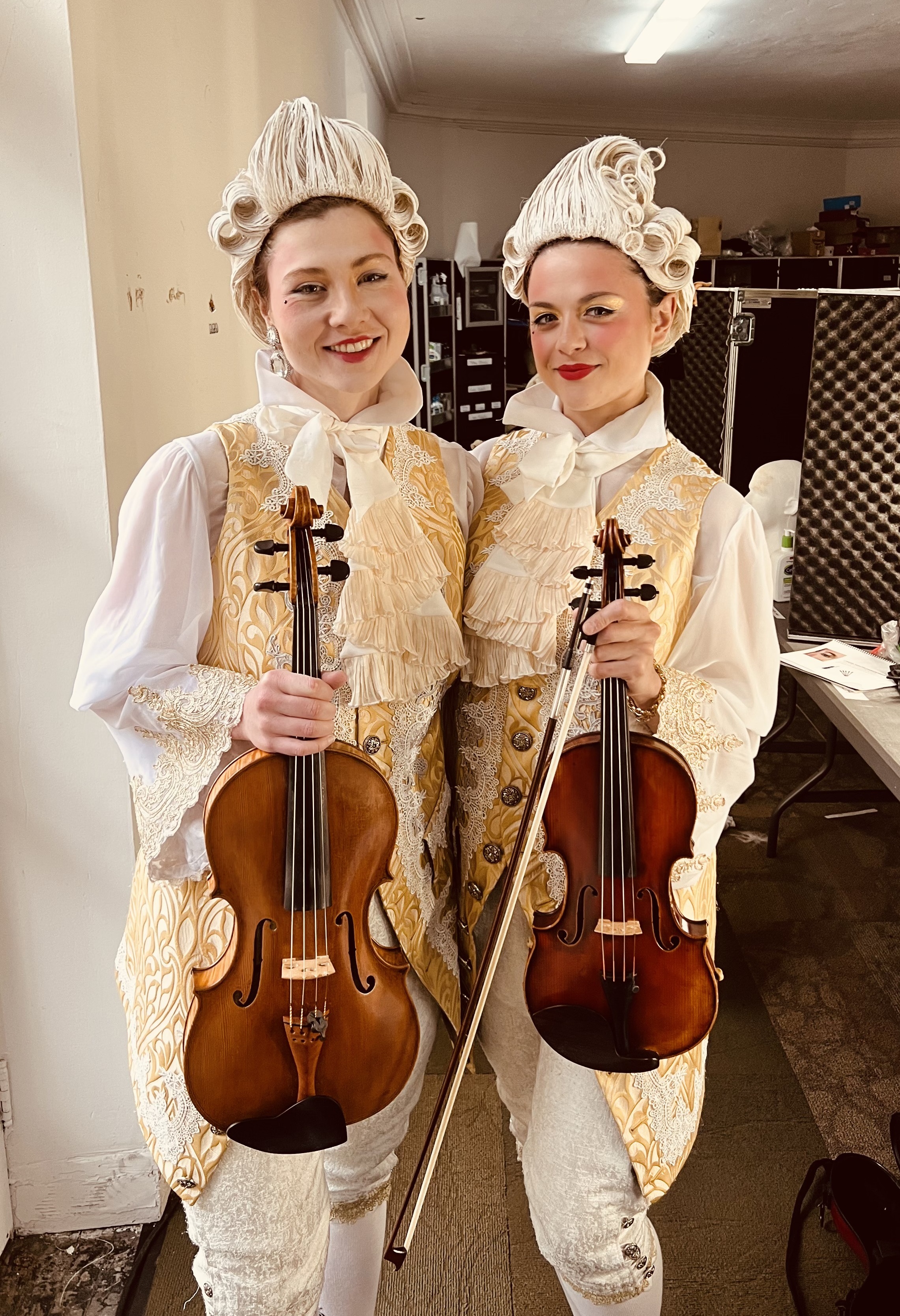 However not all the music found in A Bridgerton Experience is pop music: "The dancers do an acrobatic dance to a minimalist-style piece that gives me goosebumps like 9 shows out of 10!" Simpson added.
For Zaczek, she welcomes the challenge of experimenting with different genres of music and mixing them together. "I know there are fans and opponents of classical arrangements of pop songs, but I think that any music that's solidly prepared and performed on a high level with passion and dedication gets to the listener and translates well," she said.
From the music to the costumes, and the surprises, both musicians say there's something for everyone at the unique event. "My favorite part of the experience has been seeing how much joy people get from it! I love seeing people dress up and lose themselves in it with giant smiles on their faces. I always feel better after a show," Simpson said. To see some of their live performance, check out SFCM's popular TikTok channel for exclusive video.
The Queen's Ball: A Bridgerton Experience runs through September 18. For fans of Bridgerton—or just those who just want to take a trip back to 1813 and the most coveted soirée in London—guests are encouraged but not required to dress up and rise to the occasion. As the invitation warns, Her Majesty will expect no less from the diamond of the season.