How SFCM's Studio G Keeps Students on the Cutting Edge of Music Technology
Technology and Applied Composition (TAC) Executive Director Taurin Barrera and Studio Manager Molly Monahan explain why SFCM's Studio G stands alone in music education.
By Alex Heigl
If you've ever wanted to experience the closest you'll get to being physically inside of music, pay a visit to the Studio G mixing room, located two floors below Van Ness Avenue at SFCM's pioneering Bowes Center.
Outfitted with a truly state-of-the-art Dolby Atmos speaker array—technology recently made more available to consumers with Apple's new spatial-audio AirPods—it offers students an unrivaled opportunity to work at the edge of the next trend in audio.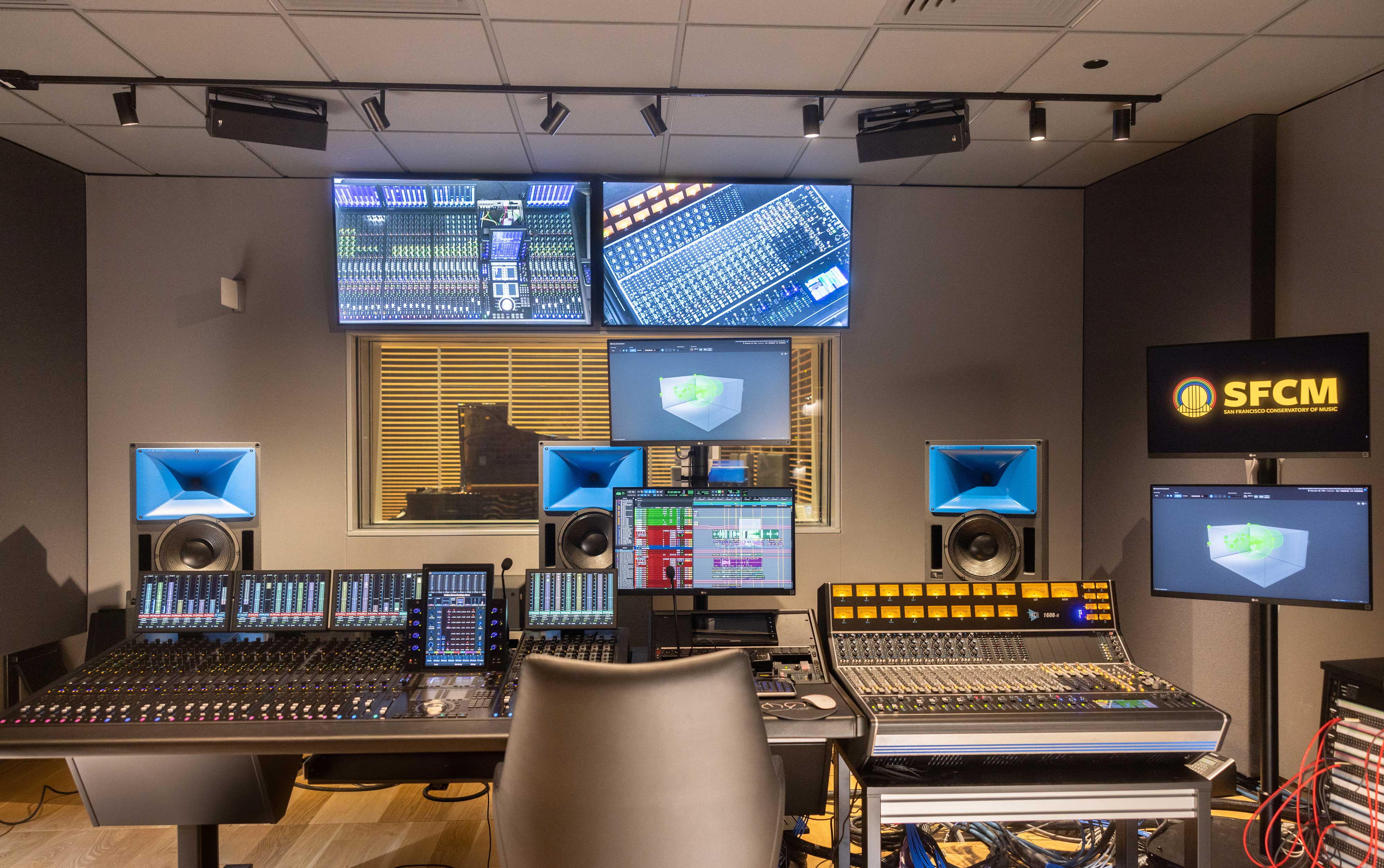 A quick primer: Early recorded music was released in mono, which places audio at the "front" of the sound field. As the technology advanced, stereo recordings, where different elements of music are placed to the left, right, and center of a playback system, became the new standard. Increasing the number of speakers in a given system offers more opportunities for this: Dolby's 5.1 Surround Sound technology, which the company pioneered in 1976 for use in film, has become one of the most common consumer-grade versions of the technology. ("5" refers to the number of "regular" speakers, while the "1" is the number of subwoofers utilized.)
With all that said, Studio G's mixing setup has a 7.1.4 system, which adds to the conventional 5.1 array with two additional speakers on the listener's level and four arranged above them, quite literally adding a new dimension to the sound.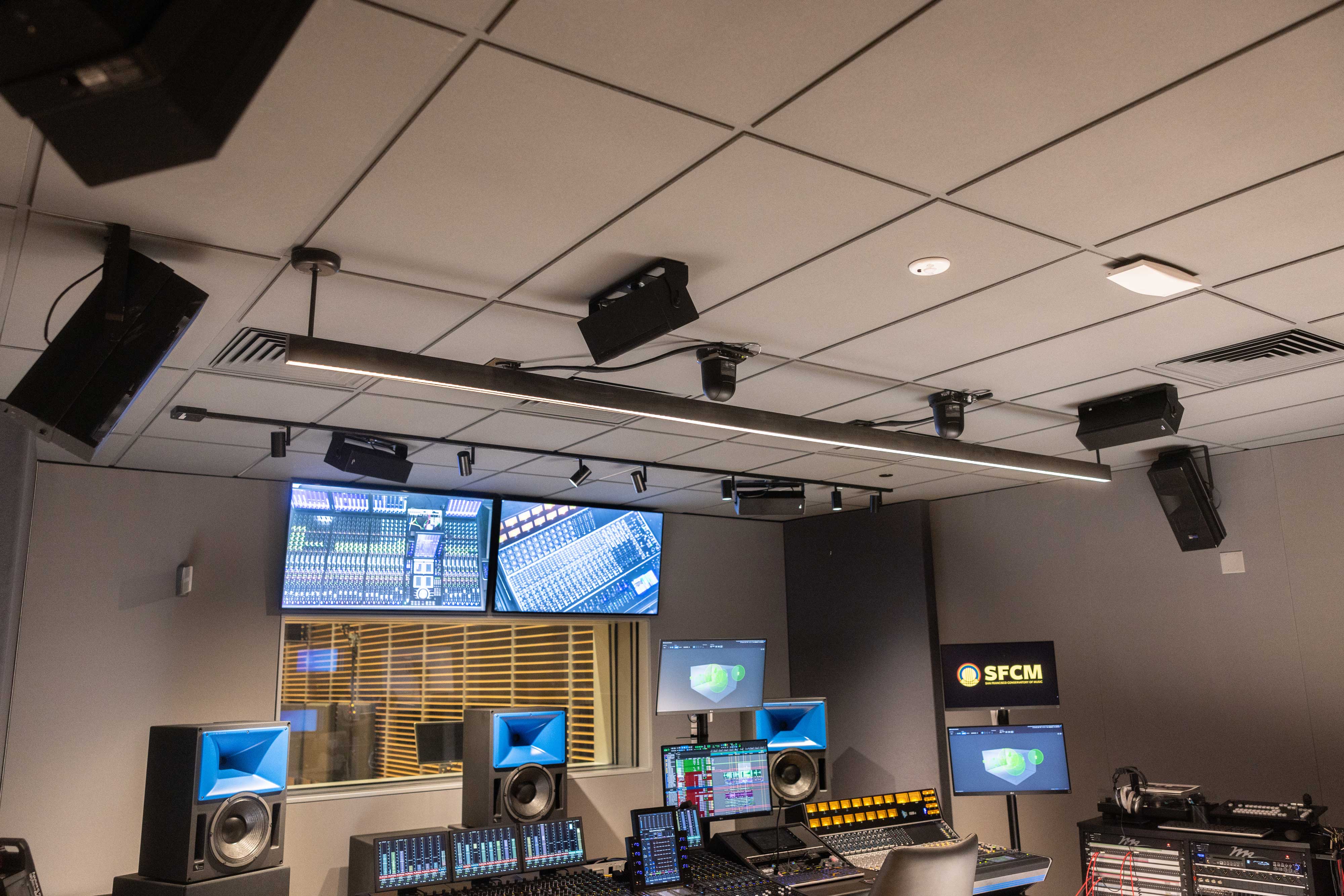 "When Studio G was built, there were things that we knew it would be capable of doing in the future, and fairly recently, companies have been making these technologies much more accessible," Barrera explained. "The development of this technology is so rapid, and because of this facility we're able to tap into that pretty much as it happens and present it to our students."
"Historically when you're talking about spatial audio, you had to have these huge decoders that look at the information encoded in the media and translate it to your speaker array," Monahan added. "But Apple's really been at the forefront of pushing spatial audio to consumers and it's cool how much commercial momentum there is behind this technology, so it's becoming less of a niche thing."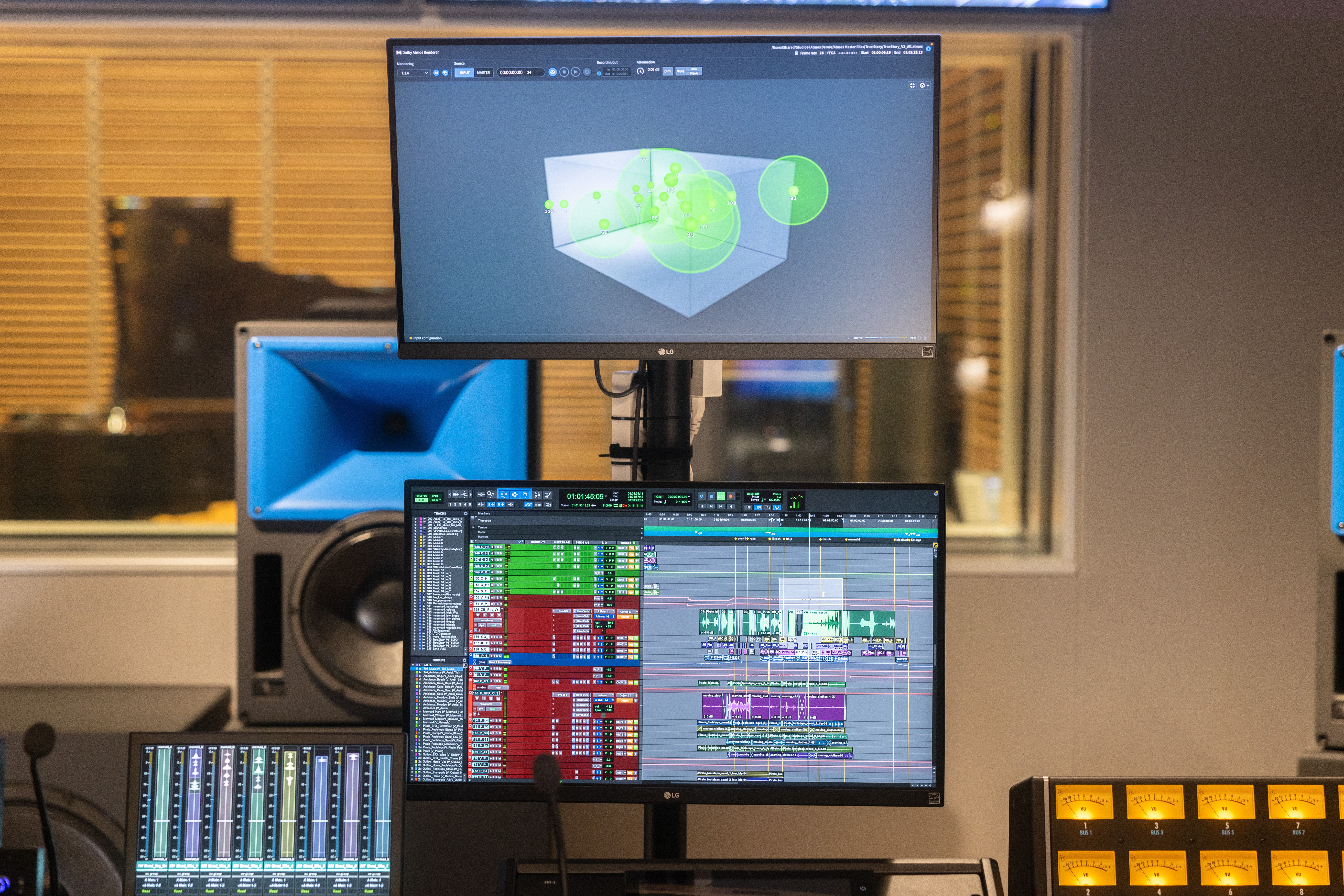 TAC students have the opportunity to record in G's Atmos Surround through the program's longstanding partnership with Sony that sees students compose for video games. "Even the engineers at Sony get really excited for that because their studio doesn't have the same setup we do," Monahan added. SFCM students are quite literally positioned to work with the newest developments in the field, Barrera explained. "We're particularly lucky because we're right down the street from Dolby, where they're building the Atmos tech. And we have our good friends at Meyer Sound right across the Bay."
"I'm biased," he concluded, "but I believe we have one of the best academic recording studios in the world."
Learn more about studying technology and applied composition at SFCM.