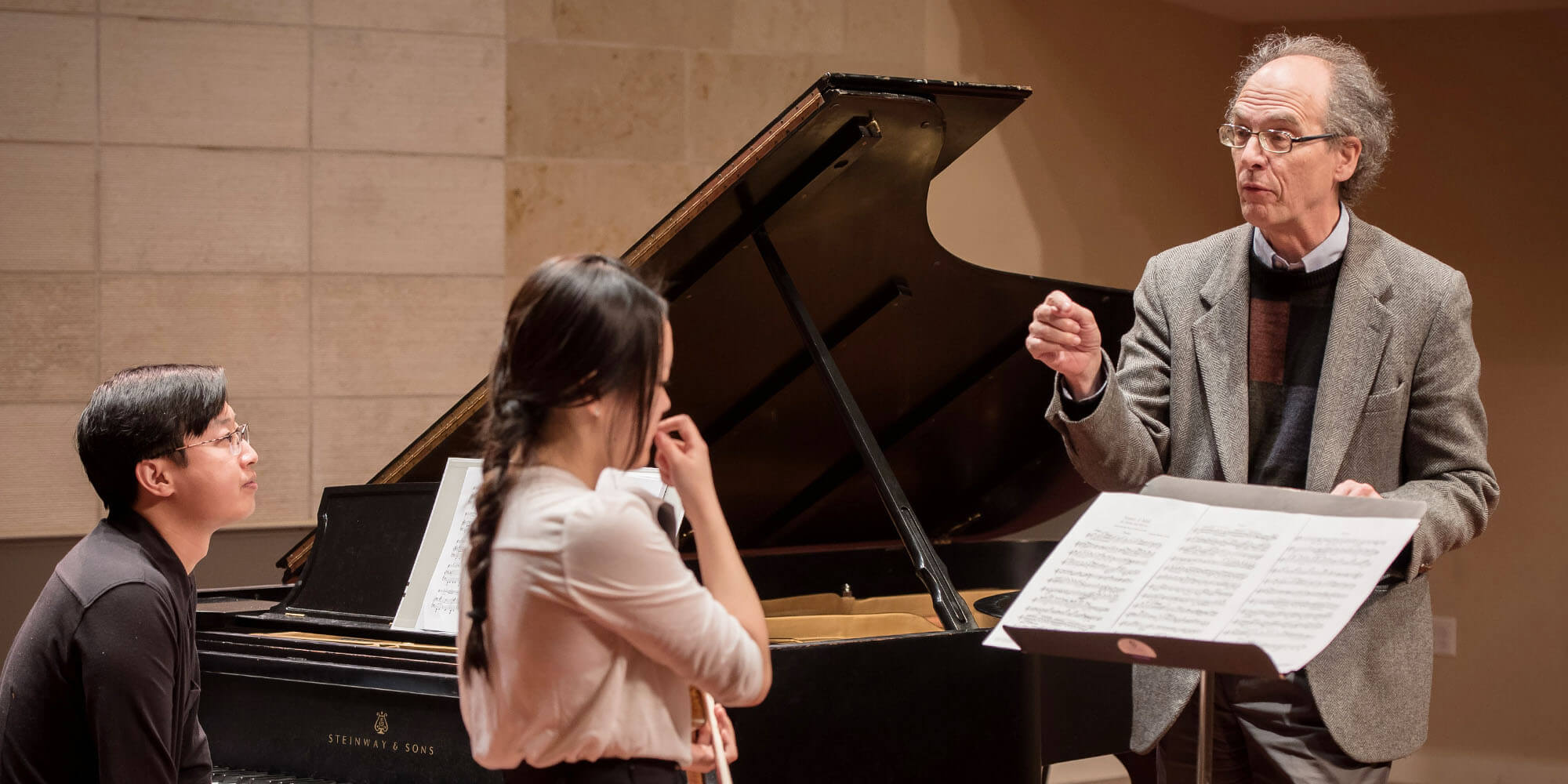 Department Recital
Collaborative Piano Department Recital
Venue
Barbro Osher Recital Hall
200 Van Ness Ave, San Francisco, CA 94102
View Map
Viewing Information
Full Vaccination Required.
PROGRAM
Wolfgang Amadeus Mozart: Bassoon Concerto in B-flat Major, K. 191
I. Allegro
II. Andante ma Adagio
Yiren Cai, bassoon
Yige Han, piano
George Frideric Handel: Selections from Flavio
"Bel contento"
"L'armellin vita non cura"
MonaLisa Pomarleanu, mezzo-soprano
Luming Yang, piano
Zoltán Kodály: Adagio for Viola and Piano
Robwert Schumann: Märchenbilder for Viola and Piano, Op. 113
Seongwoo Jeong, viola
Jason Kim, piano
George Enescu: Cantabile et presto
Lyric Rivera, flute
Deke Sun, piano
- Intermission -
Johannes Brahms: Cello Sonata No. 2 in E Minor
I. Allegro non troppo
Heming Wang, cello
Jiaqi Zhou, piano
Gabriel Fauré: Violin Sonata No. 1 in A Major, Op. 13
I. Allegro molto
II. Andante
III. Allegro vivo
IV. Allegro quasi presto
Hanbo Wang, violin
Jason Kim, piano
About SFCM's Collaborative Piano Department
Make music with your peers in our highly selective collaborative piano program. We offer piano students who want to learn the art of accompaniment and ensemble performance a special place in our keyboard department. The collaborative piano program is designed to ready the next generation of pianists for a life playing music in groups.
VIEW SFCM'S EVENT HEALTH AND SAFETY POLICY
The health and safety of the SFCM community and its patrons is of the highest priority. To help maintain a safe environment on campus for the SFCM community, and in adhering to San Francisco city guidelines, patrons are required to show proof of full vaccination to attend SFCM events. Please visit https://sfcm.edu/about-us/covid-19-information/event-health-safety to read the SFCM's full Event Health & Safety policy.