Event Ended
Faculty Artist Series
Ian Swensen, violin
Venue
Sol Joseph Recital Hall
50 Oak Street, San Francisco, CA 94102
View Map
Program
Claude Debussy
Violin Sonata in G Minor, L. 140
Sergei Prokofiev
Violin Sonata No. 1 in F Minor, Op. 80
Five Melodies, Op. 35a
Antonín Dvořák
Four Romantic Pieces, Op. 75
George Gershwin transc. Jascha Heifetz
"It Ain't Neccessarily So"
from Porgy and Bess
Artist Profiles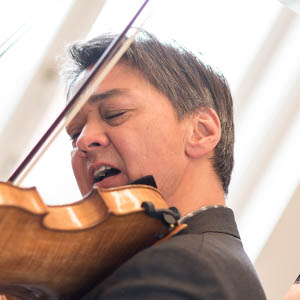 Ian Swensen, violin
A native of New York, violinist Ian Swensen comes from a musically gifted family of Norwegian and Japanese-Hawaiian descent. He has lived in the Bay Area for over 20 years, teaching at the San Francisco Conservatory of Music and Sacramento State University. He is a passionate pedagogue and his students have gone on to major positions in orchestras, teaching institutions and chamber groups around the world.
Swensen also maintains an active schedule as soloist and chamber musician, appearing at Music@Menlo, the Chamber Music Society of Lincoln Center, the Smithsonian Chamber Music Society and others. Recent projects include a series of recitals with pianist Jeffrey LaDeur, Stravinsky's L'Histoire du Soldat with members of the San Francisco Symphony and a series of Haydn trios with Kenneth Slowik on fortepiano. Over the years other engagements have included Santa Fe Chamber Music Festival, the Spoleto Festival of Two Worlds, Music from Marlboro, residencies at Tanglewood, Banff, Morningside Music Bridge in Calgary and travels to Asia, Europe, Australia and New Zealand to teach and perform. He has performed with members of the Juilliard, Cleveland, Emerson, Takács, Concord and Tokyo quartets, as well as Menahem Pressler, Gilbert Kalish, Mark O'Connor and Yo-Yo Ma.
Swensen studied at The Juilliard School with Dorothy DeLay and the Eastman School of Music with Donald Weilerstein and members of the Cleveland Quartet. In addition, Mark Sokol of the Concord Quartet has had a profound impact on his musical growth. He is one of the few musicians to have been awarded the Walter W. Naumburg International Competition's top prize for both solo violin and chamber music (as first violinist of the Meliora String Quartet). His recordings can be found on the Telarc and Deutsche Grammophon labels.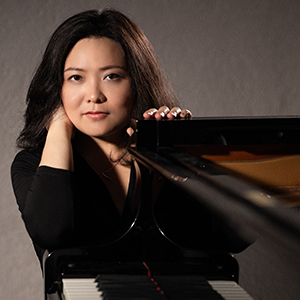 Weicong Zhang, piano
Weicong Zhang, Chinese pianist, has shared the stage with many distinguished artists, including violinists Pierre Amoyal, Ian Swensen, Albert Markov, Alexander Markov, Kathleen Winkler, Feng Ning, Bing Huang, Siqing Lv, violists Nobuko Imai, Lars Anders Tomter, Matthias Buchholz, Teng Li, cellist Wen-Sinn Yang, Haiye Ni, Martti Rousi, Reinhard Latzko, flutist Emmanuel Pahud, Henrik Wiese, clarinetist Thorsten Johanns, trumpet player Matthias Höfs.
She has toured in the United States and Canada, performing at the Stern Auditorium at the Carnegie Hall, Weill Recital Hall, Vancouver Playhouse etc. Since she returned to China in 2008, she has performed in almost every major venue such as China National Center for the Performing Arts, Beijing Concert Hall, Shanghai Concert Hall, Shanghai Oriental Art Center, Shanghai Symphony Concert Hall, Guangzhou Xinhai Concert Hall, Xian Concert Hall, Wuhan Qintai Concert Hall, Shenzhen Concert Hall, Hongkong Cultural Center. Ms. Zhang has been guest artist in Morningside Music Bridge festival, Young Euro Classic Festival Ensemble, Beijing International Music Festival, Shanghai Conservatory of Music and San Francisco Conservatory of Music International Chamber music Festival and International Violin Master classes and Sonata Competition of Shanghai Conservatory of Music. She was also an accompanist for three Piatigorsky Seminars in Los Angeles. She gave masterclasses in accompanying and chamber music at Manhattan School of Music, The Middle School affiliated with Shanghai Conservatory of Music and Xian Conservatory of Music.
Ms. Zhang received her bachelor degree at UT Austin and master degree and doctoral degree in collaborative piano from Manhattan School of Music in 2007. She studied with Professor Junwei Zhang (her grandfather) and Professor Shizhen Yao at Shanghai Conservatory, Dr. William Race at UT Austin and Dr. Heasook Rhee at Manhattan School of Music. In 2008, Ms. Zhang became faculty at the Shanghai Conservatory of Music teaching piano solo and chamber music.

Departments and Faculty Involved with This Event
Violin