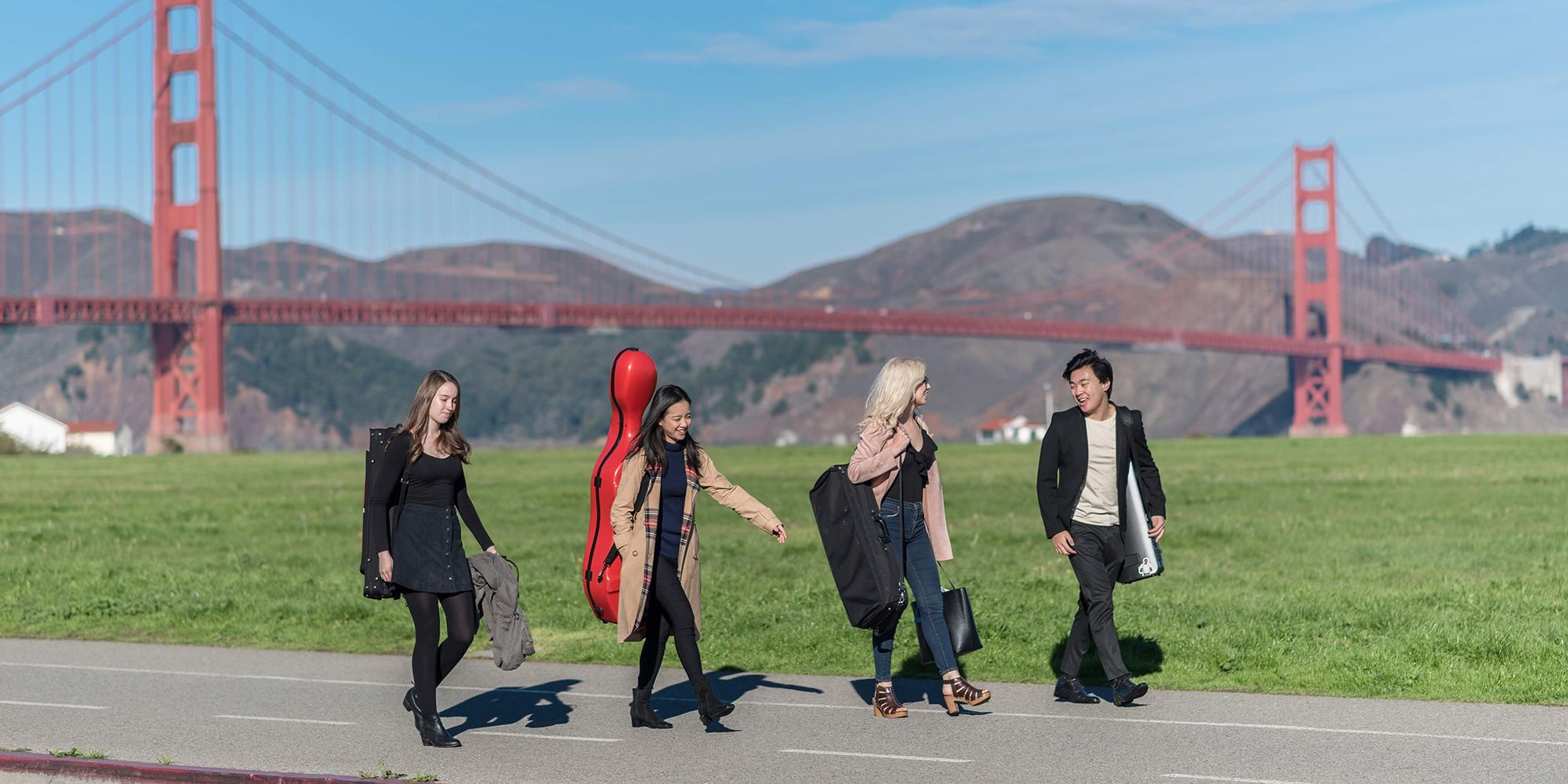 This year marked the beginning of the San Francisco Conservatory of Music's second century of musical excellence and innovation, made possible by our unparalleled community of students, faculty, staff, and supporters.
On behalf of the SFCM Board of Trustees, we are pleased to share with you highlights of our school's 101st year, all made possible by your support. In 2018-19, we set a new record for the number of Collegiate students enrolled, and at the same time awarded more scholarship dollars than any year before. With the help of donors, our average scholarship award increased by 5% to cover 57% of tuition. We charted the course for our future by breaking ground on our new student residence and performing arts facility, the Ute and William K. Bowes, Jr. Center for Performing Arts, which will transform our students' experience and our next 100 years upon opening in Fall 2020.
All of us at SFCM are deeply grateful for and inspired by your generosity. Your support enables our students and faculty to achieve their best and helps us make music education accessible for the next generation. Thank you.
| | |
| --- | --- |
| | |
| David H. Stull, President | Timothy W. Foo, Chair |


Collegiate Students
Snapshot of Student Body
34
U.S. States Represented
30
students returning for another sfcm degree

Financial Assistance
Snapshot of Collegiate Scholarships
99%
Students Receiving Scholarships
57%
Tuition on Average Covered by Scholarships
$26,355
Average Scholarship Amount
$11,016,312
Total Scholarships Awarded
Finances
Financials for the fiscal year beginning July 1, 2018 through June 30, 2019
2018-19 Total Operating Revenue
(Unrestricted)
$36,425,000
*Gross tuition and fees of $22,999,000 is offset by institutional scholarships of $11,288,000.
---
2018-19 Total Operating Expenses
(Unrestricted)
$36,069,000
Note: Depreciation is not included.
Total Net Assets at Beginning of Year: $176,657,000
Total Net Assets at End of Year: $190,425,000
Endowment Net Assets at End of Year: $43,277,000
The 2018-19 Academic Year in Pictures
Leadership
BOARD OF TRUSTEES AS OF JUNE 30, 2019
Officers
Timothy W. Foo, Chair
Deepa R. Pakianathan, Executive Vice Chair and Treasurer
Michael R. V. Whitman, Vice Chair
Karen J. Kubin, Secretary
Trustees
Eileen Blum
Jan Buckley
Carol W. Casey
Rebecca-Sen Chan
Christiane P. de Bord
Lisa Delan '89
Carol Pucci Doll
James Freeman '92
Anisya Fritz
Jeffrey Gao '16
Gary Garabedien
Lisa M. Grotts
David Kremer
Aditi H. Mandpe, M.D.
Susan Graf Marineau
Payam Mirrashidi
Mary Poland
Joshua M. Rafner
Stephen Rubin
Gary A. Rust, M.D. '83
Maria Shim
Camilla Smith
Maureen O'Brien Sullivan
Jane Chang Tom, Ph.D
Barbara Walkowski
Maurice Werdegar
Diane Zack
Robert H. Zerbst
Siwei Zou
Advisory Board
Gordon P. Getty '62
Thomas Hampson
Robert K. McFerrin, Jr.
Robin Sutherland '75
Michael Tilson Thomas
Frederica von Stade
Trustees Emeriti
John M. Anderson
Edward W. Beck
Didi Boring
Ava Jean Brumbaum
Mrs. A. Barlow Ferguson in memoriam
Mrs. Harold B. Getz, Jr.
Bruce W. Hart
Michael J. Savage
John B. Stuppin
---
Donors
Annual Giving
SFCM's loyal donors make it possible for our students to pursue and achieve their dreams. We salute the exemplary generosity of our annual donors, who ensure that SFCM is able to provide an unmatched, transformative education for the next generation of artists.
SFCM Society
Gifts from individuals play a critical role in preparing young artists for a lifetime of success. SFCM Society donors support student scholarships and access to the highest-quality instruments, help attract renowned faculty, and sustain valuable community programs. With deep appreciation, we celebrate all who donated $1,000 or more in annual gifts, including event donations and estate gifts, from July 1, 2018 to June 30, 2019.
$100,000 and more
Estate of Bettye Ferguson
Timothy and Virginia Foo
Ann and Gordon P. Getty '62
Estate of Jack H. Lund
Estate of Josephine J. Malti
Mr. and Mrs. Philip Marineau, The Marineau Family Foundation
Maria Shim and Nicholas Fox
Estate of Hugh C. Trutton
The Lloyd W. Watson Living Trust
Diane B. Wilsey
Anonymous
$50,000 to $99,999
Carol and Lyman Casey
Chi-Foon and Rebecca-Sen Chan
Estate of Vernon Dennis
Carol and Dixon Doll
Lynn and Anisya Fritz Family Fund
Joe and Paula McGuinness
Stephen Rubin
Maureen Sullivan
Mr. and Mrs. Michael R. V. Whitman
Diane and Howard Zack
$25,000 to $49,999
Eileen Blum
Didi and Dix Boring
Caitlin and James Freeman '92
Gary Garabedian
David Kremer and Marla Miller
Karen J. Kubin
Josephine Markovich
Maura Morey
Deepa Pakianathan and Phil Pemberton
Mary and William Poland
Barbara Ravizza and John Osterweis
Camilla and George Smith
Zornitza Stefanova and Payam Mirrashidi
Jane Chang Tom, PhD
Michael Walsh
Helen and Maurice Werdegar
$15,000 to $24,999
Taylor Cohen
Lisa and John Grotts
Aditi H. Mandpe, M.D.
Lisa and Peter Park
Anne Popkin
Gary A. Rust, M.D. '83
Bill Sevald
Edmond D. Villani
Barbara Walkowski
Robert and Anne Zerbst
$10,000 to $14,999
Ted and LaVaughn Craig
Barbara Joan Deepe Trust
Anne-Renee and Michael Feldman
Estate of Milan M. Holdorf
Hilary Honoré
Britt-Marie Ljung and Warren Miller
Helen W. O'Hanlon
Margaret Sheehan and Bruce Colman
Jessica Tien and Jeffrey Gao '16
Anonymous
$5,000 to $9,999
John Adams and Deborah O'Grady
Dr. Maria Allo and W. D. Andrews
Norby Anderson
Martha Angove and Carl Kaufman
Ruth and Frank Belvin
Eloise Bouye Foundation
Joseph K. Chan
Randolph H. Chase
I-Hsuan Cheng and Alex Huang
Michele and Laurence Corash LOU Fund
Dagmar Dolby
John and Marcia Goldman Foundation
Mr. and Mrs. Ulf Gustafsson
Hing On Hsu
William and Gretchen Kimball Fund
Dr. Roy Lee and Mrs. Ruth Lee '69
Bernice Lindstrom
Warren LoPresti Fund
Diksha and Divesh Makan
Mariposa Fund
Norma M. McBride
Barbara E. Newton
G. B. Norall and Maria W. Norall
Melissa and Ritchie Post
Pamela and Richard Rigg
Arthur & Toni Rembe Rock
Deborah and Paul Sagues
Raj Singh & Renata Anderson
Mr. and Mrs. Calvin B. Tilden
Tom Walker
Peggy and Lee Zeigler
Anonymous
$2,500 to $4,999
Sweta Arora & Karl Pribram
Drs. Nancy and Richard Bohannon
Kathy and Alfred Castino
Dr. and Mrs. Yanek Chiu
Mrs. André Paul P. de Bord
Clark W. Fobes '83
Mary and Tom Foote
Helen Gan
Amy Grossman
Mrs. Charlene C. Harvey
Michael Kim and Jenny Yip
Jack Leibman
Hollis Lenderking
Ralph and Melinda Mendelson
Ann and Jim Paras
Eric B. Peterson '69
Susan E. Roos
Estate of Joseph A Rosenthal
Jim Schuyler '16
Susan Steinhauser and Daniel Greenberg
Silva and Oldrich Vasicek
Jamie Whittington and Peter Pastreich
Faye Wilson
Anonymous (2)
$1,000 to $2,499
David and Judith Preves Anderson
Jonathan Arons & Claire Max
Joseph & Clara Barbaccia
John Barry and May Pon†
Mr. and Mrs. Edward W. Beck
Shelley Bergman
Patricia and Edwin Berkowitz
Jane Bernstein and Bob Ellis
Phyllis and Andrew Berwick, Jr.
Dr. Phyllis B. Blair
Kathryn and John Blum
Jane Olds Bogart
Julianne Booth and Ernest Fredric Knell
Nancy and Edwin Bradley
Margaret and David Brown
Josephine Brownback
Jason Castle
Janet Cluff
Peggy and Scott Cmiel '80
Nikola Colendich
Mary Craig and Felix Karim
Susan and George Crow, Jr.
In memory of Nancy Kathryn Cunningham (Clark; Broach) August 3, 1948-June 4, 2016
Paul Curtin & Catharine Keena
Dr. Richard B. Dasher '77
Dauber Family Fund of the Silicon Valley Community Foundation
Wesley Day
Ana TL Dierkhising '95
Chauncey & Emily DiLaura
Thao and Jerome Dodson
Keith Doerge
Mary Lou Dorking
Lester Dropkin
Vicki and David Fleishhacker
Judith Flynn
Dennis Ford
Michelle and Robert Friend
The Stephen and Margaret Gill Family Foundation
Margot Golding and Michael Powers
Mr. Burton M. Greenberg and Mr. James Clavin
Pamela and Glen Gunsalus
Estate of Albert P. Halluin
John and Carol Hamilton
Maureen and Mel Hetzel
Ronald Hingel
Adrienne Hirt and Jeffrey Rodman
Oliver Holmes
Heart Hsin
Leslie and George Hume
Edward and Patricia Hymson
Meri Jaye
Barbara Jones
Warren Jones '77
Anne Kaiser and Robert Taylor
Kaleidoscope Charitable Fund
Richard M. and Susan L. Kaplan
Barbara and Ronald Kaufman
Eun-Young Kim Ph.D.
Rachel E. Kish
Betty and Malcolm Kistler
K.K. Koo '85, in honor of Mack McCray and Wyatt Insko
Michael Lamm
Jon Leitner
Angela C. Little, Ph.D.
Yang Liu and Guido Schroeder
Jane R. Lurie
Doug McLean
Laura Kimble McLellan
Roger Mendelson Fund at the East Bay Community Foundation
Alec and Gail Merriam
William and Ursula Moffett
Keith R. Montgomery
John H. Moore and Arnold McGilbray, Jr.
Robert Morgan
Carol A. Mowbray
Willa and Ned Mundell
Dimitri Murrath
Janet and Roger Neaves
Kathleen Nicely
Michael N. Norem
Sean and Mae Tai O'Malley
Lise Deschamps Ostwald
Marianne H. Peterson
Mr. and Mrs. John S. Renard
Louise & Paul Renne
Julie and Christopher Ridley
Chet Roaman
Kay and Ray Roberts
Bob and Terri Ryan
John M. Sanger
Marjorie and Ken Sauer
Gini and Michael Savage
Pamela and John Sebastian
Marilyn G. Seiberling
The Sher-Right Fund
Josephine Shuman
Nellis Smith
Lawrence A. Souza
Jack and Diane Stuppin Fund of Community Foundation Sonoma County
Mr. Thomas Tragardh and Mr. David Cortez
Edward F. Walsh, Jr.
Bethel and William Watt
Stanley and Elaine Weiss
Emely and Ronald Weissman
Robert T. Weston
Steven and Emma White
John A. Williams
Kathryn Wittenmyer and Jim Hildreth
Terri D. Wong and Ken Vermes
Jonas and Anna Wright
Yee Family
Dale Young
Marie Zderic
Linda and Gary Zellerbach
Nancy Whitten Zinn
Siwei Zou and Helen Shan, sE Electronics
Anonymous (9)
Institutional Donors
Gifts from foundations, corporations, and organizations make possible our students' artistic and intellectual growth and strengthen relationships with our community. We are proud to acknowledge contributions of $1,000 or more to SFCM's annual fund, including event donations, received from July 1, 2018 to June 30, 2019.
$100,000 and more
William K. Bowes, Jr. Foundation
Harry Winston
The William and Flora Hewlett Foundation
The Jay Pritzker Foundation
$50,000 to $99,999
The Cha Foundation
Grants for the Arts of the San Francisco Hotel Tax Fund
Koret Foundation
$25,000 to $49,999
C.M. Capital Advisors
DeWitt Stern Risk Strategies
The Kimball Foundation
The Moca Foundation
The Henry Mayo Newhall Foundation
$15,000 to $24,999
Asset Management Company
Charles A. Becker Foundation
Coblentz, Patch, Duffy, & Bass LLP
Five Arts Foundation
U.S.-Japan Council
Wells Fargo
$10,000 to $14,999
Frank A. Campini Foundation
Mark Cavagnero Associates
Robert and Lien Chen Family Foundation
Equity Community Builders LLC
Walter and Elise Haas Fund
ISOM Foundation
Margoes Foundation
Osterweis Capital Management, LLC
Sequoia Trust
Jessie Wegner Trust
$5,000 to $9,999
The Kingsley Family Foundation
Meyer Sound
Mission SmartSpace Senior, LLC
Irving and Varda Rabin Foundation
Edna Reichmuth Scholarship Trust
$2,500 to $4,999
Google, Inc.
R. Kassman Purveyor of Fine Pianos
Moore Dry Dock Foundation
The Presser Foundation
The Swig Foundation
$1,000 to $2,499
Agnes and Byron Beildeck Music Scholarship Fund
The Mervyn L. Brenner Foundation, Inc.
Kaiser Permanente
J. W. Mailliard, Jr. Trust
The Ross McKee Foundation
National Council of Jewish Women, Scholarship Gift in honor of Sara Keyak
Shartsis Friese LLP
Springcreek Foundation
Would your organization like to become involved at SFCM? Contact Rhiannon Lewis, Institutional Giving Manager, at rlewis@sfcm.edu or 415-503-6289.
Ada Clement Legacy Society
Named after one of our founders, the Ada Clement Legacy Society honors individuals who care so deeply about the future of music that they have generously made provisions for SFCM in their will, trust, or other legacy plans. With profound gratitude, we recognize all Ada Clement Legacy Society members as of June 30, 2019.

Shirley Albright
Anthony J. Alfidi
Steven Alter and Linda Hearne
David and Judith Preves Anderson
Joanne Barnes
Raymond E. Bashista
Claudia Berger
Dr. Phyllis B. Blair
Drs. Nancy and Richard Bohannon
Didi and Dix Boring
Ed and Nancy Lee Bradley
Peter Brodigan
Josephine Brownback
Ava Jean Brumbaum
Philip Bylund
William J. Carlin
Geraldine Celestre
Kathryn Cousineau
Evelyn David
Anne J. Davis
Wesley Day Scholarship
Mrs. André Paul P. de Bord
Paula and James Diederich
Lawrence Dillon
Dale Doepke and Paul Christianson
Carol and Dixon Doll
Patricia S. Elvebak
Susan Feldman and Jeffrey Argentos
Addie Finseth
Clark W. Fobes '83
Gloria and Gerald Fraser
John Frykman
Mrs. Harold B. Getz
Ms. Renee Grant-Williams '69
Ms. Doris W. Grau
Erna Gulabyan
Pamela and Glen Gunsalus
John Michael Haines
Cathy Halter
Bonnie Hampton
Helen Hanson
James Heagy
Ronald Hingel
Harold and Jocelyn Hughes
Carol R. Johnson
Richard M. and Susan L. Kaplan
Sara Keyak
Bonita Kramer, M.D.
Charlene Kunitz
Frank and Linda Kurtz
Dr. Richard and Mrs. Sharonjean Leeds
Marcia Lowell Leonhardt
Gerard Lespinette
Flossie Lewis
Jane R. Lurie
Mr. Ben Maiden
Josephine Markovich
Evelyn Martinez
Denise Mauldin
Laura Kimble McLellan
Robert Messick
Christopher Miller '80
David Milward
Gloria Miner
D G Mitchell
Keith R. Montgomery
John H. Moore and Arnold McGilbray, Jr.
Milton J. Mosk and Thomas Foutch
Leif Fredebo Nielsen
Christien Nilssen
Norman and Hillevi Null
Helen W. O'Hanlon
Edward Perkins, Sr.
Roberta and David Pressman
Theodora '62 and Robert '63 Primes
Olga Quercia
Jane Radcliffe
Drs. Lawrence A. and Trudy Corry Rankin
Mr. Dana L. Rees
Bob and Jane Regan
Chet Roaman
Stephen Rubin
Ken Ruta
Elizabeth L. Schultz
Kathryn and Jim Schuyler '16
Wesley Sebren
Marilyn G. Seiberling
Michael Seither
Vernon Smith
Stephen Smoliar and Linda Dembo
Marcie Stapp
Robert O. Steiner '89
Joel Stirling
Linda Streeter
Bess Touma
Nicolette Toussaint and Mason Ingram
Marilyn Townsend
Mr. Thomas Tragardh and Mr. David Cortez
Tom Walker
Mrs. Linda Wertheim
Cherie and Herb Wetzel
Diana Yee
Lawrence Zabo
Anonymous (25)
Endowment Giving
By making an endowment gift, donors help to ensure the long-term vitality of SFCM and generate support for our students, faculty, and programs for generations to come. These extraordinary gifts are crucial to SFCM's continued growth and success. We honor our supporters who made endowment gifts of $1,000 or more from July 1, 2018 to June 30, 2019, including legacy donors who gave through their estate.
$25,000 and more
Charles A. Becker Trust
Robert L. Bilger Survivor Trust
Mrs. André Paul P. de Bord
Marcel Houtzager
The Sher-Right Fund
The Nick Traina Foundation
M. Blair Vorsatz Scholarship in Honor of Tomoko Hagiwara
Anonymous
$5,000 to $24,999
Hurlbut-Johnson Fund of the Silicon Valley Community Foundation
Barbara Cushing Imbrie
Andrew Imbrie, Jr.
Milton J. Mosk and Thomas Foutch
Estate of Manya Warner
Anonymous
$1,000 to $4,999
Joanne & Clark Ahn
Marie-José and Kent Baum
Margaret Rose Beernink Badger
Claudia Berger
The Bien Family
Herbert L. Jeong
Betsy Koester
Drs. Lawrence A. and Trudy Corry Rankin
Anna Wong
Kathy and Chun Wong
Named Funds
Sponsored funds contribute to the vibrancy of the SFCM community by supporting professorships, scholarships, and awards, now and into the future.
Distinguished Faculty Chairs
We are privileged to acknowledge the following distinguished faculty chairs which have been sponsored with generous gifts as of June 30, 2019.

Carol Franc Buck Distinguished Chair in Opera
Jean and Josette Deleage Distinguished Chair in New Music
Distinguished Chair in Historical Performance
Daniel E. Koshland Endowed Chair in Humanities
James D. Robertson Chair in Piano
James H. Schwabacher, Jr. Faculty Support Fund
Isaac Stern Distinguished Chair in Violin
Frederica von Stade Distinguished Chair in Voice
Scholarships, Awards, and Other Special Funds
Establishing a scholarship fund creates a lifetime of opportunities for the students who are selected as recipients. We recognize the following named scholarship funds, awards, and other special funds which have been created as of June 30, 2019.

Collegiate
Agnes Albert Scholarship
ARIA Technologies Arts Scholarship
Elinor Armer Scholarship Fund
Brent and Jan Assink Scholarship
William Banovetz Oboe Scholarship
Sergei Barsukov Scholarship for Piano
Sergei Barsukov Scholarship for Violin
Bettina Baruch Foundation Scholarship
K. Dale Beernink MD Memorial Scholarship
Alexander Bellow Scholarship
The Ruth and Jo Blackmore Scholarship
Justin Blasdale Memorial Fund
Miriam and Leo Bodian Scholarship Fund
Dix & Didi Boring Endowed Scholarship for Voice
The Philip Adams Brewer Memorial Scholarship
Joseph & Frances Brucia Voice Scholarship
Lea Burroughs Fund
Selina Sophia Canes & Jacques Meyer Canes Scholarship
Chang Mooi Scholarship
Samuel Clark Scholarship
Vincent Constantino Scholarship
Craig Family Scholarship
Crescendo Scholarship Fund
Louise M. Davies Scholarship
Christiane P. de Bord Scholarship
Paul C. Deckenbach and Herbert L. Jeong Endowed Scholarship
Marcela DeCray Endowed Scholarship Fund
Doris Lucille DeCuir Memorial Scholarship Fund
Betty Swig Dinner Scholarship
Helen and Willis Elliott Scholarship
Jorge Estebanez Scholarship
Margaret Fenzl Fund
Adelaide and Frederick Finseth Scholarship Fund
Dr. Clark D. Fobes Memorial Scholarship
Frank and Josephine Fragale Scholarship
Isidor Geiger Violin Scholarship
Dolores Graves Vocal Scholarship
Marina Grin Award
Walter Guttmann Piano Scholarship
Crescent Porter Hale Scholarship
Ruth Koshland Hellman Endowment & Building Fund
Jim Highsmith Honors
The Peter and Jacqueline Hoefer Alumni Composers Fund
The Peter and Jacqueline Hoefer Scholarship Fund
The Audrey and Les Hogan Vocal Scholarship
Lester A. Holmes Scholarship
The Arlene and Wolf Homburger Scholarship for Clarinet
The George Hopkins Scholarship in Composition
William S. Howe Chamber Music Scholarship
Andrew Imbrie Chamber Music Scholarship
ISOM Annual Scholarship Fund
Jessie Wegner Trust Scholarship
Edgar and Don Jones Memorial Scholarship
The Harriet Harrison Kelly Scholarship Fund
Kolko Family Scholarship for String Students
Lewis Scholarship
Jane and Martin Livingston Memorial Scholarship
Barry Manilow Scholarship
Margoes Foundation Scholars
Marineau Family Foundation Scholarship
Frank Noel Mathes Scholarship Fund
Dean B. McNealy Scholarship
Connie and Charles Meng Scholarship
Lorna Meyer and Dennis Calas Family Scholarship
Arthur Minton Scholarship
Robert and Maura Morey Scholarship
The Milton Mosk and Thomas Foutch Scholarship Fund
Colin and Sam Murdoch Chamber Music Scholarship Fund
Walter Oppenheim Violin Scholarship
O'Shaughnessy Scholarship Fund
Osher Foundation Scholars
Bernard Osher Foundation Scholarship
Peter F. Ostwald Scholarship Fund
The Kristin Pankonin Fund
Harold G. Pischel, Jr. Scholarship
Peter B. Pischel Scholarship
Milton Preves Scholarship in Viola, created by David and Judith Preves Anderson
Germain Prevost Viola Scholarship
Marcia & Gene Purpus Scholarship
The Rainbow Scholarship Fund
Peter Dimitris Rangaves Scholarship
Corry Rankin Memorial Fund
Edna Reichmuth Scholarship Trust
Anthony J. Rine Vocal Scholarship
Beatrice M. Rine Piano Scholarship
Janet Rose Piano Scholarship
Ross McKee Foundation - Paul Andrieu Memorial Scholarship
Margaret Rowell Cello Scholarship
James and Elizabeth Ryan Scholarship Fund
Milton Salkind Scholarship
Sara Keyak Scholarship of the Nat'l Council of Jewish Women
James Schwabacher, Jr. Scholarship
Nathan Schwartz Memorial Scholarship
Harold W. Sheeline Piano Scholarship
C. Sheldon and Patricia Roberts Scholarship
Drs. Ben and A. Jess Shenson Scholarship
Sher-Right Scholarship Fund
Lev and Frances Shorr Scholarship
Betty Hamilton Shurtleff Scholarship
Jane Lawton Southcott Scholarship
Evelyn and Russell Staton Scholarship
Dorothy Steinmetz Voice Scholarship Fund
Donald C. Stenberg Memorial Scholarship
Henia Stone Memorial Scholarship
Edward G. Stotsenberg Memorial Scholarship
David Subke Scholarship for Excellence in Flute or Composition Fund
The TOMODACHI Suntory Music Scholarship Fund
Isadore Tinkleman Scholarship
Monte Toole Scholarship
The Nick Traina Foundation Scholarship
Joan and David Traitel Vocal Scholarship
The Hugh Trutton Scholarship for Collegiate Piano Students
Ernest Van Hook Scholarship
Marilyn Volpe and George Borkow Scholarship
Walter & Elise Haas Fund Scholarship
Manya and Harry Warner Piano Scholarship
Paul L. and Phyllis Wattis Foundation Scholarship
Phyllis Wattis Scholarship
Phyllis C. Wattis Scholarship Fund
B. Gardner Wilcox Piano Scholarship
Iphigenia Wise Ochs Scholarship
William Wolski Violin Scholarship
Robert Yaryan Woodwind Scholarship

Pre-College
Charles A. Becker Memorial Scholarship
The Peter Boesch and Darril Hudson Scholarship
Kris Getz Composition Award
Tomoko Hagiwara 50th Anniversary Scholarship Fund
Hurlbut-Johnson Preparatory Scholarship
May S. Kurka Scholarship
Dr. Richard and Mrs. Sharonjean Leeds Emerging Young Musicians Scholarship Fund
Cherry Lin Scholarship in Honor of Tomoko Hagiwara
Martin Livingston Preparatory Scholarship
John McCarthy Endowed Preparatory Scholarship
Susan McCarthy Memorial Scholarship for Students of Musicianship
Stanley K. Nairin Scholarship
The Jessica Pastron Memorial Scholarship
Barbara Lull Rahm Scholarship
David Schneider Memorial Scholarship
Moon J. Song Scholarship
M. Blair Vorsatz Scholarship in Honor of Tomoko Hagiwara
Marilyn Jo Wood Memorial Scholarship
Donors to the Ute and William K. Bowes, Jr. Center for Performing Arts
We thank the following supporters of the Bowes Center, our new residential and performing arts facility that will expand SFCM's campus in the heart of San Francisco's performing arts district upon opening in fall 2020. We are grateful to those who have given or pledged their support to our new home for music as of June 30, 2019.
$25,000,000 and more
William K. Bowes, Jr. Foundation
$5,000,000 to $24,999,999
Richard C. Blum and Senator Dianne Feinstein
Carol Franc Buck Foundation
Carol and Lyman Casey
Timothy and Virginia Foo
The Ann & Gordon Getty Foundation
Barbro and Bernard Osher
Camilla and George Smith
$1,000,000 to $4,999,999
Chi-Foon and Rebecca-Sen Chan
Mrs. André Paul P. de Bord
The Herbst Foundation, Inc.
Ambassador James C. Hormel and Michael Nguyen-Hormel
Cathie and Franklin Johnson, Jr.
Jonathan Logan Family Foundation
The Jay Pritzker Foundation
Barbara Ravizza and John Osterweis
Jane Chang Tom in memory of Dr. Sanford Tom
Mr. and Mrs. Michael R. V. Whitman
Diane B. Wilsey
$500,000 to $999,999
Carol and Dixon Doll
The William G. Irwin Charity Foundation
Mr. and Mrs. Philip Marineau, The Marineau Family Foundation
Mary and William Poland
Maureen Sullivan
Diane and Howard Zack
$100,000 to $499,999
The Frank H. & Eva B. Buck Foundation
Leslie and George Hume
Karen J. Kubin
Dr. Roy Lee and Mrs. Ruth Lee '69
Fred Levin & Nancy Livingston, the Shenson Foundation in memory of Ben & A. Jess Shenson
Aditi H. Mandpe, M.D.
Lorna Meyer and Dennis Calas
Norby Anderson
Nancy and Larry Probst
Pamela and Richard Rigg
Zornitza Stefanova and Payam Mirrashidi
Barbara Walkowski
Helen and Maurice Werdegar
Anonymous
$25,000 to $99,999
Didi and Dix Boring
Ann and Daniel Girard
Lisa and John Grotts
The Lisa and John Pritzker Family Fund
Stephen Rubin
Gary A. Rust, M.D. '83
Robert and Anne Zerbst
Up to $24,999
Drs. Nancy and Richard Bohannon
Jan and James Buckley, Jr.
Caitlin and James Freeman '92
Adrienne Hirt and Jeffrey Rodman
Edward and Patricia Hymson
Meri Jaye
Jan Frances Maakestad
Mrs. David Jamison McDaniel
Marilyn G. Seiberling
The Sher-Right Fund
Peggy and Lee Zeigler
Anonymous (3)
*If we have made a mistake in our listings, please accept our apologies and let us know at giving@sfcm.edu or 415-503-6210 so we may correct it.