Your career, within reach
Prepare yourself for the twists and turns ahead.
Get started on your studies!
It takes more than talent to build a career. Success in any field requires skills and experiences beyond what you learn in the practice room. We place a strong emphasis on professional development in our core curriculum to ready students for their careers. Courses in marketing, finance, teaching, and technology, as well as internships with local, professional arts organizations will help you build the confidence you need to take risks and craft the career of your dreams.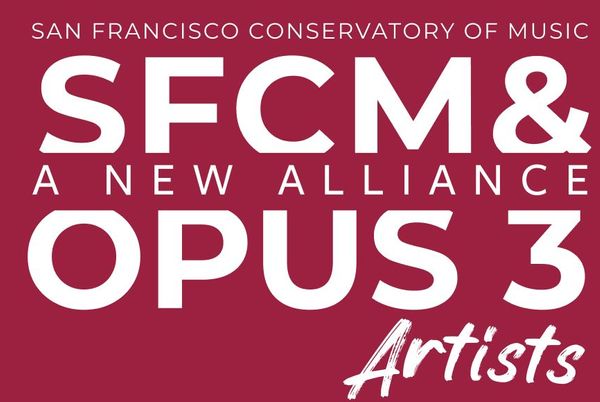 SFCM changed global music education in 2020 by acquiring management company
Opus3 Artists
, home to over 250 top musicians. Masterclasses, recording sessions, and side-by-sides with members of the Opus 3 roster are only the beginning of our work together to invent the future of performances.
Why SFCM?
An education at SFCM will transform you as
an artist, intellectual, professional, and individual.
To become an inspiring artist you must first seek inspiration. An extraordinary faculty is the foundation for a transformative education. Immersing yourself in a culture of exploration where you hear and perform with legendary musicians is the path to success.

"After seven years, three degrees later, I am graduating this year," remarked Jasmine Johnson, thinking back to when she firs...

You will expand your curiosity and understanding of the world through a dynamic curriculum integrated with your focus on music. Critical thinking is the path to knowledge, self-awareness, perspective, and achievement. You will develop the skills of inquiry, analysis, and communication necessary to pursue any endeavor.

An accomplished pianist currently enrolled in med school, Kevin Sun keeps his passion for music close to inform his future.

The ability to transform dreams and aspirations into a life path is predicated on an understanding and application of core business principles and strategies. Our curriculum is designed to equip you for a lifetime of success.

"I remember when I was about to go into middle school I got a letter from the band director telling me I should join the band...

Part of your journey at SFCM is to discover new ideas and explore them through projects of your own imagination and design. Winter Term provides the ideal laboratory to challenge yourself, to engage your strengths, to know and improve your weaknesses, and to practice the art and science of taking risks. You are unique. The possibilities are limitless.

Mia Pixley connects to diverse audiences and fellow musicians, collaborating on multiple levels and platforms.

These buttons are here for a reason.